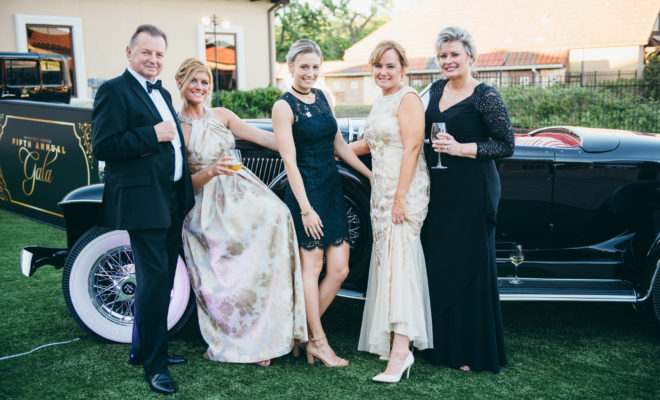 Photo by Chinh Phan
Events
MainStreet America Gala raises $1 Million for Neurological Research
By |
MainStreet America rolled out the red-carpet Saturday, March 25, 2017 for its 5th annual Black-Tie Gala benefiting the Jan and Dan Duncan Neurological Research Institute at Texas Children's Hospital. (NRI). The MainStreet America Gala themed Changing Lives…Building for the Future reached a fundraising milestone by raising more than $425,000 this year, bringing the 5-year fundraising total to over a million dollars.
Founded by Mike and Barbara Feigin, CEO and CFO of MainStreet America, the gala is the only outside fundraising arm of the NRI, which was established to advance the understanding of neurological and neuropsychiatric disorders in children. The institute's work impacts many diseases from autism and bipolar disorder to epilepsy and Rett syndrome and several of the researchers, including Dr. Mingshan Xue and Dr. Xiaolong Jiang, were on hand to share advancements made by the gala's philanthropic efforts.
265 guests walked the red carpet greeted by celebrity host and auctioneer, Ernie Manouse. Gala attendees included: Jan Duncan; Gala chairs Tracy and Richard Wilken; Lisa and Mark Stewart; Sherry and Richard Lane; Shirley & Ralph Alexander; Cynthia and Tony Petrello, Drs. Huda and William Zoghbi; Dr. Steven Siegelbaum; Gala founders Barbara and Mike Feigin; Drs. Debbie and Steve Sukin; Drs. Beth and Arthur Sands; Missy and Wayne Herndon; Roberta and Lee Schwartz.
One of the most touching moments in the evening was a special presentation to the eight Champion Table Sponsors who watched personal video messages from a Champion Child thanking them for their generous support in the fight to find a cure for neurological diseases. A few of the child's favorite things dotted the table, as well, serving as a reminder of these young precious lives.
Dr. Huda Zoghbi who has served as the director for the Institute since its inception was the keynote speaker and presented a snapshot of breakthroughs made possible through the NRI's funding.
After a lively live auction guests danced in the moonlight to Yelba's Latin Fire.
Learn more about MainStreet America at www.mainstreetamerica.com
Top Photo by Chinh Phan featuring Bogdan Matysik, Nicole Boutin, Amanda Hudson, Dorothy Grise, and Joanne Boutin.