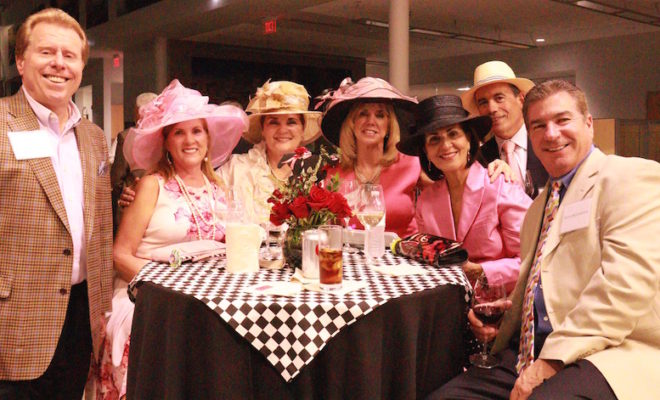 Calendar
LGI Homes making impact with Habitat For Humanity
By |
Supporters and sponsors for the upcoming Habitat for Humanity Gala gathered together at Mercedes-Benz of The Woodlands for a pre-celebration reception on Thursday, March 9th. The Gala to be held on Saturday, May 6 at The Woodlands Waterway Marriott shares the date with the Kentucky Derby, hence the theme, "Run for the Roses….building homes and hope."
The Woodlands-based builder, LGI Homes, will serve as Presenting Sponsor for the Habitat for Humanity Gala to be held on May 6th, 2017. "We are beyond delighted to welcome LGI Homes as the Presenting Sponsor for our Gala. LGI Homes has been building homes in Montgomery County since 2003. With their experience, track record of success, and focus on quality craftsmanship, we believe this is the perfect partnership for Habitat," said Kim Lindley, 2017 Habitat Gala Chair.
"Since the mission of Habitat is to ensure that people have a decent place to live, our goal these past few years has been to involve more building and development-related companies as partners and sponsors for the Gala. Welcoming LGI Homes as one of our community partners is a dream to us. We know that we will benefit from the wealth of knowledge LGI Homes brings and we look forward to working with them for years to come," remarked Isabel Jones, Habitat for Humanity MCTX Development Director.
"One of our initiatives we began this year and look forward to continuing in 2017, is to have a larger impact on the communities we serve," said Eric Lipar, the Company's CEO. "We have been fortunate to have had a lot of success, and believe that it is our responsibility to give back and make a greater impact."
Watch Hello Woodlands' Jenny Bruse interview Eric Lupar LIVE at the VIP party:

The Woodlands Waterway Marriott Town Center Hall will be transformed to bring the "Run for the Roses….building homes and hope" theme to life on Saturday, May 6. The grand event will feature a silent auction, bid boards, a live auction, a fabulous dinner and music by Radio Live. Funds raised at the Gala provide vital support that enables HabitatMCTX to fulfill its mission.
Learn more about Habitat for Humanity and purchase tickets to the gala at HabitatMCTX.org/gala.
View photos and videos from the VIP Party at the Hello Woodlands Facebook page!