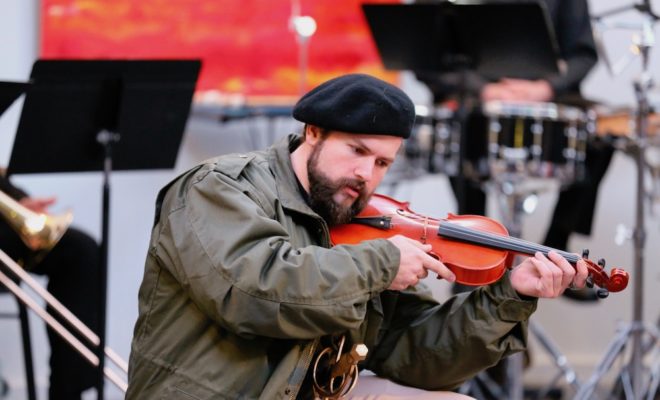 Photography by Rod Prado, Hello Woodlands
Art & Culture
L'Historie du Soldat performance at the Glade Arts Foundation
By |
Glade Arts Foundation held the second concert and performance of its 2019 Chamber Series, L'Historie du Soldat, on Friday, February 22 at 2000 Woodlands Parkway in The Woodlands.
L'Historie du Soldat, or A Soldiers Tale, in the words of Igor Stravinsky is "to be read, played and danced in two parts." The theatrical performance was a first for The Woodlands, including a collaboration of the chamber orchestra, actors and dancers in a tale of good versus evil, temptation and a twisted ending.
L'Historie du Soldat is based on a Russian folk tale The Runaway Solider and the Devil from the collection of Alexander Afansyey Russian folk tales and premiered on September 28, 1918 in Lausanne, Switzerland. Famous Composer, Pianist and Conductor Igor Stravinsky styled compositions for the ballet and orchestral works Firebird, Rite of Spring, and Petruska.
View moments from the performance on the Hello Woodlands Instagram page:
Cast of L'Historie du Soldat
Narrator – Travis Bryant
Soldier – Jared Barnes
Devil – Sean Thompson
Princess – Amy Barnes
Violin – Rhichard Baum
String Bass – Thomas Helton
Clarinet – Aaron Martinez
Bassoon – Frank Chambers
Trumpet – Darryl Bayer
Trombone – Steven Bogel
Percussion – Stephen Hambright
View the photo album on the Hello Woodlands Facebook page!
2019 Master Works Series
Enjoy elegant classical music and cutting edge cross-over concerts with The Woodlands Symphony Orchestra, Darryl Bayer Artistic Director. The success of the 2018 Chamber Series launched a bigger, bolder collection of ensembles such as the upcoming The Woodlands Jazz Orchestra and Opera Heroes.
Saturday, March 23 – Symphony Swings
The Woodlands Jazz Orchestra plays big band favorites, jazz standards and some surprise symphonic selections for you to listen, tap your toes or get up and dance.
Friday, April 26 – Opera Heroes
The Woodlands hometown singing celebrities Ian Ramirez and Kelley Peters serenade and swoon the audience in anticipation of the WSO Season Finale: Opera Heroes. Enjoy classical, romantic and modern arias from Mozart to Bizet, Rossini to Puccini, and Gershwin to Bernstein.
Each concert is limited to 150 seats including 40 VIP and 110 general admission at the Glade Arts Foundation. Doors open at 6:30 p.m. with a cash bar available and the concert starts at 7:30 p.m.
Learn more and purchase passes at https://www.gladeculturalcenter.com/WSOSpring2019-event
About Glade Arts Foundation
Glade Arts Foundation is a 501(c)(3) non-profit organization located 2000 Woodlands Parkway in The Woodlands, Texas.  The Foundation provides unique and accessible fine arts experiences through programs focused on art education, scholarships, and community-based public art projects, all managed from its curated, museum-like exhibit center.  Individuals and corporations form the essential base of support that sustains the Glade Arts Foundation.  Maintaining and growing that level of community support while providing world-class fine arts exhibits, programs, and facilities to The Woodlands and surrounding areas is the core mission of the Glade Arts Foundation. For more information please visit www.gladeartsfoundation.org.