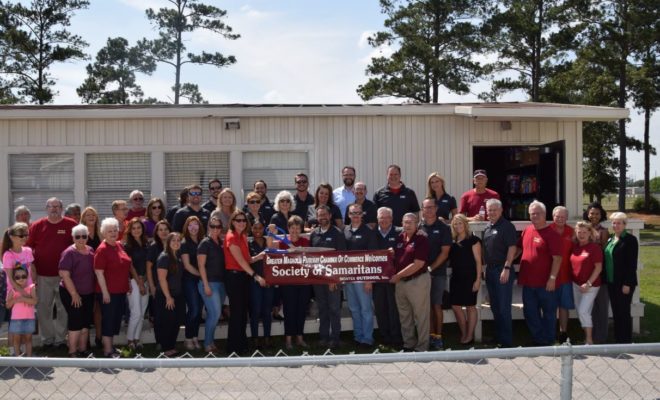 News
LMC Class completes Society of Samaritans Project
By |
MAGNOLIA, TEXAS – Leadership Montgomery County (LMC) Class of 2018, comprised of 45 leaders in the County, adopted Society of Samaritans (SOS) as their class project.
The Society of Samaritans has been a resource for food insecure families and those facing financial crisis for 32 years. Each year, SOS feeds over 16,000 people through its "Feed My Sheep" food pantry program and provides access to job counseling, clothing and family crisis support.
The LMC class rolled up their sleeves to expand the capacity of the SOS "Feed My Sheep" Food Pantry that holds produce and weekly donations. The class provided the pantry with two 20' refrigerated containers to hold perishables and installed rolling doors on two existing containers for easier access and improve operations.
The class provided a 24' x 36' modular building that will be the Resource Center for SOS programs and a Career Center. The Career Center will be for job seekers to prepare and improve their resume, search on-line for job openings and apply, receive coaching and mentoring and on-going training – all provided by LMC Class of 2018, complete with the computers, desks and chairs. The Resource Center will hold food giveaways like the SOS Summer Snack Sacks for MISD students as well as Thanksgiving and Christmas food giveaways. SOS is also planning for Financial & Budgeting classes, Health Screenings, other agency visits, and more programs at the center.
The class expanded SOS's job support services by providing collaborative services with Workforce Solutions who will team with SOS in the new Resource Center to provide career services on a regular basis in Magnolia.
The class assisted in the implementation of a new client management software plus provided recommendations and manuals for improving volunteer development, marketing, fundraising and outreach, including the creation of the new logo.
Learn more about the Society of Samaritans on their website at www.SocietyOfSamaritans.org.
Source: Shirley Jensen, Society of Samaritans