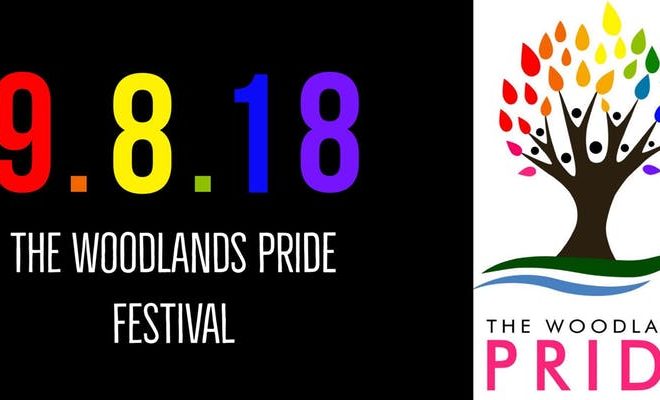 Events
Pride Festival coming to The Woodlands this September
By |
The Woodlands Pride is organizing the first Pride Festival in The Woodlands on Saturday, September 8, 2018 at Town Green Park.
The Woodlands Pride is a nonprofit organization with a mission to connect, celebrate, educate and foster relationships in the LGBTQIA (lesbian, gay, bisexual, transgender, queer or questioning, intersex, and asexual or allied) community while promoting equality, unity, and love in The Woodlands and beyond.
The event will include a kid zone, flame throwers, DJ's, food and drink vendors, drag performances and more from 11 a.m. to 5 p.m. The Woodlands Pride invites everyone to show their love, support, and unity for the LGBTQIA community.
Ranch Hill Saloon, located at 24704 I-45 in Spring, Texas, will be the official sponsor of the The Woodlands Pride Festival after party. The official after party will begin shortly after the festival ends at 5 p.m.
For more than 18 years, Ranch Hill Saloon has proudly been the only LGBTQIA establishment in Montgomery County. From being ran out of Conroe, TX for attempting to open the first gay bar, to experiencing raids for the first few years at Ranch Hill Saloon, it wasn't until 2014 when Debbie Steele, owner of Ranch Hill Saloon, felt safe enough to display rainbow flags outside her establishment.
Debbie Steele said, "I could not be more proud to be the sponsor and host for the after party! I have fought for the rights of everyone in our community for more than 40 years and I am grateful for this opportunity to once again serve the community I love so very much."
Ranch Hill Saloon is already planning special accommodations to prepare to be the official after party including having multiple DJs, outdoor tents, food trucks, drink specials, additional security, offering a non-smoking section, and much more. Admission will be free.
The idea of The Woodlands Pride Festival came from Jason Rocha of The Woodlands Pride after a walk along the waterway. where he envisioned a Pride event. He began making calls and reaching out to community activists in The Woodlands and surrounding areas to bring the ideal of a Pride Festival to life.
The event is free; however, attendees will need a ticket to enter. The Woodlands Pride will also be accepting donations on the day of the event. Get tickets and learn more about the event at eventbrite.com/e/the-woodlands-pride-festival-tickets-46197853022.
Learn more about The Woodlands Pride by visiting their website at thewoodlandstxpride.wordpress.com or Facebook page at Facebook.com/TheWoodlandsPride.