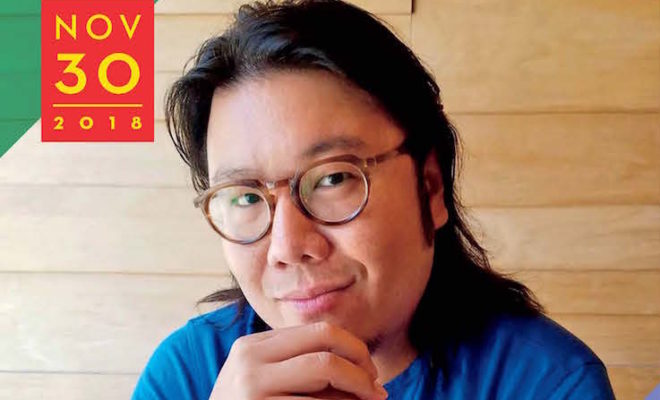 Art & Culture
Local Authors Enrich 14th Annual Signatures Author Series
THE WOODLANDS, TX – Visiting authors from The Woodlands and surrounding areas will round out the literary lineup at the 14th Annual Signatures Author Series to be held on Friday, November 30 at The Woodlands Waterway Marriott Hotel and Convention Center.
The 2018 keynote address will be given by Kevin Kwan, international bestselling novelist of the trilogy that included Crazy Rich Asians (also a blockbuster movie), China Rich Girlfriend and Rich People Problems, released in May of this year.
The annual Signatures event is sponsored by The John Cooper School Fine Arts Council and also features a VIP book signing reception with Kwan for lead sponsors, the luncheon, and the Visiting Authors portion, featuring the literary talents of authors who will be on hand to discuss, sign and sell their books before and after the luncheon.
"Each year we seek to also highlight the talented authors who live in our immediate community," said Kylie Haslam, who co-chairs the Visiting Authors portion of the event with Mari Dewberry. The 2018 Visiting Author selections encompass fiction for adults, adolescents and children, adult nonfiction, self-help genres and an entertainment cookbook.
Adult fiction offerings include categories from romance to suspense to historical. C.C. Hunter (cchunterbooks.com) is the pseudonym for Christie Craig, the award-winning romance author of This Heart of Mine, a haunting, poignant tale about living and dying, surviving grief, guilt and heartache while discovering love and hope.
Advertisement
Kathryn Lane writes fiction inspired by Latin American cultures. Her second novel in a thriller series is Coyote Zone, featuring romance amidst danger, kidnapping and human trafficking (www.kathryn-lane.com).
Historical fiction author Curt Locklear writes "stories with a twist." His book, Splintered, is the second in his action-packed, romantic tales of life during the Civil War (www.curtlocklearauthor.com).
Joseph Hayes is a retired attorney whose third novel, The Wall, is an intelligent, fast-paced political thriller that explores one of the most controversial and far-reaching issues of our time – immigration (www.josephhayesbooks.com).
Several children and young adult authors will be on hand, just in time for holiday shopping. For younger children, Pam Franks will bring the story of a very special Christmas when five elves come to live in a newly-built gingerbread house in The Magic Gingerbread House (www.themagicgingerbreadhouse.com).
Cooper alum Gabriel Garcia will feature his Avian Kingdom Feather Tales Series (www.aviankingdom.com), that provides a great way to talk to children about challenging topics. Valerie Sweeten will showcase Shh, Listen: On a Safari, (www.valeriesweeten.com) which is part of a series that follows a family on adventures.
Victoria Martin's love for dogs developed into Itty Bitty Wouldn't Budge, a story about a very large Newfoundland dog and her owner, Nana (www.facebook.com/ittybittydog). A portion of the book's proceeds will be donated to the Best Friends Animal Society.
Julie Coy and Grant Maniér are the author and illustrator of Grant the Jigsaw Giraffe–Different is More, a story of a giraffe born with puzzle pieces instead of spots. Maniér's own personal story, living with a special needs diagnosis, inspired Coy to write the children's story (www.jigsawgrant.com).
For older readers, husband and wife Molly and Gary Whitney team up to tell and illustrate the story of Tyson, an irresistible red-haired troll in Thistle Downe–A Tale of Trolls and Fairies (www.thistledownebook.com).
Young adult dark fantasy readers will appreciate five-time international Amazon bestselling author Kristen Martin's Shadow Crown, the first in the series of the same name (kristenmartinbooks.com).
Adult nonfiction is represented by Lorrie Parise's inspirational love story about her parents, Biography of an Everyday Couple, an honest depiction of dealing with death and having the faith to know when it's time to let your loved one go (www.lorrieparise.com). In Thursday Night Lights, Michael Hurd tells the inspiring, largely unknown, story of African American high school football in Texas.
A variety of self-help approaches are represented. Avery Neal, founder of the Women's Therapy Clinic, shares how to recognize the warning signs of subtle abuse and promote positive life changes in If He's So Great, Why Do I Feel So Bad? (www.averyneal.com).
Dr. Jacqueline Horton-Cobbin, a nationally-recognized educational consultant, technical writer and editor, offers According To HIS Purpose, which explores how to develop a divine relationship with God through a changed way of thinking (www.facebook.com/jacqueline.cobbin).
Author Christopher Field (www.meetchrisfield.com) offers Disrupting For Good, an uplifting collection of powerful stories about people who are taking on challenges around them and reshaping lives. Angelica Ribeiro shares how she improved her life by learning to be happier in Running into Happiness.
Cookbook author Lynn Wilson, a military spouse for 38 years, collected recipes and party ideas while traveling the world with her husband. She then compiled them into At Ease–A Salute to Creative Entertaining. A portion of Wilson's book sales will go to military family programs (www.ateaseentertaining.com).
"This is always a highly anticipated portion of our event and we are pleased to shed light on our local visiting authors," said Christie Swanbeck, who co-chairs the event with Susan DeMarco. "The continued success of this event is made possible through sponsorships at varying levels, ranging from individual seats for $150 each to table sponsors at the $5,000, $3,500 and $2,000 levels. This event is almost sold out, so I would encourage guests interested in attending to go to www.johncooper.org/specialevents."
Established in 1988, The John Cooper School is an independent, college preparatory school for students in Pre-K through Grade 12. For more information, visit www.johncooper.org.