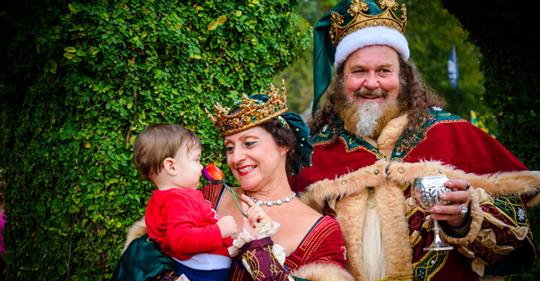 Events
Celtic Christmas at the Texas Renaissance Festival
By |
Father Christmas and his merry band of elves welcome children of all ages to the final, three-day holiday celebration at the Texas Renaissance Festival!
On Friday, November 23 through Sunday, November 25, unwrap the magic of the Yuletide season as the village transforms into a winter wonderland of Christmas trees, holiday music, and shoppes decorated in the lights and symbols of the season. The young and young at heart share their wish list with Father Christmas and there is a gift to be found for everyone in the shoppes of New Market. The Holiday Costume and Pumpkin Pie Eating contests will be a treat and the food, drink, music, and entertainment of the Texas Renaissance Festival will fill everyone with Christmas cheer.
Purchase tickets and learn more at TexRenFest.com
The Texas Renaissance Festival is the nation's largest and most acclaimed Renaissance themed event. Established in 1974, the event attracts over half a million visitors each year to its 55-acre recreation of a 16th Century European village. This immersive experience features world renowned live entertainment, works by master artists and craftspeople, award winning food and drink, hand-powered rides and games, and over 100 interactive characters during its nine themed weekends from Sept. 29 through Nov. 25, 2018. The festival and the adjacent Fields of New Market Campground are located in Todd Mission, Texas 50 miles northwest of downtown Houston.
TICKET GIVEAWAY
Congratulations to our winner, Falynn D!
AFTER DARK
Every Saturday from 8 p.m. to 1 a.m. you'll experience amazing Live Shows, Dancing with DJ Suave, Great food, 4 Bars mixing up delicious cocktails, Karaoke Room,
Hookah Lounge, and our newest addition; a specialty cocktail station with our very own mixologist. 21 and up welcome. Learn more at www.afterdarktrf.com.
WHAT'S NEW
Check out the Entertainment Schedule before you go to learn about new acts and performances at the festival
Tea and Strumpets – Enjoy fine loose-leaf teas, simple and elegant foods and creative wine-based cocktails on a beautiful balcony overlooking the village.
Pub Crawl – Join your tour guides and fellow merry band of imbibing companions as you wind your way through our wondrous village for humor, hi-jinks, and drinks. At each stop of your tailored pub crawl you'll enjoy your choice of a unique beer or cider, each one fit for the King himself. Plus, your limited edition, commemorative tasting glass is yours to keep at the end! Space is limited-click here for more information.
Spirits at The Barbarian Inn – Enjoy spirits, cocktails, wines, beers and ales in an elegantly barbaric atmosphere.
The 1574 Founder's Club – This exclusive concierge club offers a climate-controlled private lounge with an hors d'oeuvres buffet, personal attendant, lockers, drink service, and other amenities. Season and day memberships available.
Great Scot Scotch Tastings – Shop #61, purveyors of fine Scots attire, have added a whiskey bar offering scotch tasting on the hour.
The Keep – Keep your stuff safe at The Keep, New Market Village's new locker and storage rental facility, located just inside the village entrance. Phone chargers are also available for rent.
The Museum of Cruelty: The Second Story – For those who dare, the Museum of Cruelty has as added an even more terrifying tour of man's cruelest inventions.  Walk through the horrifying history of torture located in the Enchanted Forest.
The King's Bierrock – The winning dish of the 2018 Royal Chef Showdown, this savory delight features well-seasoned ground beef, onions, herbs, spices, and chopped vegetables in a hot yeast roll shell. Available at The Queen's Pantry (Shoppe #8) and Polonia (Shoppe # 73)
FESTIVAL TIPS
Come early/stay late: The majority of guests arrive between 11 am and 2 pm. However, the festival gates open at 9 am. Coming early ensures that you will not be sitting in long lines of traffic entering festival parking. Plus, arriving before 9 am allows you to see the King and Queen and the courts as they greet early arrivals at the front gates beginning at 8:45 am. Likewise, staying to watch the Royal Fireworks at 8 pm means that you can avoid the exit congestion of those who choose to leave before sundown.
Come from the north, not the south: Most people coming from the greater Houston area usually come to the Festival via one of the main roads leading into the town of Magnolia, either on FM 1488 from The Woodlands, or Hwy 249/FM 1774 from Tomball. However, there are parts of these roads that are currently under construction. When completed, these projects will make getting here easier, but now they may impede your travel. Take I-45 to Hwy 105 in Conroe. Go west on 105 to FM 1774 in Plantersville. Turn south onto FM 1774 and travel 6 miles to the Festival entrance.
Get The TRF app for real time traffic alerts: the new TRF app will provide you with up to date traffic information to help you in your journey. You can also find special alerts on our Facebook, Twitter, and Instagram pages.
For more information, visit www.texrenfest.com and install the free Texas Renaissance Festival mobile app on your phone, available in the App Store and Google Play.
For more exciting updates on social media, follow the official event hashtag #TexRenFest, like the Facebook Page or follow on Twitter @texrenfest and Instagram @texrenfest.