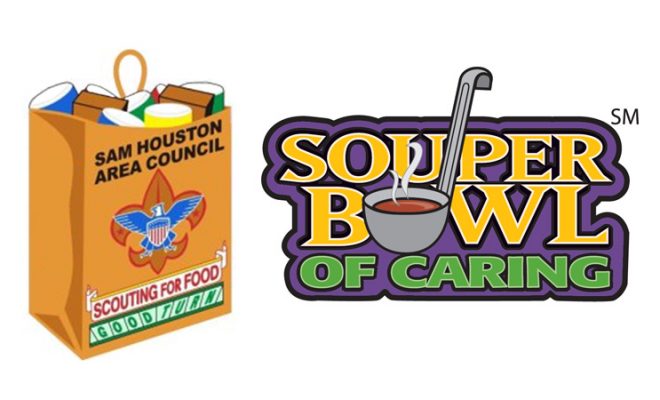 Events
Local Boy Scouts to Collect Food for Souper Bowl of Caring Food Drive
By |
MONTGOMERY COUNTY, TX – Every year, local boy scouts participate in Scouting for Food, a council-wide service project to care for people in our community who are food insecure.
In partnership with the Souper Bowl of Caring, the project begins Saturday, January 25, 2020, as scouts distribute door hangers in their neighborhoods to announce the upcoming food drive. Scouts return the following Saturday, February 1, 2020, to pick up and deliver donations to their local food banks and pantries. Montgomery County community members can watch for door hangers from George Strake District (formerly Tall Timbers District) scouts who are participating in the program as they begin their project this Saturday.
Souper Bowl of Caring is a nationwide, grassroots movement utilizing Super Bowl weekend to mobilize youth to fight hunger and poverty in their local communities. Food contributed must be nonperishable. The most distributed item is peanut butter. Protein in various forms is important, and helps the food banks provide a nutritious blend of foods.
The George Strake District serves scouting units in Conroe ISD (south of the San Jacinto River) which serves The Woodlands, Oak Ridge, and Shenandoah. The George Strake District is located in the Sam Houston Area Council.
Scouting for Food is the leading service program for Boy Scouts of America and is a part of the national BSA program – Good Turn for America.
Source: Sam Houston District Boy Scouts of America, George Strake District, Souper Bowl of Caring