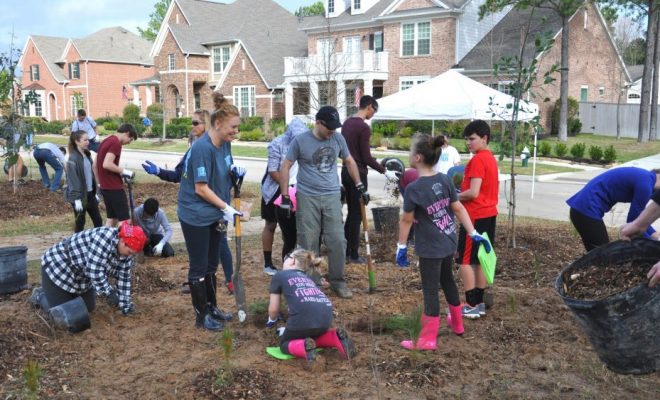 Events
Local Nature Events in January & February
By |
Get outdoors and connect with nature at one of these local events held in January and February. You can get your hands dirty volunteering, learn about organic gardening, shop at the farmer's market to support local gardeners, visit an outdoor living expo, and even enjoy the outdoors on an adventure course. Get involved in your local community events to enjoy nature and contribute to the natural beauty of the area in many different ways.
January 25 – Arbor Day Celebration. Join The Woodlands Township, and community partner the George Strake District of Boy Scouts of America, in celebrating the 44th annual Arbor Day Tree Giveaway. A variety of native tree seedlings will be given away for FREE from 9 a.m. to noon. Since 1977 more than 1.5 million seedlings have been given to attendees to plant in their yard, in community open space reserves and in forest preserves. Participate in one of The Woodlands longest standing traditions and help plant trees today for our community to enjoy for years to come. Learn More
January 25 – Fruit & Nut Tree Sale. The Montgomery County Master Gardener Association (MCMGA) will hold a pre-sale program highlighting the plants in this sale at 8:00 am Saturday at the Texas A&M AgriLife Extension Office with the sale beginning at 9:00 am. MCMGA's Montgomery County Horticultural Agent and Master Gardeners will present an informative program highlighting plants in the sale, plant selection, and planting information and then will be available during the sale to answer your questions. There will be several varieties of bare-root trees, bare-root grapes and berries, potted fruit trees and shrubs, native trees, onions, strawberries, and bluebonnets. Learn More
January 25, February 1, 8, 15, 22, 29 – The Woodlands Farmer's Market – Located in the Grogan's Mill Shopping Center, The Woodlands Farmer's Market is open year-round every Saturday from 8:00 a.m. to noon, rain or shine. Vendors offer locally grown produce, grass fed beef, Texas handmade artisan cheeses, goat cheese, sustainably cultivated coffee, local honey, breads & pastries, no sugar-added baked goods, prepared tamales, Indian cuisine & Mediterranean food, gluten-free options, and seasonal products such as pumpkins. Learn More
February 1 – Principles of Organic Landscapes and Gardens. Three of Houston's premier organic educators will teach a FREE workshop on the benefits of organic garden and landscape principles. If you are already gardening, thinking of starting a garden, or are looking for a way to improve your yard, it's time to ditch your synthetic fertilizers and toxic pesticides and garden with organics. Learn from the experts how to have a beautiful yard or garden free of chemicals. Space is limited and registration is required. Learn More
February 1 – Sunset & S'mores. Spend an evening outdoors climbing the Texas TreeVentures adventure course, then gather around a campfire for s'mores! Preregistration is required. Learn More
February 1 – Backyard Composting Class. Join your community for a FREE outdoor composting class and learn how easy it can be to turn kitchen waste, yard trimmings and leaves into rich, handmade compost. A variety of composting tools and equipment will be available for hands-on learning. Composting experts will share how compost benefits plants, gardens and lawns. Composting resources, problem-solving and tips for success will be addressed. This informal, interactive class is packed with information and fun. No registration required. Learn More
February 5 – Walk in the Woods Nature Lecture: Feral Hogs in a Suburban Landscape. Feral hogs are a growing problem in Texas because of their destructive feeding habits, potential to spread disease, and increasingly expanding population. Impacts are being felt in most areas of Texas including suburban landscapes like The Woodlands. In this presentation, Dr. Tomecek will provide education on the history of feral hogs in Texas, their environmental and economic impacts, and best practices to homeowners needing to manage damages themselves. Registration is required for this FREE lecture but space is limited. This event is part of The Woodlands Township's Walk in The Woods Nature Lecture Series. Learn More
February 8 – Community Tree Planting. Join The Woodlands Township at the sixth annual Community Tree Planting at the Creekside Park West Trailhead of the George Mitchell Nature Preserve. Township staff and volunteers will work side by side to help reforest a portion of the trailhead with a variety of native trees, wildflower seed and milkweed plants. Volunteers will be provided with small tools and gloves. All ages are welcome to volunteer and get their hands dirty. Registration is required. Learn More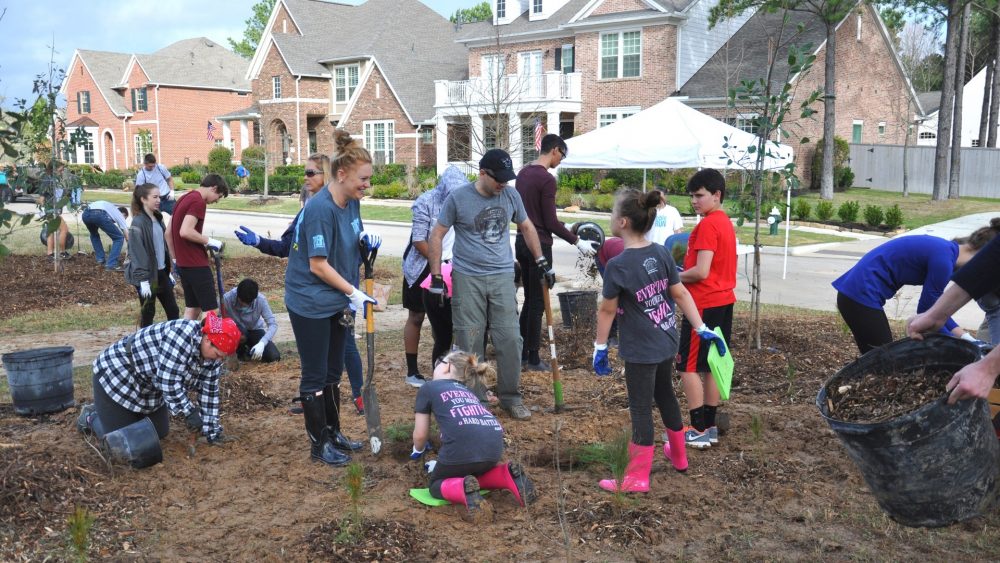 February 8 & 9 – Teen Leadership Adventure Program. Calling all kids in 7th – 9th grade who enjoy being outdoors! Join this program and get experience and exposure to camping, outdoor cooking, orienteering, and so much more. Teens meet one Saturday each month at Oscar Johnson Jr. Community Center in Conroe to learn new camping and outdoor skills. This free program runs through the month of May, and all equipment is provided. Learn More
February 13 – Walk in the Woods – Basics of Backyard Beekeeping. Ever wondered what it would be like to be a beekeeper? Not sure where to start, or how much work it will take? This free presentation is led by Woodlands residents Lisa and Andrew Miller, who own four hives and created The Woodlands Honey Company to sell their own local honey. Come learn firsthand from the experts. Registration is required. This event is part of the Walk in the Woods Nature Lecture Series. Learn More
February 15 – Invasives Task Force Training. Non-native, invasive plants crowd out native vegetation, degrade soil health and push out critical food sources that wildlife depend on. Volunteers are needed to work on scheduled days at specific sites around town to remove invasive species such as air potato vine, Chinese privet and Japanese climbing fern. Registration is required for this FREE training. Learn More
February 22 – The Watershed Project. If you are interested in taking action to protect and conserve our water resources, learn how watersheds function, why preserving the quality of watersheds is important or would like to become more involved in caring for your community, then commit to making a difference today. Residents will be trained on a variety of water-related volunteering opportunities to participate at throughout the year, including teaching students about aquatic habitats in the field, conducting water quality tests and making presentations to local civic and social groups. Registration is required for this FREE training. Space is limited. Learn More
February 22 – Spring Vegetable Gardening. Register today for the unique chance to hear from Dr. Bob Randall as he shows participants how to have a successful organic vegetable garden with tips and tricks specific to our climate. As a founding member of Urban Harvest, Dr. Randall has helped establish one of the most successful community gardening programs in the Houston area. This presentation will be filled with resources for beginners to advanced gardeners. Dr. Randall will cover a variety of topics in this 3 hour presentation including: Organic gardening, Spring gardening for Montgomery County, Garden site selection and preparation, Plant selection related to specific plant hardiness zone (9a), Gardening techniques. This is a FREE class but registration is required. Learn More
February 22 & 23 – Wilderness First Aid. This 16-hour Wilderness First Aid Course is an educational resource for those involved in activities that take them beyond the boundaries of traditional urban emergency medical services. This course meets the requirements for organizations that require/recommend training in backcountry emergency response for almost any location. Two-year certification issued upon successful completion of the class. Learn More
February 29 & March 1 – Montgomery County Home & Outdoor Living Show. Transform your home and outdoor living spaces with the latest innovative products and fresh new trends at the Montgomery County Home & Outdoor Living Show at the Lone Star Convention Center. Discover outdoor living ideas, outdoor furniture, fencing, mosquito misting systems, barbeque pits, outdoor kitchens, custom patios, and learn from landscape designers. Learn More
Check our Online Calendar and be sure to subscribe to our Email Newsletter for more outdoor and nature events as they are announced.