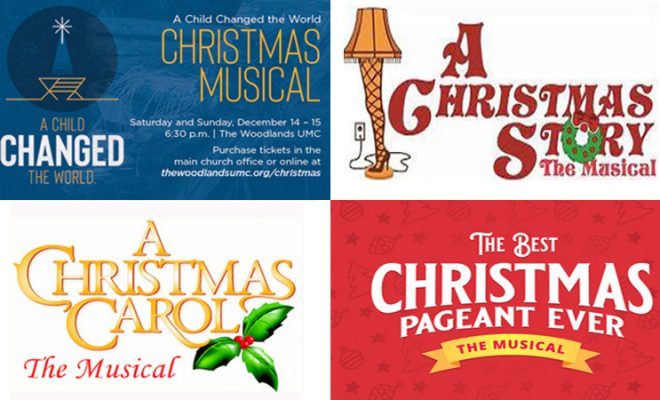 Events
Local Christmas Musicals 2019
By |
Get into the holiday spirit with a Christmas musical! With these local options, you won't have to drive downtown to see a great production.
---
Beth Bradley's church's Christmas pageant is predictable every year — the angel choir wears too much lipstick, the shepherds are all in their father's bathrobes, the minister's son is permanently cast in the role of Joseph — hardly "four-star entertainment." But when seasoned and authoritative pageant director Mrs. Armstrong breaks her leg, it is up to Beth's inexperienced mother Grace to step in. The timing couldn't be worse, as the rambunctious Herdman children, a rough and tough group of siblings from the wrong side of the tracks, descend upon the pageant, lured by the promise of free dessert at Sunday school, and determined to win all the lead roles for themselves.
The Ladies' Aid Society members are beside themselves with disapproval, all the shepherds quit because Gladys Herdman "hits too hard," the show is briefly re-titled "Revenge at Bethlehem," and the church catches on fire. But Beth and her community watch in surprise as the same old Christmas story is rejuvenated by the creativity, energy, and unexpected sincerity of a misunderstood young family. Mary Robinson's The Best Christmas Pageant Ever, based on her novel of the same name, is a widely beloved Christmas tale, warm and incredibly funny, full of characters both relatable and utterly unique. Learn More: crightontheatre.org/event/a84e908c1d452152ac0b14594965fb3f.
Times:

Dec. 6, 7, 13, 14, 20, 21 – 8:00 p.m.
Dec. 8, 15, 21, 22 – 2:00 p.m.

Location: The Crighton Theatre, 234 N. Main, Conroe, TX 77305
Ticket Prices: $17-$26
---
---
Ebenezer Scrooge is a prosperous curmudgeon who believes that personal wealth is far more valuable than the happiness and comfort of others. With an infuriated "Bah! Humbug!" Scrooge summates his feelings of Christmas tidings and charitable giving, but he's forced to face his selfish ways when three ghosts on Christmas Eve lead him through his Past, Present and Future. Thanks to their guidance, Scrooge recognizes his faults and greets Christmas morning with a cheerful "Happy Christmas" before spending the day reconnecting and sharing love with those that mean the most to him. Purchase Tickets: https://owentheatre.com/event/a-christmas-carol-2019/.
Times:

Dec. 6, 7, 13, 14, 19, 20, 21 – 8:00 p.m.
Dec. 8, 15, 22 – 2:00 p.m.

Location: Owen Theatre, 225 Metcalf Street, Conroe, TX 77305
Ticket Price: $24
---
---
The Woodlands United Methodist Church's "A Child Changed the World" Christmas Musical, Saturday, December 14 and Sunday, December 15 at 6:30 p.m., will showcase its talented Chancel Choir and Sanctuary Orchestra presenting the Christmas story so you and your family can experience the sounds of the season and come to know the love of Christ. Learn More: thewoodlandsumc.org/Christmas.
Times: December 14 & 15, 6:30 p.m.
Location: The Woodlands United Methodist Church
This musical, which received rave reviews on its Broadway run, is based on the movie classic that runs round-the-clock on television every Christmas. Set in the 1940s in the fictional town of Hohman, Indiana, the musical follows 9-year-old Ralphie Parker and his quest for the Holy Grail of Christmas gifts—an Official Red Ryder carbine-action 200-shot Range Model air rifle. Rebuffed at every turn with a similar echoing response, Ralphie plots numerous schemes to achieve his desperate desire for the coveted BB gun. All the iconic scenes from the movie are here: Ralphie's friend, Flick, getting his tongue stuck to the flagpole; his brother, Randy, getting dressed in his snowsuit; the bullies, Farkus and Dill; the leg lamp award; the bunny suit; the Chinese restaurant; Christmas dinner; and many others. Learn More: https://www.showclix.com/event/christmas-story-2019
Times:

Dec. 20, 21 – 7:30 p.m.
Dec. 21, 22 – 2:30 p.m.

Location: StoneBridge Church, 1 Stonebridge Church Dr, The Woodlands, TX 77382
Ticket Prices: $15 – $25