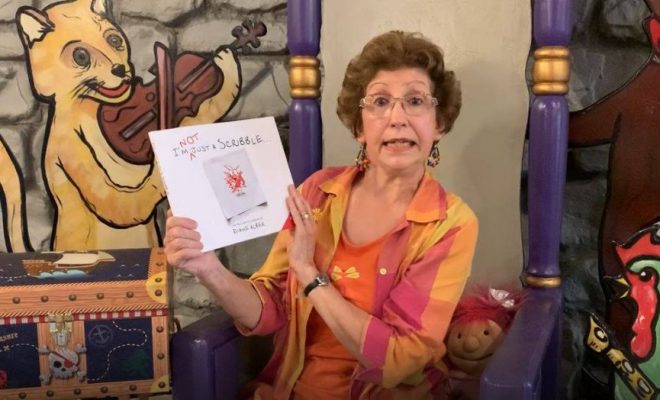 Events
Local Drive-up & Virtual Events in March
By |
Although restrictions regarding events have been enacted due to the COVID-19 pandemic, there are still several local events being held in March that can be "visited" virtually, or accessed by driving through!
---
March 26 – Recorded Shadow Puppet Theatre presented by The Woodlands Children's Museum – The world is transformed with the coming of spring, welcoming baby birds, sprouting seeds, rain, and mud March 26th at 11:00 a.m. as The Woodlands Children's Museum presents When Spring Comes by Kevin Henkes during Shadow Puppet Theater. Shadow Puppet Theatre is an introduction to storytelling elements which allows children of all ages to be enchanted with animated shadows. Find the recorded event on The Woodlands Children's Museum's YouTube channel at youtube.com/channel/UCoNRSpYVVb0SJClLCR0Ih2g.
---
March 27 – YMCA Blood Drive – The Woodlands Family YMCA will host the Blood Donor Coach in its parking lot to help address the critical needs of blood supply for local hospitals. The Donor coach will be parked at the Branch Crossing YMCA, located at 8100 Ashlane Way, on Friday, March 27, from 9:00 a.m. – 3:00 p.m. No walk in appointments will be accepted. Register your preferred time online at commitforlife.org/donor/schedules/drive_schedule/308134.
As the coronavirus outbreak continues to spread in the United States, Gulf Coast Regional Blood Center is urging individuals to make and keep blood donation appointments to ensure a steady supply of blood. The Blood Center is the sole provider of blood and blood components 24/7 to more than 170 hospitals and health care facilities in a 26-county Texas Gulf Coast region.
The coronavirus does not pose any risk to blood donors, either during the donation process or while attending organized blood drives. Given this information, the FDA and the Centers for Disease Control and Prevention (CDC) have not recommended blood centers take any additional action at this time. Social distancing guidelines will be followed. For more information, visit giveblood.org/mythbusters-the-truth-about-coronavirus-(covid-19)/.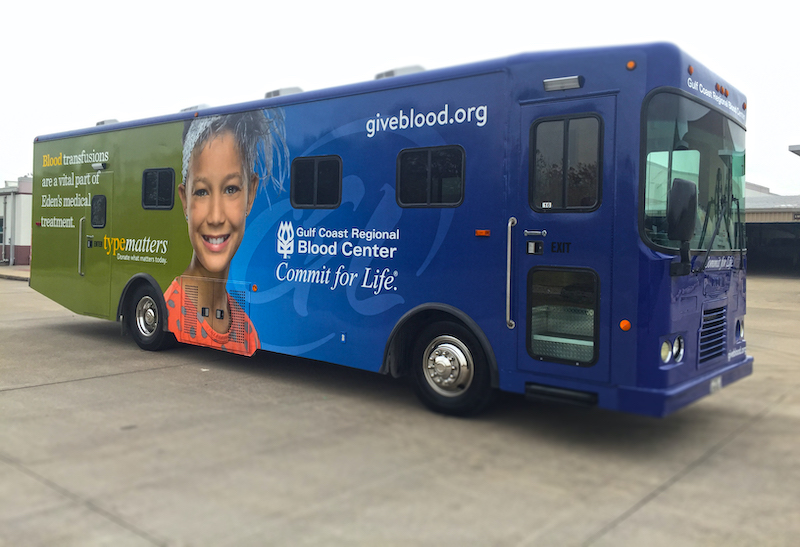 ---
March 27 – Recorded Storybook Theatre presented by The Woodlands Children's Museum – Join the Woodlands Children's Museum March 27th at 11:00 a.m. for a reading of I'm NOT just a Scribble by Diane Alber. Scribble, the book's main character, never thought he was different until he met his first drawing. After being left out because he didn't look like everyone else, Scribble teaches the drawings how to accept each other for who they are, which enables them to create amazing art. Find the recorded event on The Woodlands Children's Museum's YouTube channel at youtube.com/channel/UCoNRSpYVVb0SJClLCR0Ih2g.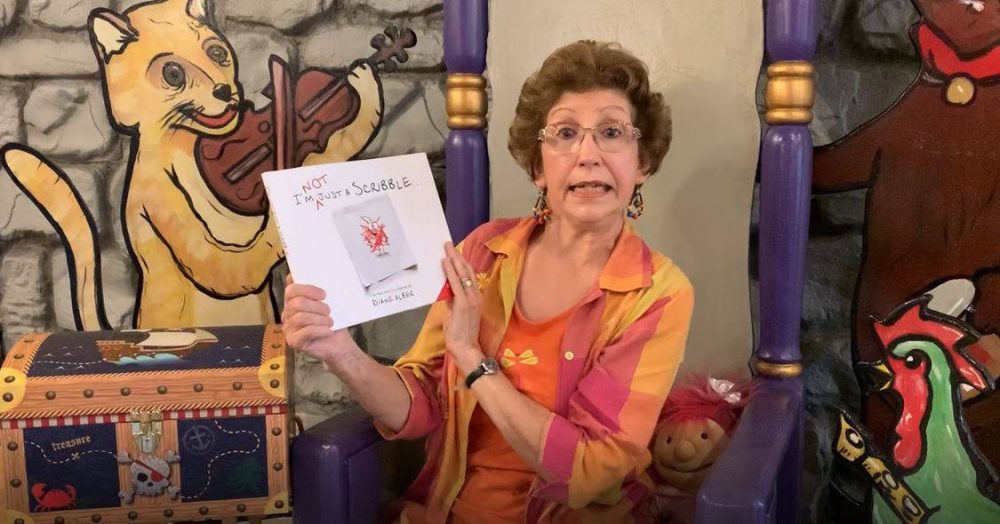 ---
March 28 – YMCA Mobile Food Market – Even though the doors of the YMCAs are closed during these difficult times of COVID-19, the organization is committed to continuing to meet the needs of the community.
Through a partnership with more than 60 partner agencies including the YMCA, Montgomery County Food Bank distributes food to more than 30,000 individuals a month in Montgomery County.
Addressing the basic needs of families with food insecurity, The Woodlands Family YMCA will host a mobile market in the Shadowbend YMCA parking lot on Saturday, March 28th from 10:00 a.m. – Noon.
Located at 6145 Shadowbend Place in The Woodlands, patrons will drive-thru each station, never leaving their vehicles. Boxes of food will be loaded into their cars by volunteers and YMCA Staff.  Each family will receive 30lbs of fresh produce, 30lbs of dry/canned goods, 10lbs of frozen meat and lots of breads/desserts.
Distribution of food will be on a first come, first serve basis with enough food to serve 150 families, starting at 10:00 a.m. Signage will be available to help with traffic flow. Social distancing guidelines will be enforced.
For more information on Montgomery County Food Bank, the guidelines they are following to address the spread of  COVID-19 and additional food distribution sites, please visit mcfoodbank.org.
---
March 28 – March for Marrow Virtual Race – The 11th Annual March for Marrow The Woodlands, benefitting the Aplastic Anemia & MDS International Foundation (AAMDSIF), is going virtual so teams can continue their fundraising efforts. The raffle is also still going on – tickets are available under the DONATE button on the web page at aamdsif.salsalabs.org/m4mwoodlands2020.

---
March 31 – Family Promise "No Show" Luncheon – Visit Family Promise's Facebook page at www.facebook.com/FPMCT to "attend" the annual Family Promise Luncheon virtually through Facebook Live! During the event, attendees will hear from a graduate family of the program, some of the Family Promise Board Members, and American Idol Finalist Phil Stacey. Join the come-and-go luncheon from 11:00 a.m. to 2:00 p.m. March 31, 2020.
The Annual Spring Luncheon is one of the organization's largest fundraisers every year. Community support is needed more than ever to continue serving homeless families. The current families in the program are having to stay in hotels since they cannot stay in the churches with the coronavirus. This is an escalating cost to the Family Promise organization and it needs your help.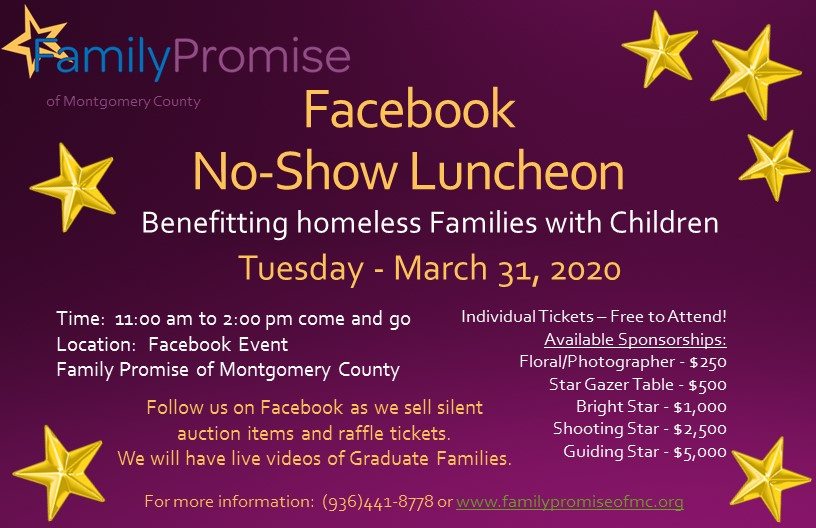 ---
Daily – The Pavilion's Arts at Home Daily Activity Guide – The Cynthia Woods Mitchell Pavilion has created a handy guide of at-home arts activities and will provide new links each for day of the week, in line with the organization's belief that communities are stronger when they have access to the arts – especially in uncertain times.
Current activities and ideas for the first week, Monday through Sunday, include Lunch Doodles, Music from Balconies, Songs of Comfort, Educational Arts, Concerts from Home, Dancing, Metropolitan Opera's nightly stream and more.
View daily activities in the guide provided on the Pavilion's website at woodlandscenter.org/arts-at-home.