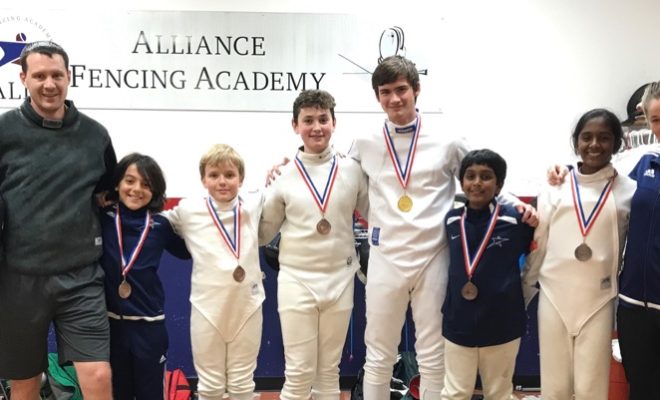 Fitness & Sports
Local Fencers bring home 52 Medals
By |
Fencers from Alliance Fencing Academy brought home 52 medals from USFA-sanctioned National, Regional and International competitions in November 2017. At Alliance Fencing Academy's The Woodlands facility, 8 local fencers (Sophia Delannoy, Andrew Graber, Chase Gomez, Alex Sebastian, Felicity Sebastian, Will Smith, Tristan Tipler and Klim Zolotarev) garnered a total of 8 medals in the past month.  
The most recent Regional event was held in Houston, Texas.  Three hundred ninety-one fencers ranging in age from 8 to 16 from across Texas competed at The Space City Regional Youth Circuit. Alliance Fencing Academy brought 79 fencers to the event.  Of the 8 Gold medals awarded in epee, Alliance Fencers won 7.  Alliance fencers from both the Houston and Woodlands locations brought home a total of 38 medals from the event.  Medals are awarded for places 1-8.  The Woodlands Alliance medalists included:
Smith, Will – GOLD CADET (ages 16 and under)

Tipler, Tristan – SILVER Y12 (ages 12 and under)

Sebastian, Felicity – BRONZE Y12

Zolotarev, Kilm – 5TH Y10 (ages 10 and under)

Graber, Andrew  – 5TH Y14 (ages 14 and under)

Gomez, Chase – 5TH Y10

Delannoy, Sophia – 8TH Y14

Sebastian, Alex – 8TH Y10
The United States' National fencing team traveled to Finland for a Cadet European Cup competition in November including team members from Alliance.  In order to represent the U.S. team, fencers must be in the top 20 in national point standings.  Alliance fencer Isaac Herbst (Houston, TX) brought home the GOLD and Alliance teammate Tarun Nair (Katy, TX) came in 6th in the individual Men's Cadet Epee event.  The 4-member Cadet Men's Epee Team brought home GOLD for TeamUSA, which included two Alliance Fencing Academy members; Mike Bissinger and Isaac Herbst.  TeamUSA beat out 30 other teams to take the Gold. One hundred forty-one (141) fencers representing 19 countries from across the world competed in the two day event held November 18-19 in Espoo, Finland.
In the NAC (North American Cup) held in Kansas City, MO, three Alliance Fencing Academy fencers brought home GOLD;  Isaac Herbst (Houston, TX) and Gigi Vierheller (Houston, TX) secured Gold in Cadet Men's Epee and Junior (20 years and under) Women's Epee event, respectively.  In Cadet Men's Epee 226 fencers from 4 countries competed.  One hundred ninety-four (194) women from the US and Canada fenced in the Junior Women's Epee event.  Fellow Alliance fencer Jonathan Piskovatskov (Houston, TX) earned SILVER in Junior Men's Epee in a field of 294 fencers representing four countries.  The tournament spanned four days from November 10-13, 2017.
Fencing in a United States Fencing Association (USFA)-sanctioned event give fencers an opportunity to qualify to compete in the Junior Olympics and Summer Nationals events as well as earn fencing ratings.   The United States is divided into 6 regions for Regional fencing Competitions. Texas fencers compete in Region 5, which includes four states.  
In each event, fencers compete in pools of 6-7 athletes. Athletes fence one another in 5-touch bouts. Based on their performance in pools, fencers advance to lengthier Direct Elimination bouts to ultimately determine the winner of the competition.
Alliance Fencing Academy was founded in 2004 by United States Olympic Coach, Andrey Geva. Geva led Team USA's Women's Epee Team in the 2016 Olympics in Rio. Alliance Fencing Academy is the largest epee fencing club in the United States with over 350 students at its two locations in Houston and The Woodlands.   It is also a top producer of collegiate fencers, with many students receiving athletic and academic scholarships to universities such as Columbia, U. Penn, Penn State, Notre Dame, Northwestern and Stanford.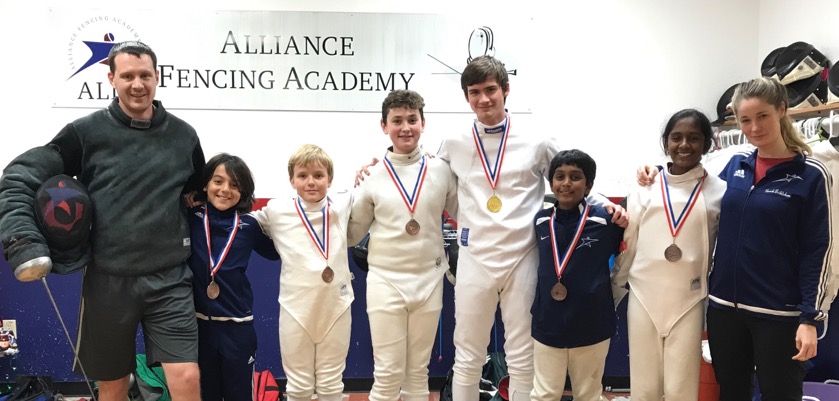 For more information on classes or camps, visit Alliance Fencing Academy's website at www.Alliance-Fencing-Academy.com or drop by to watch the fencers in action. Classes start as young as 5.  Alliance Fencing also offers Homeschool and evening classes, birthday parties and Off Campus PE Credit for multiple local school districts.
Source: Sarah Thow, Alliance Fencing Academy