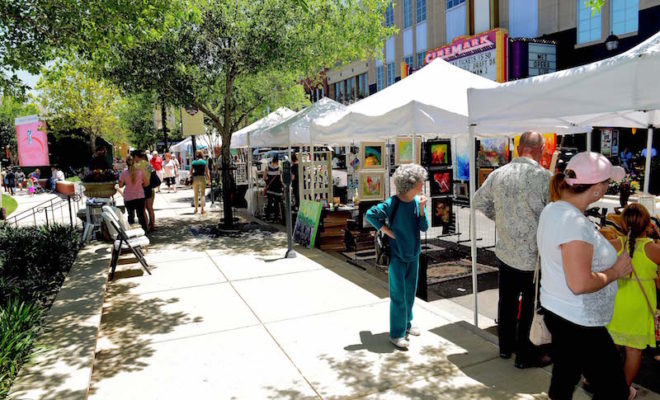 Art & Culture
Local Outdoor Markets 2021
By |
Get outdoors, enjoy the spring weather, and support small businesses by heading to one of our local markets. Some new markets have popped up this year, so be sure to check them out! Visit their website or Facebook page for the most up-to-date information and safety protocol updates.
---
The Woodlands Farmers Market – This long-running staple of The Woodlands community is located in the Grogan's Mill Shopping Center. The market is open rain or shine and is home to vendors offering locally grown produce, grass fed beef, Texas handmade artisan cheeses, goat cheese, sustainably cultivated coffee, local honey, breads & pastries, no sugar-added baked goods, prepared tamales, Indian cuisine & Mediterranean food, gluten-free options, and seasonal products. A list of new safety protocols can be found here: www.grogansmill.org/2020fmreopening.
---
Sterling Ridge Village Artisan's & Farmers Market – The first ever Sterling Ridge Village Artisan's & Farmers Market will feature local area retailers, farmers, specialty produce and food purveyors as well as arts & crafts, novelty, and other interesting vendors.
Address: 30420 FM 2978 Rd, Magnolia, TX 77354-5129 (The Colonnade Shopping Center)
Website: www.sterling-ridge.org
Day & Time: February 7, 9:00 a.m. – 1:00 p.m.
---
Gypsy Caravan Farmers Market – Guests can buy fresh and organic products from farmers, while art lovers can browse and buy original and handcrafted jewelry, pottery, wood, sculpture, fiber arts, and other unique pieces from local craftsmen. The market will be held at the Macy's & Forever 21 parking lot every Friday from February 5, 2021 – April 30, 2021.
Address: 1201 Lake Woodlands Dr, The Woodlands, TX 77380 (The Macy's & Forever 21 parking lot at The Woodlands Mall)
Days & Times: February 5 – April 30, 10:00 a.m. – 2:00 p.m.
---
---
Big Top Vintage Market – This free event, located in downtown Conroe at Heritage Park, is open to the public to enjoy shopping 300 vendors, food trucks, live music, family fun, and more. Parking can be found directly at the market grounds, and there is a free public parking garage located at 399 Simonton Street in Conroe, in addition to free street parking. There are ATMs available for use at the market; however, most vendors do accept credit and debit cards.
---
Oak Ridge Pop Up Market – The brand new Oak Ridge Pop Up Market brings visitors a little bit of everything – gourmet bakeries, produce, boutiques, home decor, crafts, and more.
Address: 27582 I-45 North, Conroe, TX 77385
Website: www.oakridgepopupmarket.com
Days & Times: February 6, March 6, April 3, May 8 from 11:00 a.m. – 4:00 p.m.
---
---
First Annual Bridgewood Farms Spring Fever Craft Market – Shop crafts made by Bridgewood Farms' clients and other local vendors and small businesses. There will also be kids activities for $5, so bring the whole family to enjoy the day! The Spring Market proceeds will be directed towards scholarships, activities to combat social isolation and general operating cost for Bridgewood Farms' intellectually and developmentally disabled clients.
Address: 11680 Rose Rd., Conroe, TX 77303 (there will be both outdoor and indoor booths)
Day & Time: March 6, 10:00 a.m. – 3:00 p.m.
---
The Farmers Market on Tamina – Founded in 2016, this market is central to Montgomery, Conroe, Spring, Tomball, and The Woodlands, located at FM 1488 & FM 2978 within the Westwood subdivision. The market has between 35-50 vendors each Saturday, a signature complimentary cocktail each week, and a family friendly vibe.
---
Rayford Sunday Market – Head to the Imperial Oaks Shopping Center for food, fun, and shopping. The market brings together a collection of artisan crafters, small businesses, community sponsors, and businesses for an afternoon of shopping, fundraising, and entertainment.
Address: 2301 Rayford Rd. Spring, TX 77386
Facebook: www.facebook.com/rayfordsundaymarket
Days & Times:

February 7 & 21, March 7 & 21, April 11 & 25, May 16 & 30 from 11:00 a.m. – 4:00 p.m.
---
Isaac Conroe Farmers Market – Every first Thursday of the month, Isaac Conroe Farmers Market vendors offer fresh fruits, vegetables, local honey, fresh sauces & salsa, tamales, handcrafted artisan decor & jewelry, homemade cuisine and more! Market Days are held at Heritage Park on the corner of Metcalf and Main (next to the Owen Theatre).
Address: Heritage Park, 500 Collins St, Conroe, TX 77301
Day & Time: The first Thursday of the month starting April 1 from 5:00 – 9:00 p.m.
---
---
Tomball Farmers Market – Tomball Farmers Market is a registered nonprofit and works as a cooperative effort of local families dedicated to providing the highest quality food and handmade products to the community. Visitors will find fresh local produce, culinary herbs, garden fresh veggies, the freshest olive oil, raw honey, old fashioned jellies, salsas, relishes, homemade soaps, lotions, hand made crafts and much more. The market has a vast selection of pasture raised beef, pork, chicken and lamb that is never given antibiotics steroids or hormones.
---
Montgomery Sip-n-Stroll Farmers Market – Enjoy fantastic handmade products, produce, and beverages supporting local vendors and businesses in beautiful historic downtown Montgomery.
Address: 14326 Liberty Street, Montgomery, TX 77356
Day & Time: Every Thursday of the month from March – December, 4:30 – 7:30 p.m.
---
---
Woodlands Square Market on 1488 – The Woodlands has a new community market popping up twice a month. Find fresh produce, crafts, baked goods, food, gifts, service providers, local businesses, and all kinds of goodies twice a month starting January 2021.
---
Spring Fine Arts Show at Market Street – Free and open to the public, the Spring Fine Arts Show at Market Street is one of the most popular gatherings for artists in The Woodlands where families can browse for great buys, enjoy live music, and participate in artist demonstrations. Explore paintings, photography, jewelry, metal works, sculptures, digital art, mixed media and other works of art. Vendors and guests are expected to social distance as much as possible while at the event.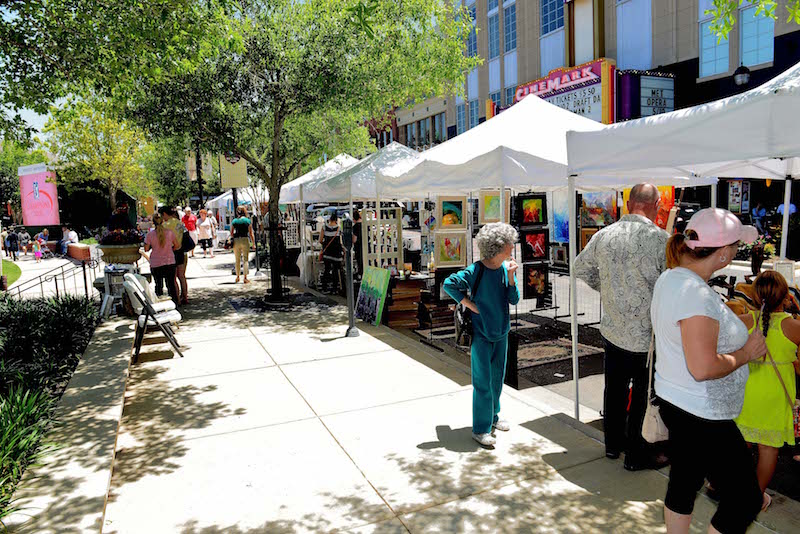 ---
Health, Wellness and Fitness Expo – This health, wellness and fitness pop up event at Market Street is free and open to the public. Bring your family, friends or workout buddy and visit health and fitness vendors, check out the free health screenings available, or join in on our kid-friendly activities! The event will take place rain or shine.
---
Arts in the Park – Bring a picnic and lawn chairs and enjoy an afternoon outdoors with family and friends at Northshore Park (NEW LOCATION)! This FREE event features local vendors selling original artwork and live stage performers. Artists 18 and younger are encouraged to create their very own masterpiece and enter the Youth Art Contest.
UPDATED: January 29, 2021 at 12:45 p.m.