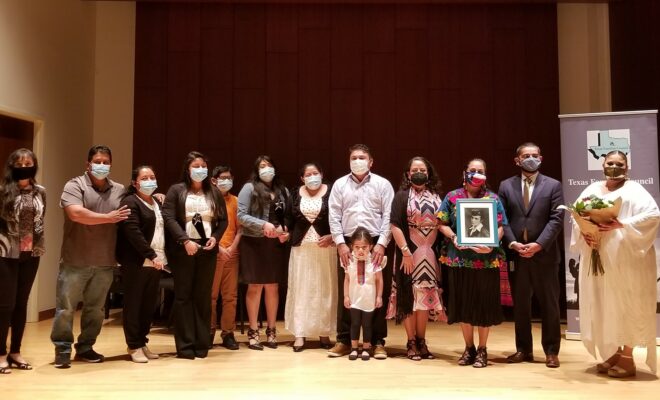 Lifestyle
Local Students receive first Luz de Luna Award and Scholarship
By |
KINGWOOD, TX – Every generation grows from a legacy started long ago. Yolanda Cacheux Olascoaga started a legacy of helping others in her community. Born in 1930 she grew up in Mexico and as a young girl she made brick to help her large family survive. With only an elementary education, she taught herself English, then taught others English. She was a self-taught artist, and later became a fashion designer in Guadalajara. She also became one of the first flight attendants in Mexico. Yolanda married, had two daughters, and became civically active for basic human rights in Mexico. She passed away February 20, 2020, but her love of learning, culture, and family shaped her daughter, Alejandra Tapia.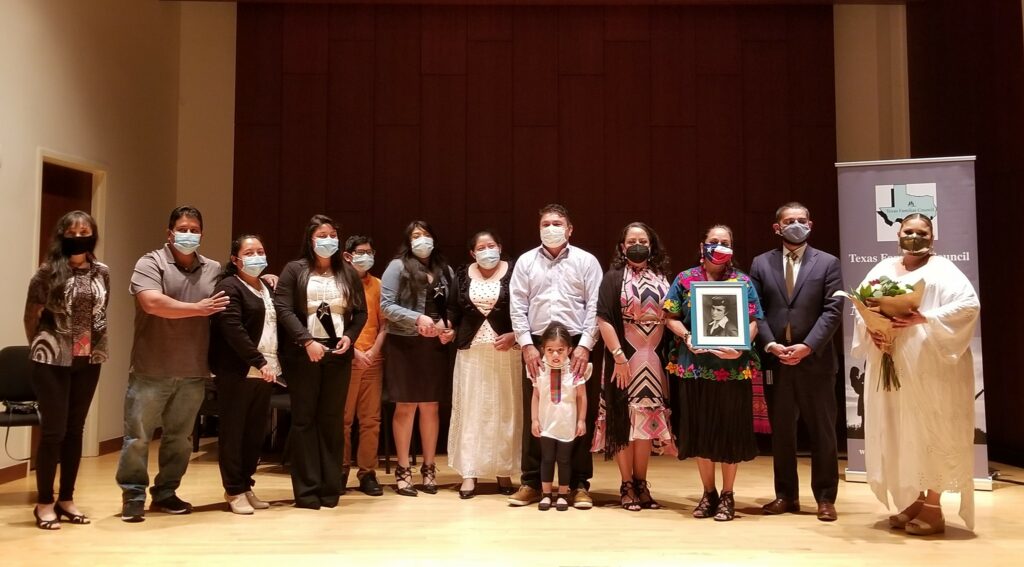 Alejandra Tapia was a linguistics professor in Mexico City, and is currently an educator working with underserved populations in Conroe. She founded Conroe's first Aztec Dance team, Chikawa,19 years ago believing ancient cultures carry lessons to guide communities in working across cultures.
On Friday April 23, the Texas Familias Council honored Yolanda's legacy with the first Luz de Luna Leading Light Award and Scholarship held at Lone Star College Kingwood. The award recognizes community advocacy, and the service of young women. The first recipients of the award were Jocelyn Garcia and Esveidy Norberto of New Caney High School for their service during the pandemic.
Esveidy and Jocelyn spent each Monday serving 200 families a week in a New Caney food line with Abundant Harvest Kitchen and the Council. They distributed public health education and promoted vaccinations for high-risk populations. Many working-class Latino communities have suffered the brunt of the pandemic as essential workers.
"The physical and emotional toll has been high, and volunteering during a pandemic is hard in the heat, rain, and cold," said Maria Baños Jordan, Founder and President of the Texas Familias Council. "These young women have carried the struggles of their own families, and their studies, on their shoulders. A food line teaches us many lessons while we work together." 
With pandemic safety a priority, the Council invited a small group of leaders and the student's families to a special celebration. New Caney High Dean of Instruction, Dr. Amy Wallace, and Viviana Antenangeli of New Caney ISD were in attendance.
"Part of our Council mission is to value our young, diverse communities. Esveidy and Jocelyn felt the support of a village tonight for their journey ahead," said Baños Jordan. 
Alejandra Tapia and her children presented the award to the young women in honor of her late mother. Tapia shared information about the moon (luna) and the significance in Latin American culture, "The moon guides the harvest, but it is also the ancient symbol of feminine strength and hope. Yolanda was that for us, and you will be that for your families and community also."
Mr. Mario Castillo, Lone Star College System COO, General Counsel, and interim President at Kingwood College, shared the importance of determination, and education. "If you prepare yourself, you will be in a position to help others. Thank you for serving on the food line to help sustain families. Many of our families benefitted from your services while our parents struggled." Mr. Castillo continued speaking to the two students while awarding scholarships to the Lone Star College System, and closed by saying, "If I invest in you, you will invest in countless others, and that's what matters". 
Dr. Diana Pino, CEO of Capstone HigherEd, spoke about women's leadership. She explained that Latina leaders can use their cultural insights to help build a team and acknowledge differences. She encouraged them to hold onto the strengths of their cultures and learn to use their voice. She explained that when the Latino community strengthens, it strengthens the whole community.
Texas Familias Council executive member, Becky Gustamante, thanked the young women for bringing smiles to the faces of families this past year. She said, "Our volunteers are diverse, and have fun in service together, so thank you for making a difference in so many lives- keep serving." 
The guests were serenaded by world-renowned Houston artist, Vanessa Alonzo. She performed a stirring rendition of Yolanda's favorite song, the classic Mexican ballad "Luz de Luna." 
Both young women are focused on continuing their parent's dream and legacy. Esveidy will pursue a career in criminal justice, and Jocelyn plans to build a business with a degree in business. Maria Baños Jordan said "It's been a painful year, our colleagues are tired, but these blessings plant seeds of hope, bring joy, and build community. Despite the pandemic and bad weather, faith found a way to celebrate tonight, and I am very thankful for the heart we received from Mr. Castillo, the families, and colleagues."
The Texas Familias Council was founded in 2011 to support families and inspire inclusive communities. Their website is www.Texasfamiliascouncil.org.