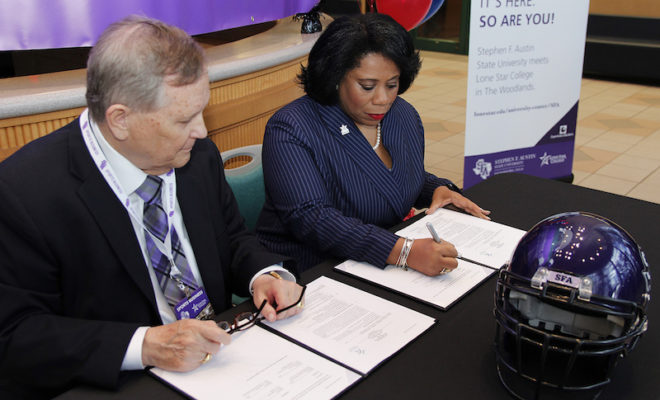 Fitness & Sports
Lone Star College teams up with SFA for Sports Business Program
By |
Lone Star College and Stephen F. Austin State University are partnering to offer students an opportunity to earn a Bachelor of Business Administration in sports business from SFA in The Woodlands.
Students at LSC will be able to enroll in the sports business program beginning in fall 2018.
"This is an exciting program and we're pleased to work with Stephen F. Austin to provide students greater access to it here at the University Center," said Alicia Harvey-Smith, Ph.D., LSC executive vice chancellor, Academic and Student Affairs. "I am so pleased with this collaboration and know it will lead toward student success."
LSC and SFA also agreed to extend an articulation agreement that ensures a smooth transition for LSC students to attend SFA. The agreements were formalized during a signing ceremony which took place Thursday, Feb. 15 at the LSC-University Center at The Woodlands.
An articulation agreement is a framework between LSC and other institutions to formalize a pathway for easier student transfers from a two-year degree at LSC on to a four-year degree at a university.
"We are excited and proud to be here," said Dr. Baker Pattillo, Stephen F. Austin State University president. "We have chosen well in partnering with Lone Star College and this new agreement will financially benefit the student."
Representing LSC were: Dr. Alton Smith, LSC Board chair; Dr. Alicia Harvey-Smith, LSC executive vice chancellor, Academic and Student Affairs; Dr. Seelpa Keshvala; LSC-CyFair president; Dr. Rebecca Riley, LSC-Montgomery president; Dr. Gerald Napoles, LSC-North Harris president; Dr. Lee Ann Nutt, LSC-Tomball president; Dr. Shah Ardalan, LSC-University Park president; Dr. Quentin Wright, special assistant to the president; and Helen Clougherty, LSC vice chancellor, Chief of Staff/Board Liaison.
In addition to Dr. Pattillo, SFA was represented by Nelda Blair, SFA regent; David Alders, SFA regent chair; Dr. Scott Coleman, SFA regent; Dr. Steve Bullard, SFA provost; and Dr. Tim Bisping, SFA, Dean, College of Business.
"Stephen F. Austin State University has continually ranked as a top 10 4-year institution to which our students transferred," said Dr. Smith. "I want to thank Stephen F. Austin for enlarging the involvement with Lone Star College."
LSC has agreements with many other universities in Texas and nationwide to create seamless transition from a LSC associate degree to bachelor's degrees. For more information go to LoneStar.edu/academic-programs-transfer.htm
Lone Star College offers high-quality, low-cost academic transfer and career training education to 99,000 students each semester. LSC is training tomorrow's workforce today and redefining the community college experience to support student success. Stephen C. Head, Ph.D., serves as chancellor of LSC, the largest institution of higher education in the Houston area with an annual economic impact of $3.1 billion. LSC consists of six colleges, eight centers, two university centers, Lone Star Corporate College and LSC-Online. To learn more, visit LoneStar.edu.
Source: Bill Van Rysdam, Lone Star College