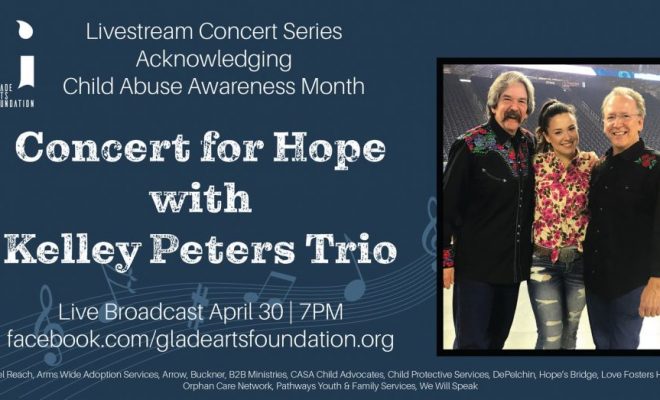 Photo Credit: Glade Arts Foundation
Music
Love Fosters Hope Livestream 'Concert for Hope' on April 30
By |
In honor of Child Abuse Awareness Month this April, the non-profit organization Love Fosters Hope is hosting a "Concert for Hope" on Thursday, April 30 at 7 p.m.
"For many of us our lives are on hold right now. We may feel insecure and uncertain about the future and this can create fear and anxiety because we don't know when life will be normal again. This is the life of a child in foster care everyday. Now more than ever these vulnerable children need to hear they are significant, worthy, and loved."

Love Fosters Hope
The livestream "Concert for Hope" features the Kelley Peters Trio at the Glade Arts Foundation, who is partnering with Love Fosters Hope to bring awareness to the struggles and needs of children and teens who are in foster care. Watch the live concert on the Glade Arts Foundation Facebook page this Thursday at 7 p.m. at https://www.facebook.com/gladeartsfoundation
Glade Arts Foundation is dedicated to supporting our local musicians during the COVID-19 crisis and set up a dedicated fund with all proceeds will go directly to the musicians. To donate during the live broadcast, visit https://gladeartsfoundation.salsalabs.org/supportingourlocalmusicianstommypeters
Supporters of Love Fosters Hope can also join Restoration Church for a livestream Worship and Prayer Service on April 30 at 7 p.m. with their focus on praying for foster and adopted children. During this already challenging time, there are many vulnerable children in our community who should not be forgotten. Watch live on the Restoration Church YouTube channel here.
Love Fosters Hope is changing the present and future for kids who deserve far better than their past. Together, we can change the face of Foster Care. Love Fosters Hope is a non-profit 501(c)(3) organization that brings hope, healing and a bright future to children and teens in foster care who have been abused, abandoned and neglected. Learn more about Love Fosters Hope at https://lovefostershope.org/
Source: Love Fosters Hope, Glade Arts Foundation