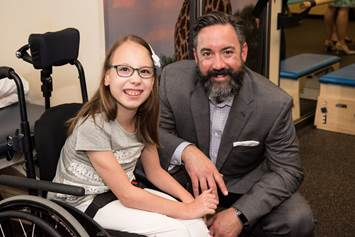 Health
Madeline, 8, Gets Second Chance with TIRR Memorial Hermann
By |
Madeline Pugh entered the world nearly three months premature. Despite Madeline's early arrival, Lisa and Joe Pugh were thrilled to be new parents.
"Although we faced a long road ahead because she was born prematurely, we were so happy to have her and ready to give her the best love and care," Lisa said.
Madeline had a bilateral grade 4 intraventricular hemorrhage, or brain bleed, which often occurs in premature babies when the brain's blood vessels are not fully developed. Madeline spent the first four months of her life in the neonatal intensive care unit (NICU) at a local hospital.
It was during this time that neonatologists let the Pughs know their daughter had cerebral palsy, a neurological disorder that can affect mobility, muscle tone and posture.
"Once we were discharged we received information on the importance of starting Madeline in physical therapy, which we started when she was 9 months old," Lisa said.
Madeline had regular physical, occupational and speech therapy at a local outpatient rehabilitation center until she was 3 years old.
"It was around this time that her therapist at that location told us that she had made all the progress she would make and that she had plateaued," Lisa added.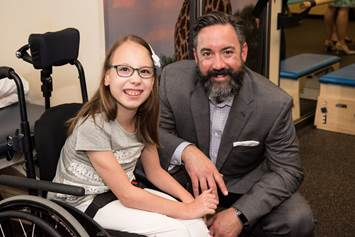 The Pughs didn't believe what they were told. They believed their daughter could achieve more and needed the opportunity to continue therapy. Lisa turned to pediatric rehabilitation at TIRR Memorial Hermann Outpatient Rehabilitation – The Woodlands Medical Center for a second chance.
"During our initial assessment, they let us know Madeline had not plateaued and that there was more that therapists at TIRR Memorial Hermann could do for her," Lisa said.
Madeline's physical medicine and rehabilitation physician is Dr. Stacey Lynn Hall.
Nearly five years later, Madeline is a remarkable 8 year-old who has made tremendous progress thanks to her physical, occupational and speech therapy sessions. Madeline is able to independently and safely get in and out of her wheelchair with very little assistance and she can walk short distances with the help of a posterior walker.
"Madeline has been such a joy to work with and always has a smile," said Madeline's physical therapist Katelyn Navarro. "She has made great progress with pulling up to stand by herself on various surfaces, strengthening her core and learning to sit up tall on her own while sitting on the floor and with her endurance levels when she's using her posterior walker."
Madeline enjoys therapy, all things "girly" and getting stronger and more independent. She enters and exits the facility 'high-fiving' everyone during her weekly sessions.
"She's made progress by leaps and bounds, her therapy team has helped her with the gait trainer, core strength to help her sit straight up and so much more," Lisa added. "The continuity of care between her physical medicine and rehabilitation physician and her therapy team has truly impressed me. They are constantly in communication to adjust her treatment or try new things."
Although Madeline will continue to need ongoing therapy as she gets older, she is not letting anything slow her down.
"She loves watching home improvement shows, loves to help me cook and riding her specialized bicycle," Lisa said. "These are all things I don't know if we could have progressed to without the help of her therapy team these last five years. They truly gave Madeline and our family a second chance."
To learn more about the pediatric rehabilitation services at TIRR Memorial Hermann, visit https://tirr.memorialhermann.org/programs-specialties/pediatric-rehabilitation/.