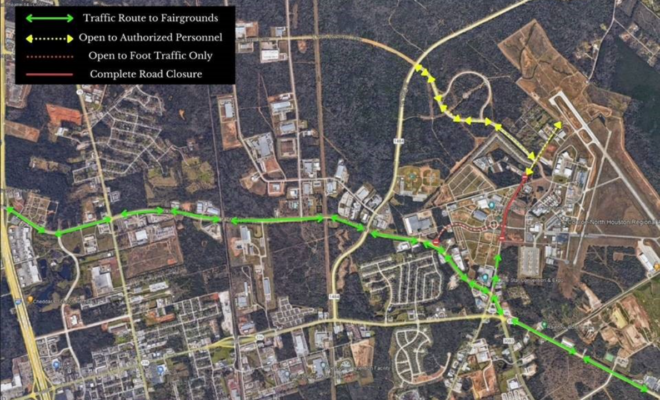 Photo Credit: Montgomery County Sheriff's Office
News
Major Traffic and Road Closures in Conroe area on Saturday, January 29
By |
On Thursday, January 27, the Conroe Police Department released the following statement:
On Saturday, January 29, 2022, the 45th President of the United States, Donald J. Trump, will be joined by endorsed candidates, members of the Texas Congressional Delegation, and other special guests in Conroe, TX. This event will be held at the Montgomery County Fairgrounds located at 9333 Airport Road. This event will bring large crowds and cause major traffic delays throughout the city. Heavy traffic congestion is expected from very early hours until late at night. FM 3083 will be the only entrance to the Fairgrounds and FM 3083 should be avoided if you are not attending the event. There will be several other road closures in the area of the fairgrounds where Police and event volunteers will be directing traffic to and from this event. More details will be on social media when they are available.
On Friday, January 28, the Montgomery County Sheriff's Office shared the following press release regarding Traffic and Parking Information for Save America Rally:
The designated parking areas will ONLY be accessible from FM 3083, whether you're traveling east from the I-45 area or west from the Hwy 59 area (see map below). Once on FM 3083, you will drive to Airport Road, where you will be directed to the designated parking areas. Do not follow GPS recommended routes.
Parking on the paved roads near the rally area is prohibited and will result in congestion, which could hinder first responders' ability to respond to any emergency. Additionally, parking on any paved road near the rally area may result in your vehicle being towed.
Parking is very limited; carpool if possible. Rideshare services (Uber, etc.) drop-off will be at the Lone Star Convention Center. Arrive Early and Expect Delays.
After the event, you may exit north or south onto Airport Road. Please follow our social media platforms for updates regarding this event.
All questions regarding this event should be directed to 936-756-1010. Remember 911 should only be used in the event of a life threatening emergency.
Sources: Conroe Police Department and Montgomery County Sheriff's Office, Scott Spencer, Lieutenant