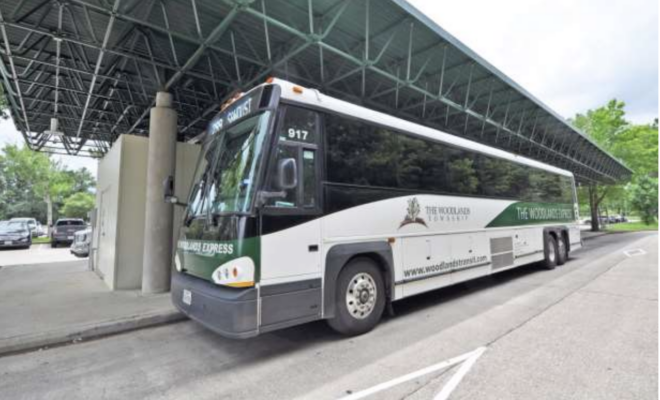 Photo Credit: The Woodlands Township
News
The Woodlands Express offers service for Bar-B-Que Contest, Rodeo
By |
The Woodlands Express offers riders a convenient trip to the Houston Livestock Show and Rodeo, which now includes additional service to the World's Championship Bar-B-Que Contest in February. The Woodlands Township Board of Directors voted to add service to the Bar-B-Que Contest at their meeting on January 20, 2022.
The Woodlands Express, the Township's Park and Ride transportation service, will ferry riders to NRG Stadium for the Bar-B-Que Contest and during each weekend of the rodeo, allowing attendees to enjoy all the fun without all the frustration of parking and driving. Service will originate from the Sawdust Park and Ride at 701 Westridge Road.
The Bar-B-Que contest features several activities that are open to the public, along with the carnival which offers games and rides for the family to enjoy.
The cost of round-trip transportation to the event is $13 per person. Reservations will be required. The reservation link will be released on February 1, 2021. The Woodlands Express regular tickets are not valid for this service.
 

Bar-B-Que Contest Service Dates:
Thursday, February 24, 2022; Friday, February 25, 2022; Saturday, February 26, 2022
Rodeo Service Dates:
Friday March 4, 2022 (Evening only); Saturday, March 5, 2022; Sunday, March 6, 2022
Friday March 11, 2022 (Evening only); Saturday, March 12, 2022; Sunday, March 13, 2022
Friday, March 18, 2022 (Evening only); Saturday, March 19, 2022; Sunday, March 20, 2022
For the detailed departures and arrivals schedule, along with the reservation link when it becomes available, please visit www.thewoodlandstownship-tx.gov/rodeo. Please note, service to the rodeo departs from Sawdust Park and Ride only.
Per Federal Transit Administration orders, passengers are required to wear masks when riding The Woodlands Express.
For more information about The Woodlands Township, please call 281-210-3800 or visit www.thewoodlandstownship-tx.gov. 
Source: The Woodlands Township