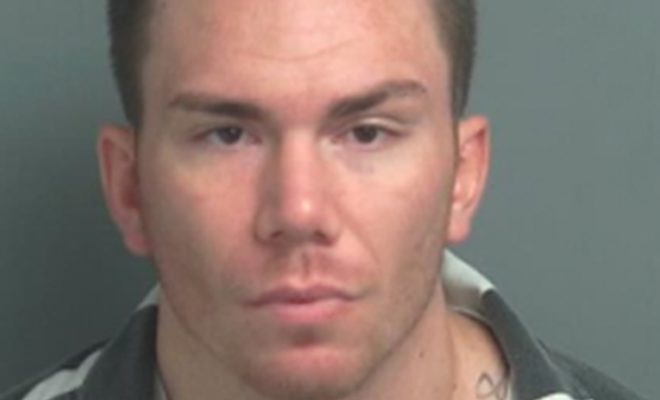 News
Man Arrested in Stolen Vehicle after Pursuit by Shenandoah PD
By |
SHENANDOAH, TX – At approximately 7:30 p.m. on Sunday, August 11, Shenandoah Police Officer Jerimiah Ledesma obtained a stolen vehicle HIT on his License Plate Reader (LPR) system in the 8900 block of Tamina Road. The HIT showed that a white Chevrolet Tahoe SUV Officer Ledesma passed, going in the opposite direction, was stolen. Officer Ledesma immediately initiated procedures to confirm the HIT and apprehend the stolen vehicle.
Officer Ledesma initiated a traffic stop southbound on Interstate 45 just north of the Sawdust Road exit. The white male driver of the stolen vehicle, Joshua Douglas Parsons, fled from Officer Ledesma resulting in a short pursuit reaching a speed of 90 MPH. Parsons exited the Interstate and then struck a concrete median in a gas station lot at the corner of Sawdust Road and the Interstate 45 service road. This crash caused disabling damage to the vehicle.
Parsons attempted to evade Ledesma on foot but was captured with the assistance of Shenandoah Officer Larry Collins. Both Shenandoah Officers then arrested Parsons and searched the stolen vehicle. Parsons was found to be in possession of a stolen firearm, over an ounce of methamphetamine, and 8 Xanax tablets. It was determined through investigation that Parsons was a convicted felon and that Tahoe was stolen out of League City, Texas. Parsons will face four felony charges in court listed as: Unauthorized Use of a Motor Vehicle, Possession of Controlled Substance, Unlawful Possession of Firearm by Convicted Felon, and Evading Arrest/Detention with Vehicle.
Shenandoah Police Department Chief Raymond Shaw praised the efforts of both of his officers and stated that the LPR systems purchased by the city council during FY 2018 are now showing their worth as an effective crime-fighting tool. The officers have now learned to use the tool to its effective potential.
"I expect, and I am excited, that we will see more arrests like this in the future," said Shaw. "This is what we wanted (when) looking into the LPR program: more safety for the residents, businesses and our visitors."
If you have information concerning this case or you were a victim of a crime in Shenandoah, Texas, please contact the Shenandoah Police Department at 281-367-8952.
Source: City of Shenandoah