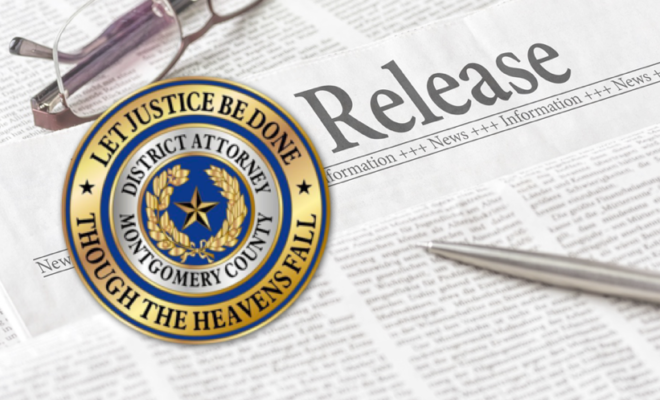 News
Man Sentenced to 30 years for Dealing Drugs
By |
On Tuesday, March 3, 2020, a jury of Montgomery County citizens sentenced James Edward Hunter to 30 years in prison for Possession with Intent to Deliver a Controlled Substance.  This was after the same jury found him guilty earlier the same date in the 9th District Court with Judge Phil Grant presiding.
On April 18, 2019, Hunter, 37, drove to Zipps liquor, planning to meet a person to conduct a drug deal for methamphetamine.  Once he arrived, he soon learned the drug deal had been set up by undercover officers, who immediately pulled him out of the vehicle.  Upon searching the vehicle, Deputies with Montgomery County Constable's Office, Precinct 4 found a bag containing methamphetamine sitting on the driver's seat, which the Texas Department of Public Safety Crime Lab confirmed as methamphetamine weighing 4.75 grams.  The jury also saw additional evidence from Hunter's cell phone of him setting up other similar drug deals with multiple other people during April 2019. 
During the punishment phase of the trial, Assistant District Attorney Sara Corradi presented additional evidence that the Defendant had previously been convicted of Burglary of Habitation and Failure to Stop and Render Aid, making him a habitual offender facing 25-99 or life punishment range for each count.  He was also previously convicted of a number of misdemeanor offenses including Theft, Evading Arrest and Assault Family Violence, as well as another felony conviction for Possession of Cocaine.
This Defendant was found through the pro-active enforcement undertaken by the Montgomery County Constable's Office, Precinct 4.  Without their hard work, this Defendant would not have been brought to justice.
Assistant District Attorney Sara Corradi shared, "I'm thankful in Montgomery County, people like Hunter who profit off of the backs of addiction and distribute poison will be held accountable. This jury and the excellent work of local law enforcement made sure of that."
District Attorney Brett Ligon stated, "Drug use is responsible for many types of other crimes in our community, and drug dealers are at the very center of those crimes.  This case highlights our law enforcement's proactive approach to helping to take dealers off the street, to intercept the drugs being sold in this community, and to protect the safety of our citizens."
Source: Michael R. Holley, First Assistant District Attorney, Montgomery County District Attorney's Office