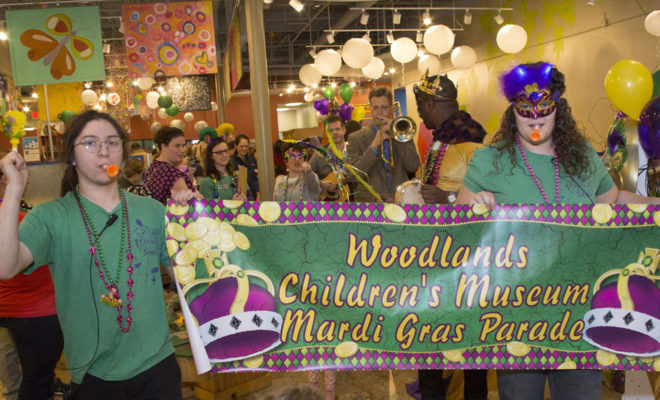 Calendar
Mardi Gras Celebration with The Woodlands Children's Museum
By |
The Woodlands Children''s Museum is the perfect place to get in the spirit of Carnival and Mardi Gras – with beads, masks, parades, art projects, music and, of course, king cake. The fete will also include an appearance by juggler Claude Sims – and mini beignet bites provided by Lou Lou's Beignets.
The Mardi Gras Celebration will take place from 10 a.m. to 2 p.m. on Tuesday, Feb. 28, at the museum located at 4775 W. Panther Creek Drive, Suite 280. The event is included in the price of admission, which is $6 for adults and children 1 year and older.
Angela Colton, the museum's executive director, is originally from New Orleans – so she knows exactly what it takes to get in the festive Mardi Gras spirit. Some of her earliest memories of the holiday include her whole family dressing up in costumes with a theme. "My mother pulled a wagon with homemade 'yia-yia' chicken, snacks and drinks,"" Colton recalled. ""People stopped us all day to take pictures. Every year was a different theme. We were calypso dancers, clowns, cowboys and many more.""
Colton said the Mardi Gras beads and doubloons were a treat she looked forward to catching every year. "The climactic parade the night before Mardi Gras was always so special,"" she said. ""The king of the parade was usually a Hollywood actor, and it was really thrilling as a young child to be able to see it. One year we were actually on a float and it was even more fun to throw the beads to people than it was to catch them.""
Colton fondly remembers being in awe of the many costumes and characters walking along the street – and now loves to recreate the parade at The Woodlands Children's Museum. "Mardi Gras in itself is its own culture, and we like to show the children in an age-appropriate environment what it is like to wear jester hats and beads and walk in a parade,"" she said. ""This may be the only opportunity for them to put all the pieces together and also to hear a live brass band play ''When the Saints Go Marching In'' or see a juggler in a jester costume on a unicycle.""
Colton added that hosting the event also brings Louisiana natives together to celebrate, giving them a opportunity to reminisce at the museum. "It gives them a chance to be part of something that reminds them of their childhood,"" she said. ""Besides, Mardi Gras is fun! And it is our responsibility as a museum to create fun opportunities for children.""
The Mardi Gras event is sponsored by Schilleci''s New Orleans Kitchen in Market Street.
To learn more about The Woodlands Children's Museum, visit woodlandschildrensmuseum.org or call 281-465-0955. Follow the museum's Twitter handle @thewoodlandscm.