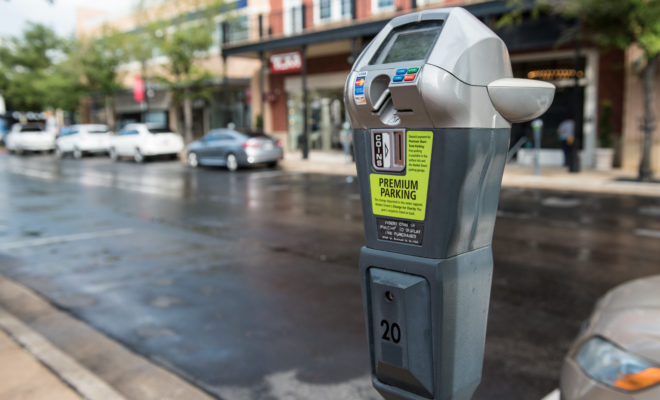 Lifestyle
Market Street Announces Nonprofit Partners for 2020 Change for Charity Program
By |
THE WOODLANDS, TX – Four Montgomery County charities will benefit from the thousands of dollars in change inserted in Market Street's voluntary parking meters throughout 2020 as the shopping, dining, and entertainment destination announces the beneficiaries of the 2020 Change for Charity program: Special Angels of The Woodlands, Leukemia & Lymphoma Society, God's Garage and Inspiration Ranch.
The Woodlands Car Club also generously raises money for the Change for Charity recipients throughout the year at their events, held the first Sunday of each month. Their contributions, coupled with the amount donated to Market Street's 68 parking meters make up the total amount given to a selected charity each quarter.
"Market Street is proud to make an impact in the community we serve by partnering with local charities," says Noemi Gonzalez, marketing director at Market Street. "Our shoppers have contributed more than $200,000 to the Change for Charity program since its inception."
The program's first-quarter beneficiary, Special Angels of The Woodlands, provides a day activity center for adults with intellectual disabilities. Special Angels provides weekly field trips, lunch outings, bowling, gym workouts, and other similar activities for their participants.
The second-quarter beneficiary, Leukemia & Lymphoma Society, is dedicated to raising funds to help find a cure for leukemia, lymphoma, Hodgkin's disease and myeloma, and improve the quality of life of patients and their families. LLS is the leading source of free blood cancer information, education and support for patients, families, and healthcare professionals.
God's Garage, the program's third-quarter recipient, is a garage that repairs vehicles for single mothers, widows and wives of deployed military. God's Garage does not require labor costs and gives vehicles away to qualifying recipients. Through donated cars and parts, they are able to bridge troubled times in their recipient's lives. Learn more about God's Garage, Hello Woodlands' Nonprofit of the Month for June 2019, at hellowoodlands.com/nonprofit-of-the-month-gods-garage/.
Market Street's Change for Charity fourth-quarter beneficiary, Inspiration Ranch, exists to strengthen children, youth, and adults striving to overcome their physical, emotional, and social disabilities with Therapeutic Riding and equine-assisted therapy and activities. Inspiration Ranch provides exceptional equine-assisted therapy and activities in a loving Christian environment.
Market Street – The Woodlands is a 560,000 square foot outdoor lifestyle mixed-use property located in The Woodlands, Texas, approximately 25 miles north of Houston across from the Cynthia Woods Mitchell Pavilion. The grocery anchored property contains 375,000 square feet of street level retail, combined with 115,000 square feet of Class A office space and a 70 room 70,000 square foot Hyatt Centric hotel. In addition, the project includes a 5 screen Cinema and 21 restaurants and eateries. Trademark Property Company manages the project, including development, leasing and property management services. Market Street is owned by a joint venture between an affiliate of Trademark Property Company and Institutional Mall Investors. For additional information on Market Street, visit shopatmarketstreet.com.
Trademark Property Company is an operator, investor, and developer of award-winning, mixed-use town centers, specialty, community, power centers and enclosed regional malls. In its over 25 years of business, Fort Worth, Texas-based Trademark has invested in or developed 14.6 million square feet of retail and mixed-use assets worth $3.4 billion. Trademark's experienced team of 200 employees is responsible for approximately 7.1 million square feet of retail and mixed-use projects currently in operation or development/redevelopment, including: 5000 South Hulen (Fort Worth, Texas), Alliance Town Center (Fort Worth, Texas), Annapolis Towne Centre (Annapolis, Md.), Burr Ridge Village Center (Chicago, Ill.), Galleria Dallas (Dallas, Texas), Glades Plaza (Boca Raton, Fla.), Hillside Village (Cedar Hill, Texas), La Palmera (Corpus Christi, Texas), Market Street Flowood (Flowood, Miss.), Market Street – The Woodlands (The Woodlands, Texas), First Street Napa (Napa, Calif.), Perkins Rowe (Baton Rouge, La.), Rice Village (Houston, Texas), Saddle Creek (Germantown, Tenn.), Victory Park (Dallas, Texas), Watters Creek (Allen, Texas), Waterside (Fort Worth, Texas), WestBend (Fort Worth, Texas) and Zona Rosa (Kansas City, Mo.). For more information, visit trademarkproperty.com.