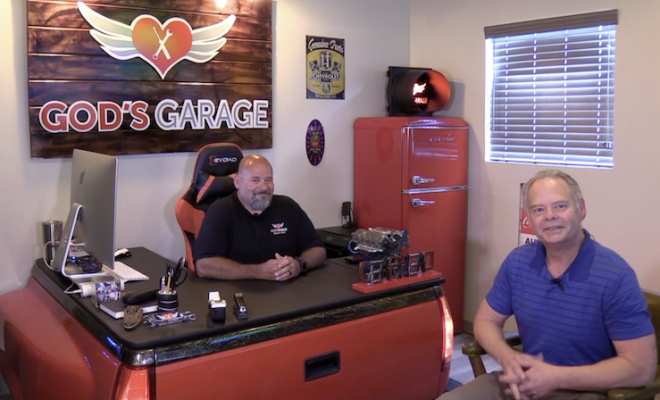 People
Nonprofit of the Month: God's Garage
By |
Randy Lovelace of Paragon Independent Insurance Agencies introduces the Hello Woodlands Nonprofit of the Month, God's Garage, and talks with Chris "PC" Williams at their location in Conroe, Texas.
Watch our video interview below!
About God's Garage
God's Garage is a 501(c)3 nonprofit garage that repairs vehicles for single mothers, widows, and wives of deployed military with no labor costs and also give vehicles away to qualifying recipients. Through donated cars and parts, they are able to bridge troubled times in so many people's lives.
Their group consists of lead technicians through those just learning the automotive trade. God's Garage has a Master Mechanic on lead, who oversees each repair, and is assisted by their great volunteers. No matter your experience level, God's Garage is always looking for mechanics and volunteers to help out.
Do you have an unused vehicle parked in your driveway, garage, yard or storage space? Donate your unused or broke down vehicle to God's Garage and let your vehicle be repaired, overhauled and given away to military families, single moms and widows in need of safe and reliable transportation. They take all types of vehicles, even boats and motorcycles, in working and non-working condition. Whether it is a car, van, truck, or SUV, God's Garage invites you to make a difference and put your donation to work by helping us help others.
Chris "PC" Williams shared, "We don't charge anything for labor and try to help with parts as we can. We also give vehicles away to those in need. The future is bright for God's Garage. We are looking forward to the future, as we train people to help others, and are anticipating becoming a full time venture, with mechanics working every day. If you've ever wondered if you could make a real and tangible difference in the lives of people around you, you can."
Learn more about God's Garage, how to apply online, volunteer and make a donation at GodsGarage.org.
About Randy Lovelace
To learn more about Randy Lovelace, his "Referral for a Cause" program to help local nonprofit organizations, and of Paragon Independent Insurance Agencies, please call (281) 298-0440, email rlovelace@paragoninsagencies.com or visit www.paragoninsagencies.com/woodlands.
Advertisement