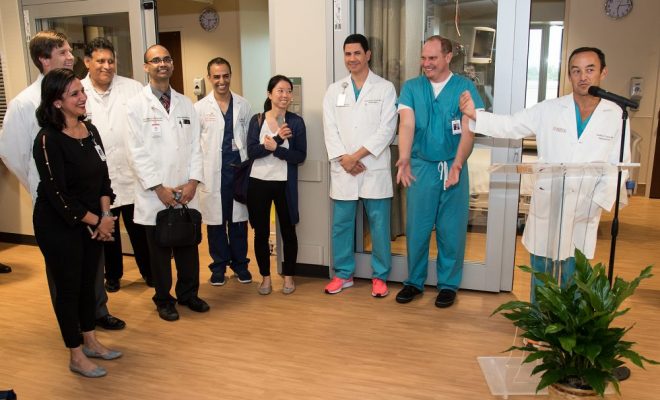 Health
Memorial Hermann The Woodlands Opens New Neurosciences Care Unit
By |
THE WOODLANDS, TX – Neurological care for those in North Houston and Montgomery County has a new home. Memorial Hermann The Woodlands Medical Center has opened a dedicated Neurosciences Comprehensive Patient Care Unit to house its existing 24/7 coverage of complex neurological care in a centralized, state-of-the-art setting. Located within the unit is the added service of the county's first epilepsy monitoring unit (EMU).
"We have steadily added neurological care capabilities for the better part of the last decade, bringing much needed services closer to people living in the area," said Sr. Vice President and Memorial Hermann The Woodlands CEO Josh Urban. "Adding the EMU and concentrating our neuroscience inpatient services in one location was a natural next step and in the best interest of our patients."
Muted wood tones speckled with vibrant photographs of nature and a modern but warm open-floor concept design envelope the 36-bed unit, which occupies the entire fourth floor of the hospital's East Tower. The unit is devoted to treating conditions ranging from complex stroke and skull fractures to severe central nervous system infections and brain tumors.
"So much of brain and spine care requires a multidisciplinary approach," said Memorial Hermann The Woodlands Neurosurgery Medical Director Geoffrey Zubay, MD. "Having our affiliated physicians and specially trained staff in one location fosters and streamlines the collaboration necessary to provide the best patient care possible."
Customized patient rooms and family areas, a 12-bed neuro intensive care unit, specially designed beds for helping treat spine injuries, up to eight beds devoted to epilepsy admissions in its EMU, and round-the-clock staff and physicians specializing in neurological care highlight the build out of the 30,000-square foot existing space. The floor complements a new hybrid surgical suite, amounting to more than $22 million dedicated to neuroscience services expansion and enhancement in recent years.
The new neurosciences unit also serves as a bridge for the continuum of care between Level II trauma services and TIRR Memorial Hermann-The Woodlands rehabilitation services. For example, a patient suffering stroke would be triaged in the Emergency Center where he or she would undergo advanced imaging and comprehensive stroke treatment, like a thrombectomy, to remove the clot in the brain and restore blood flow. The patient would be admitted to the comprehensive patient care unit for acute care and observation before moving on to inpatient or outpatient rehabilitation in the same building.
"It is unique to have the breadth of service and expertise in brain and spine care outside of the Texas Medical Center in this region of Texas," Urban said. "When someone does have a traumatic brain or spine injury, we have the capabilities on our campus to help them at every stage of treatment and recovery."
Among the neurological conditions Memorial Hermann The Woodlands treats are stroke, epilepsy, spine disorders, nerve disorders, ALS and other neuromuscular disorders, brain aneurysms and hemorrhage, brain tumors, dementia, Alzheimer's, headaches, multiple sclerosis, neurotrauma, Parkinson's and other movement disorders and sleep disorders. 
Since 2011, neurosurgical volumes at Memorial Hermann The Woodlands have been some of the highest in Houston. The hospital works closely with affiliated physicians at Mischer Neuroscience Associates and McGovern Medical School at UTHealth in Houston, and other physician groups to provide a constellation of high-quality neurological sub-specialty services to the community.
For more information about Memorial Hermann Neuroscience Services, visit www.neuro.memorialhermann.org or call 713-222-CARE (2273).