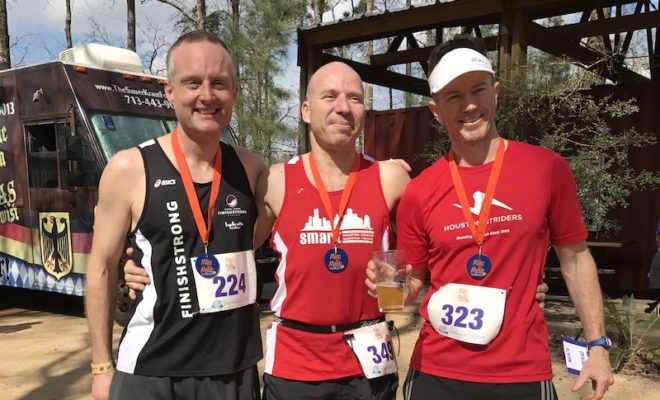 Fitness & Sports
Miles for Meals feeds Seniors throughout County with FUN Raiser
By |
Conroe, TX – The 3rd Annual Miles for Meals 5K Walk and Run, presented by Kevin Baker Home and Real Estate, is Saturday, Feb 9th at B-52 Brewery in Conroe. The fun-raiser allows family members, friends, and community partners to contribute to the success of Meals on Wheels Montgomery County (MOWMC) by continuing the mission of delivering meals, providing transportation and caring connections to local homebound seniors.
"I enjoy running and seniors have a special place in my heart. Supporting MOWMC by sponsoring Miles for Meals is the perfect fit", said Kevin Baker, presenting sponsor of Miles for Meals. :it's important for businesses to give back and this is one way I can make a difference in the lives of fragile seniors."
Walk, run, stroll and bring the dogs while enjoying the morning in a short 3.1 mile course winding through neighborhoods in Conroe. Cross the finish line and enjoy the six-acre wooded biergarten of B-52 Brewing Company, a craft beer venue with food trucks serving before and after the race.
The race is limited to 700 participants with more than 180 already registered. Children 6 and under are free. Fabulous swag bags include a tee shirt, Commemorative Pint Glass, and 2 pints of craft beer, homemade root beer or lemonade (dependent on age restrictions). Finisher medals provided by Joyful Life Lutheran Church in Magnolia.
Every competitor will receive official chip time results immediately following the race. Event is Rain or Shine!
Race starts promptly at 10:00am. There is limited parking so plan accordingly.
In 2018 Miles for Meals raised $54,800 enough to add 26 seniors to home-delivered meal service.  Every year the demand for services increases as Baby Boomers become seniors. 450 seniors received delivered meals in 2017. Service grew to 600 seniors in 2018.  MOWMC hopes to add 50 more seniors to home-delivered meal service this summer.
"The Miles for Meals 5K is always a great day of fun, camaraderie and a good workout  We need the community's help to make homebound seniors' lives better," said Executive Director Summer Day. "Sign up now before it sells out."
Sponsorships still available by contacting Sarah@mowmc.org or calling (936) 756-5878. Current community sponsors include Kevin Baker Real Estate Team Keller Williams, Movement Mortgage, The Woodlands Dermatology Associates, Milstead Glass and Home Décor, OrangeTheory, Wendell Legacy Homes and the CashStore.
Since 1973, MOWMC has had a successful track record of serving homebound seniors by delivering  nutritious meals and providing transportation services.  MOWMC currently delivers  130,000 meals annually throughout the 1,000 square miles of Montgomery County.  The Senior Rides program, a curbside transportation service, averages 1,600 rides per month, reducing  isolation often associated with the inability to drive.
More information about Meals on Wheels Montgomery County can be found at www.mowmc.org or on the Facebook page: www.Facebook.com/MealsonWheelsMC