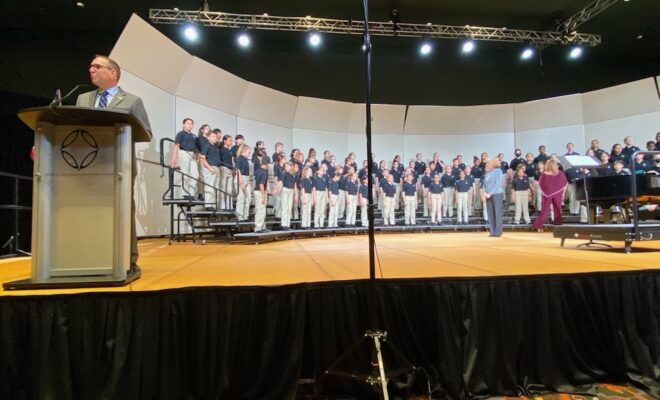 Art & Culture
Mitchell Intermediate Mixed Choir Performs for the Texas Music Educators Association 2022 Clinic/Convention
By |
CONROE, TX – Conroe ISD is proud to share that the Mitchell Intermediate Mixed Choir was invited to perform for the 2022 TMEA Clinic/Convention on Thursday, February 10, 2022, in San Antonio. Ensembles invited by TMEA demonstrate the highest level of achievement in music education. It is only through intense dedication and collaboration of every student and director involved that an ensemble is honored in this way.
"TMEA is especially proud of Texas music educators and students for preparing and presenting a performance that will be appreciated by thousands of music educators," said TMEA Executive Director Robert Floyd. "School music programs have never faced the types of challenges they have throughout the pandemic. The resilience of our educators and students comes from the passion and dedication they have for making music in the most meaningful and exemplary way. It's a true testament to the essential role music plays in each of our lives, especially in the most difficult of times."
Throughout its 100-year history, the TMEA Clinic/Convention has offered music educators professional development clinics and inspiring performances by elementary through university ensembles. In its last in-person convention, the TMEA convention welcomed over 31,000 attendees, including 11,000 music educators.
Hundreds of ensembles applied for selection as a 2022 TMEA Invited Ensemble. Being selected to perform for the largest music educators' convention in the nation is an exceptionally high honor.
The Mitchell Intermediate Mixed Choir is the school's premier choir. All students were required to audition to participate. The members of this choir are dedicated singers who rehearse three mornings a week before school. Many of the Mitchell singers also participate in band or orchestra during the school day. The choir is under the direction of Cyndie Lowry and Julie Stobbe.
"I am so proud to share our amazing students with a bigger community," stated Dr. Curtis Null, Conroe ISD Superintendent. "We are fortunate to have strong fine arts programs across Conroe ISD that nurture the many talents our students possess."
Texas Music Educators Association is an association of over 14,000 school music educators dedicated to promoting excellence in music education. Go to www.tmea.org for more information. For more information about the convention, go to www.tmea.org/convention.