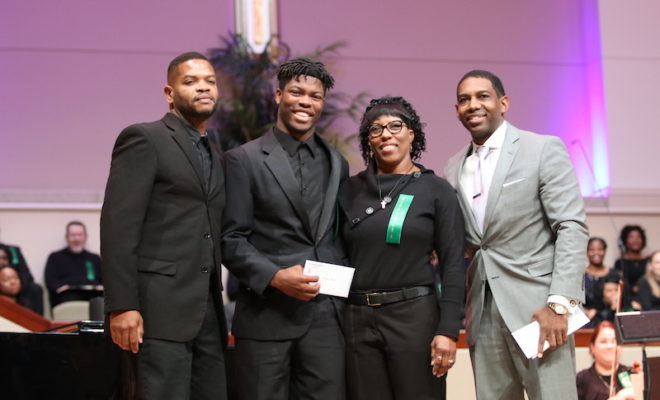 Calendar
MLK Celebration presents Scholarships, Drum Major, Award Winners
By |
On Monday, January 15, 2018 hundreds gathered at The Woodlands United Methodist Church for the 30th Annual Martin Luther King, Jr. Commemorative Celebration. The event was hosted by the Impact Church of The Woodlands and sponsored by The Woodlands Development Company.
Hello Woodlands shared the following video on our Facebook page captured before the start of the celebration:

The celebration started at 12 p.m. and featured performances from the Children's Mass King Choir, Resound Special Needs Ministry Choir, and The Woodlands Area Mass King Choir as well as talented soloists and a quartet.
The Honorable Teta V. Banks, former Executive Direct of the Dr. Martin Luther King Jr. Association and President of the United Nations Association of the USA, led the program as the Master of Ceremonies.
Kirbyjon Caldwell, Senior Pastor of Winsor Village United Methodist Church, gave a passionate speech and retold the parable of the good samaritan with audience participation on the stage.
Reverend Caldwell shared, "We need to learn to live together regardless of social background or we will perish together like fools… Regardless of your ethnicity, race, gender, worth, or political affiliation help your neighbor in need – regardless of how they appear to you. Wounded is wounded – if they are wounded go and help them." Thanking Rev. Caldwell for his impactful words, Teta Banks shared that "It must become more than a dream."
Following the Commemorative Tribute, Scholarships, Poster Awards and the Drum Major Awards were presented to the award winners who came up on stage with their families. Scholarships were awarded to six college students and the Poster Awards were given to six elementary students out of over 300 submissions. The poster submissions were displayed around the church lobby, common areas, and throughout the sanctuary. The Poster Contest grand prize winner's artwork will be featured on the Children's Mass King Choir t-shirts for the 2019 celebration.
The Drum Major Award was presented to former NFL player and The Wyms Foundation founder, Ellis R. Wyms, and We See Abilities founder, Mythiquer Pickett. The title of the Drum Major award is derived from a sermon given by Dr. King in February 1968, in which he referred to a 20th century notion of greatness – the innate human need for recognition, the desire for distinction – calling this impulse the Drum Major instinct. Dr. King shared, "If you want to say that I was a Drum Major, say that I was a Drum Major for justice; say that I was a Drum Major for peace; I was a Drum Major for righteousness." The Drum Major Award is presented to recognize a woman, man, business, or organization in Montgomery County whose life or work best exemplify the ideals of being a "Drum Major."
View more photos and videos from the Martin Luther King, Jr Commemorative Celebration on the Hello Woodlands Facebook page!