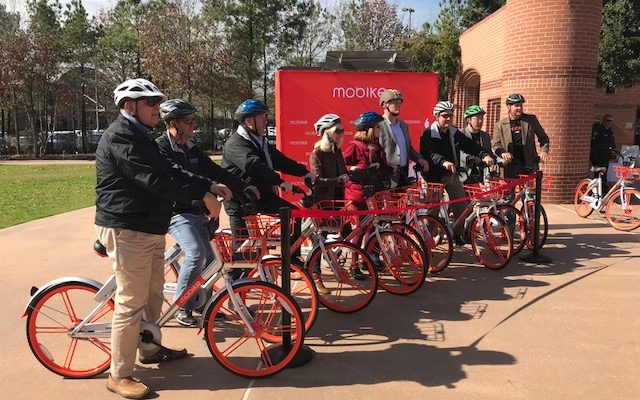 Events
Mobike Bike Sharing Program Launched in The Woodlands
By |
THE WOODLANDS, TX – On January 5, 2018, Mobike, the world's largest smart bike sharing company, celebrated its launch at Town Green Park in The Woodlands with an event co-hosted by The Woodlands Township. City leaders, planners, local media and Mobike staff were in attendance for the launch that featured speakers, demos, and lunch provided by Jason's Deli.
The expansion, planned collaboratively with community leaders and planners, marks the company's third U.S. city after expanding into 200 cities globally in less than two years.
Watch Hello Woodlands' LIVE video captured at the launch with interviews and demos:

Nick Wolda, President of Visit The Woodlands, said "It's just an awesome program for our residents and also our visitors. The price point is economical as well, so you can really experience The Woodlands by bicycle – and it's eco-friendly. It's just another great day here in The Woodlands!"
Brian Boniface, elected director of The Woodlands Township Board of Directors, shared that the "Mobike bikes are dockless, meaning you can pick them up and leave them anywhere in the determined geographical area. The best part is, this bike sharing program comes at no cost to the taxpayers. Mobike provides all the bikes and charges $1/half hour. Compared to Houston that uses BCycle, that requires pickup and return at specific locations and charges $3/half hour."
How do you use Mobike?
Download the Mobike app on your mobile device on the Apple App Store or Google play: https://mobike.com/global/download
Turn on the Mobike app and view all available bikes and locations.
A one-time refundable deposit with a credit or debit card using the app is required. Residents and visitors in The Woodlands can also get their first 3 rides for FREE by entering promo code TheWoodlands.
Scan the QR code with Mobike App and the bike will be unlocked. Then, you are ready to go!
Return the bike to any public parking area. Mobike is a station-less bike sharing solution.
Upon arrival at your destination, manually lock the bike to end the trip.
To learn more about Mobike and answers to frequently asked questions, visit https://mobike.com/sg/faq