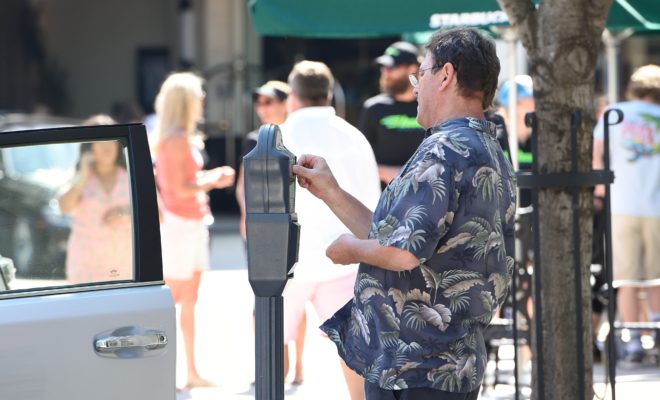 News
Market Street announces 2018 Change for Charity Non-Profits
By |
THE WOODLANDS, TX (January 4, 2018) – Four Montgomery County charities will benefit from the thousands of dollars in change inserted in Market Street's voluntary parking meters throughout 2018 as the shopping, dining and entertainment destination announces the beneficiaries of the 2018 Change for Charity program: CASA Child Advocates of Montgomery County, Foundation for Autism Care, Angel Reach and Canopy at Memorial Hermann The Woodlands.
The Woodlands Car Club also generously raises money for the Change for Charity recipients throughout the year at their events, held the first Sunday of each month. Their contributions, coupled with the amount donated to Market Street's 68 parking meters make up the total amount given to a selected charity each quarter.
"Market Street's partnership with local charities continues to make a positive difference in our community," says Noemi Gonzalez, marketing director at Market Street. "Our shoppers have contributed more than $150,000 to the Change for Charity program since its inception."
The program's first-quarter beneficiary, CASA Child Advocates of Montgomery County, provides valuable volunteer advocacy for abused and neglected children in Montgomery County. CASA volunteers serve as the "eyes and ears" for the judge in child welfare cases. CASA volunteers are frequently the only stable presence in these children's lives as they navigate the foster care system.
The second-quarter beneficiary, Foundation for Autism Care, is dedicated to raising funds to directly support and promote Applied Behavior Analysis therapy, education, services and treatment for children with Autism and their families.
Angel Reach, the program's third-quarter recipient, is dedicated to helping at-risk children and youth transition to better lives. The goal of Angel Reach is to help children and youth achieve their full potential in spite of the obstacles placed on them by broken families and a broken system. Angel Reach assists with benefit assessments, counseling, mentoring, tutoring, resources and support groups.
Market Street's Change for Charity fourth-quarter beneficiary, Canopy at Memorial Hermann The Woodlands, aims to enhance the quality of life for individuals affected by cancer and for those who support them during their journeys. Canopy provides a wide variety of programs and services addressing the emotional, physical and social needs of those touched by cancer.
Source: Market Street – The Woodlands