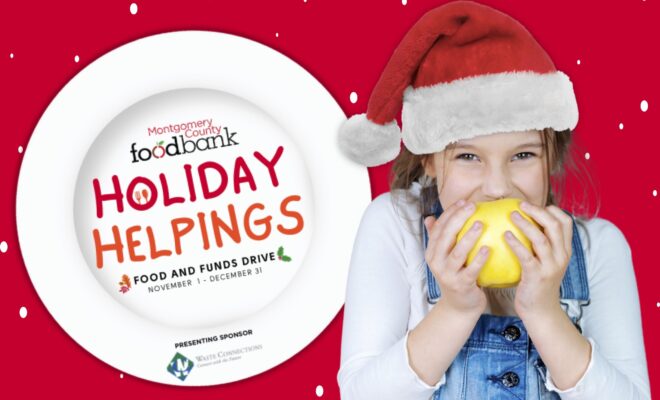 Events
Montgomery County Food Bank Asks Community to Participate in Holiday Food & Funds Drive
By |
MONTGOMERY COUNTY, TX – Montgomery County Food Bank (MCFB) announced its annual holiday food and funds drive, Holiday Helpings (formerly Stock the Sleigh), that will run from November 1 until December 31. Montgomery County residents, businesses, civic organizations, and schools are encouraged to participate and help the Food Bank fight hunger this holiday season. Holiday Helpings' Presenting Sponsor is Waste Connections.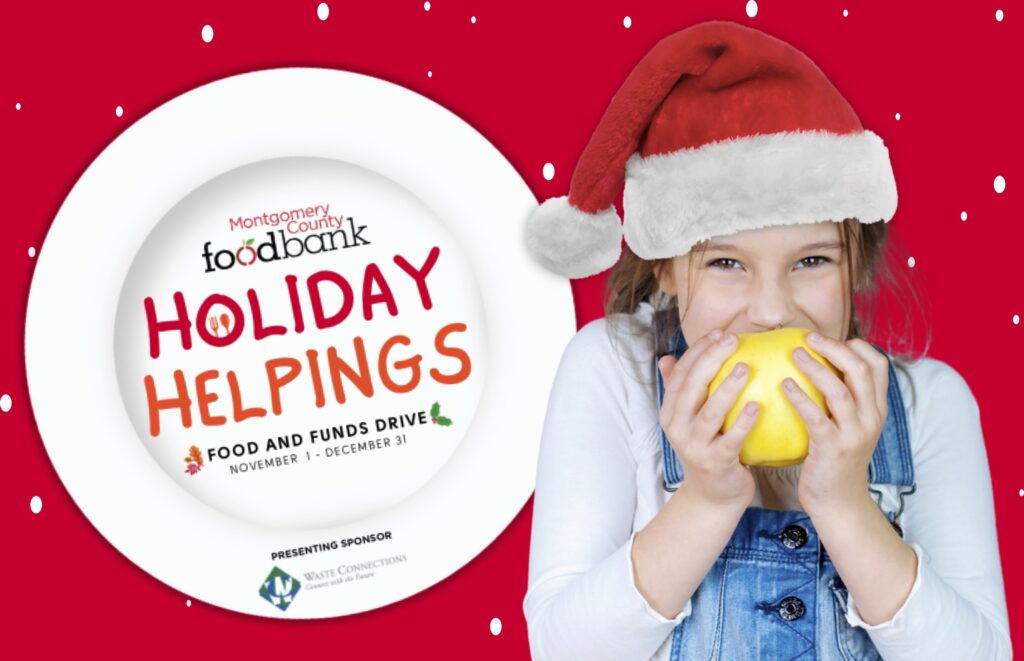 Ways to get involved with Holiday Helpings
Donation Plate Fundraiser – Register online to become a Donation Plate Fundraiser. The Food Bank will provide participants with Donation Plate cards, featuring a QR code that allows your company's network of customers, clients, employees, etc. to make a donation directly to the Food Bank. Every $1 raised provides up to four meals. The donor can then fill out their donation to be displayed on your company's windows, entryway, walls, Christmas tree, etc. To learn more and become a participant, visit mcfoodbank.org/holidayhelpings to register and download the toolkit.
Host a Food Drive – Become a food drive participant and collect the Food Bank's most needed food items to help fight hunger for countless children, seniors and families in need in Montgomery County. To defray expenses, Montgomery County Food Bank will not be providing food drive boxes for pickup this year. To learn more and become a participant, visit mcfoodbank.org/holidayhelpings to register and download the toolkit.
The Food Bank encourages food drive participants to join the 'Deck The Box' collection box decorating contest. Entrees can be submitted by hashtagging #HolidayHelpings2023 on Facebook, Instagram, Twitter and LinkedIn.
Holiday Helpings food collections can be dropped off on Tuesdays or Thursdays from 9:00 a.m. to 3:00 p.m. at Montgomery County Food Bank located at 1 Food For Life Way, Conroe, TX, 77385. The Food Bank is closed Thanksgiving Day.
The Food Bank's most needed items include:
Canned meat or pouches (tuna, chicken, spam)
Grains (rice, pasta, macaroni & cheese)
100% fruit juices
Canned vegetables (low sodium, no salt added)
Canned or dry beans
Peanut butter
Canned fruits (light syrup or its own juices)
Hot and cold cereals (oatmeal, cheerios, corn flakes)
Healthy snacks (raisins, granola bars, protein bars)
Monetary donations ($1 provides up to four meals)
Become a Sponsor – Holiday Helpings sponsorship opportunities are available but sell out quickly. To secure a sponsorship, fill out the sponsorship form found at mcfoodbank.org/holidayhelpings and send it to development@mcfoodbank.org.
"Please join us in making a difference this holiday season by participating in Holiday Helpings. The need for food assistance has surged to record highs, and we need your support," said Kristine Marlow, President and CEO of Montgomery County Food Bank. "If you are able, please consider sharing your blessings. Together, we can fight hunger and feed hope for our neighbors in need."
For questions about Holiday Helpings, contact Callie Thompson, Development Coordinator, Fundraising and Events, at cthompson@mcfoodbank.org or 936.271.8804.
ABOUT MONTGOMERY COUNTY FOOD BANK

Montgomery County Food Bank is a nonprofit hunger relief organization dedicated to uniting the community to fight hunger. Montgomery County Food Bank provides meals to families, seniors and children who lack access to wholesome nourishing food through a network of 80+ partner agencies, local school districts and community partners. Through partnerships with local retailers and wholesalers, Montgomery County Food Bank receives and purposefully distributes donated and surplus food. True to its mission, Montgomery County Food Bank works alongside volunteers, corporate and community partners, and nonprofit agencies to build a community where everyone has access to sufficient, nutritious food.
Montgomery County Food Bank is a 501(c)(3) nonprofit organization, partner of Houston Food Bank, member of Feeding Texas and distribution partner of Feeding America.