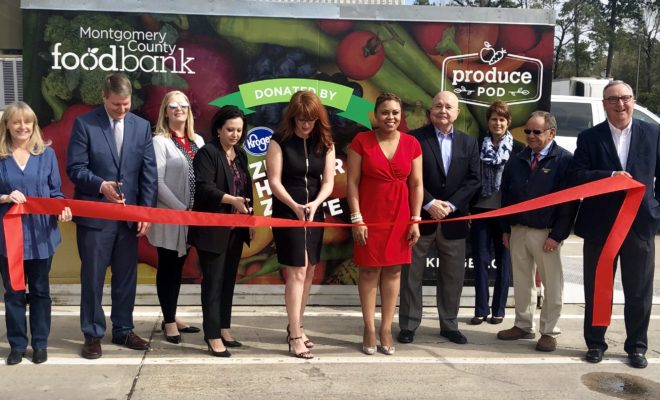 Lifestyle
Montgomery County Food Bank Debuts its First Produce Pod
By |
MONTGOMERY COUNTY, TX – Fresh produce is an integral part of a nutritious diet. It can also be a challenge for a food bank's mission as it strives to meet the needs of people struggling with food insecurity.
The Montgomery County Food Bank (MCFB), which collects and distributes food to partner agency food pantries, aims to have fresh produce make up at least 50 percent of its total distribution. However, most of their receiving food pantries do not have sufficient refrigerated space to hold and re-distribute perishable products. As a result, they have had to receive the products just before they are distributed to those in need.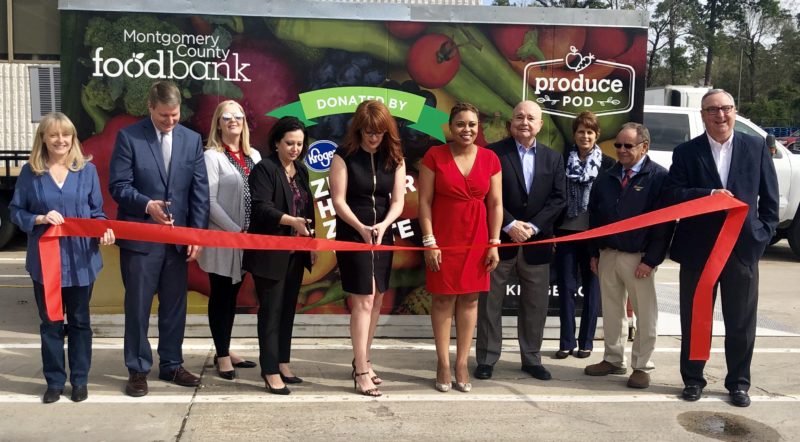 Recently, however, the MCFB had an idea to create a portable produce pod, much like a big, mobile walk-in cooler. The whole process of designing it and finding a manufacturer took less than one year, thanks to help from Kroger, Huntsman Corporation, Dyplast Products, Cardinal Manufacturing, Southeast Coolers, Buckalew Chevrolet, and others.
After approaching Kroger with the idea, the MCFB was awarded funds to support the Produce Pod from Kroger's Zero Hunger Zero Waste imitative grant. The funds enabled the MCFB to purchase the 8x13x8-foot Produce Pod cooler; the colorful wrap for the Pod; a one-ton Chevrolet pickup truck; a custom trailer; and a forklift type vehicle, called a Mule.
Huntsman Corporation, headquartered in Montgomery County, utilized its innovative polyurethane technology, and worked in collaboration with Dyplast Products to produce insulation panels used to construct the Produce Pod. The cooperation between Huntsman and Dyplast delivered a lightweight insulation solution, which ensures the food items inside the Produce Pod will stay fresh, and that the pod will operate in an energy efficient manner.
The key to the Produce Pod is that it uses a regular window air conditioner (standard 110v power) and a device called the Coolbot. The Coolbot overrides the controls of the A/C unit and will cool the Pod down into the mid-30 degrees if desired.
This single Produce Pod has the capacity to distribute an extra 700,000 pounds of produce per year, based on using it twice a week for 48 weeks. The Montgomery County Food Bank has plans to add additional pods in the future.
On February 12, the Montgomery County Food Bank debuted its Produce Pod with a ribbon cutting ceremony with representatives from Kroger, Huntsman, Dyplast, Southeast Coolers, Cardinal Manufacturing and Buckalew Chevrolet.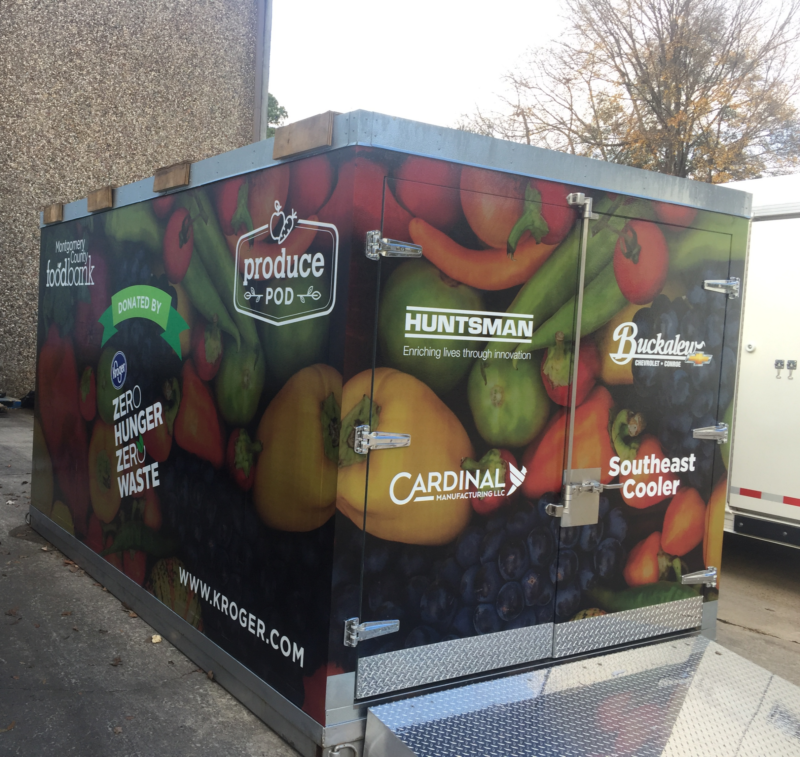 "The Produce Pod's insulated panels from Dyplast Products feature our polyurethane technology, which helps preserve perishable food items by enabling temperature-controlled conditions to be maintained throughout the cold chain," explained Steve Burns, Vice President – Americas, Huntsman Polyurethanes. "Huntsman is a proud supporter of the Montgomery County Food Bank's mission to help end hunger and pleased that our products are a solution to prolong the shelf life of fresh produce."
"The Produce Pod serves as another extension of our Zero Hunger, Zero Waste mission," said Sparkle Anderson, Corporate Affairs Manager for Kroger. "We've been a partner of the Montgomery County Food Bank for many years and are happy to support their efforts to provide more families with nutritionally-rich meal options."
Allison Hulett, President and CEO of Montgomery County Food Bank, added, "At the Montgomery County Food Bank, two of our main guideposts are nutrition and sustainability through innovative solutions. The Produce Pod achieves that while also supporting our partner agencies. The Produce Pod was a vision on a piece of paper that our underwriters and sponsors made a reality. It's the first of its kind. We are so grateful for the support and dedication we have received which has allowed us the means to better serve our community."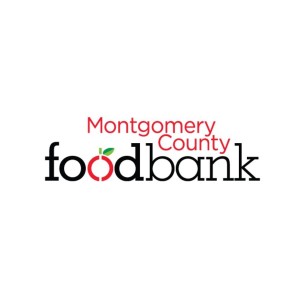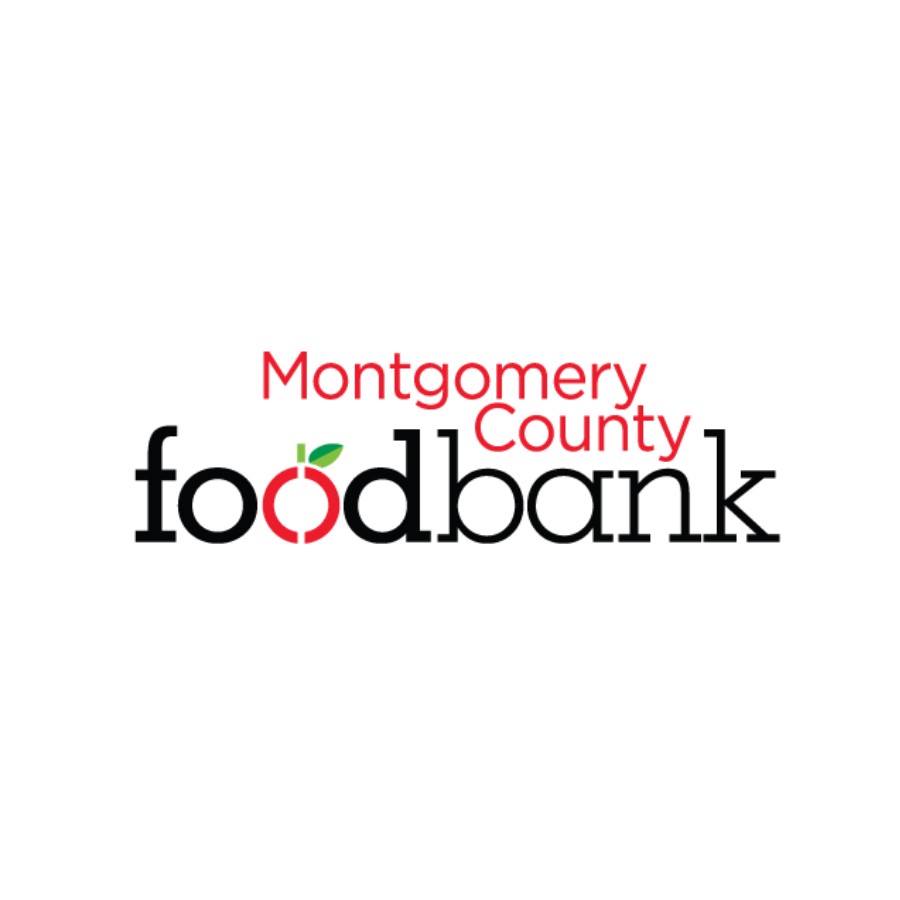 Montgomery County Food Bank began in 1985 as a door-to-door operation run out of car trunks by a small group of volunteers wanting to serve those in need in their community. Throughout the past 30 years, generous donors and volunteers have built it into an organization capable of distributing over 8 million pounds of food annually. The Food Bank also hosts mobile food distributions, offers nutritional education programs, emergency assistance in the time of a disaster or crisis, and provides meal programs for children and senior citizens.
Montgomery County Food Bank is 501(c)(3) chartered by the state of Texas and is a member of the Texas Food Bank Network and Feeding America. Its headquarters is located at 1 Food For Life Way in Conroe, near Hwy. 242 and I-45, just north of The Woodlands. For more information, to book a tour or volunteer at the facility, or to make a monetary donation or food contribution, visit www.mcfoodbank.org or call 936.271.8800.