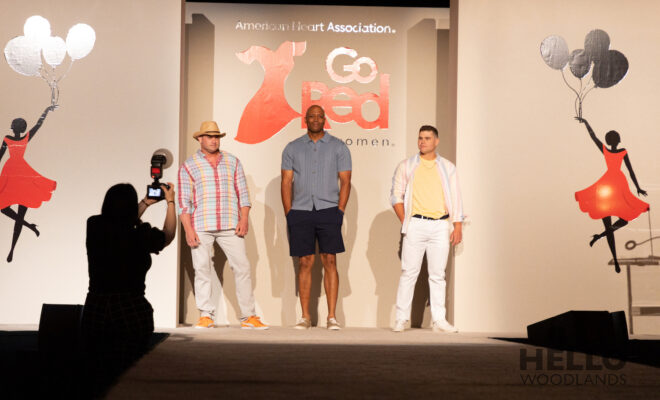 Photo Credit: Rod Prado
Events
Montgomery County Go Red For Women Luncheon and First Responder Fashion Show held in The Woodlands
By |
On Friday, May 19, 2023, the Montgomery County Go Red For Women Luncheon and First Responder Fashion Show benefiting the American Heart Association was held at The Woodlands Waterway Marriott & Convention Center.
View photos from the event on the Hello Woodlands Facebook page:
Since 2004, the Go Red for Women movement has educated millions of women about their No. 1 killer: cardiovascular disease. The Go Red for Women experience continues to be the cornerstone of the Go Red for Women movement in local communities. This empowering gathering focuses on preventing heart disease and stroke, shares stories of people impacted by this issue and raises critically needed funds to support research and education initiatives.
The American Heart Association (AHA) continues to innovate ways to ensure all women are aware of their heart disease risk and empower women to take control of their well-being. Good heart health is a journey, not a destination, and Go Red for Women wants to walk hand-in-hand with women through every age and every stage as a trusted health partner. AHA is also working tirelessly to accelerate science, advance public health policy, and engage more women in research and STEM – and it's all thanks to supporters like you.
The Co-Chairs of the 2022-2023 Montgomery County Go Red for Women Luncheon were Lonny Soza, President at Post Oak Motor Cars, and Elvira Graham. Sponsored by CVS Health and the Post Oak Collection, the Montgomery County Go Red for Women Luncheon celebrated this year's Go Red for Women movement, its local achievements, and championed Lonny and Elvira's mission to improve women's heart health and create a world of healthier lives for all.