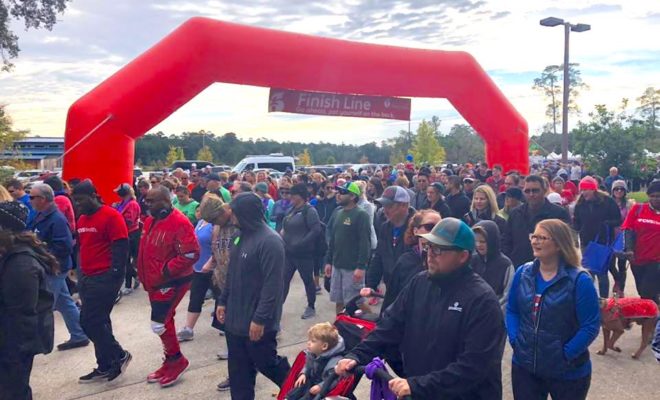 Photography by Tiffany Marascio, Hello Woodlands
Events
Montgomery County Heart Walk raises over 350K
By |
Around 5,000 Montgomery County residents laced up their sneakers on Saturday, November 10, 2018 for the American Heart Association's 25th annual Heart Walk at North Shore Park. The non-competitive, family-oriented 5k walk raised over $350,000 to support the fight against cardiovascular disease and stroke.
"We are proud to encourage healthier lifestyles in our community by supporting the Heart Walk," said Jim Parisi, President CHI St. Luke's Health, The Woodlands, Lakeside and Springwoods Village Hospital, who co-chaired the walk with Tyler Nordquist, District Manager of Kiewit, and community leader Thomas Smouse, Human Resource Executive with Encino Energy. "We saw a great turnout and were inspired to see so many walkers, corporate sponsors and volunteers work together in support of American Heart Association's mission to build a world of longer, healthier lives."
As part of the Heart Walk's mission to inspire the community to take part in the organization's Healthy for Good movement, which encourages Americans to eat smart, move more and make "being well" a lifelong priority, participants had the opportunity to enjoy an interactive farmer's market, hands-only CPR training, a pet zone, kids' dash and other activities.
This year marked the 25th anniversary of the Heart Walk, reminding communities of the many milestones and medical advancements the American Heart Association has accomplished over the past two and a half decades, including reducing the cardiovascular disease and stroke mortality rate by 45 percent.
The American Heart Association remains committed to the mission of building a world of longer, healthier lives. As 80 percent of heart disease and stroke events are preventable with diet and exercise, the American Heart Association raises awareness and educates as many people as possible in order to reduce the number of deaths and illnesses caused by cardiovascular diseases and stroke. That's why the "Healthy for Good" message of the Heart Walk is valuable to Montgomery County. It's part of a revolutionary movement to inspire all Americans to create lasting change in health and life, one small step at a time.
Learn more and make a donation today at MontgomeryCountyHeartWalk.org.
The American Heart Association is a leading force for a world of longer, healthier lives. With nearly a century of lifesaving work, the Dallas-based association is dedicated to ensuring equitable health for all. We are a trustworthy source empowering people to improve their heart health, brain health and well-being. We collaborate with numerous organizations and millions of volunteers to fund innovative research, advocate for stronger public health policies, and share lifesaving resources and information. Connect with us on heart.org, Facebook, Twitter or by calling 1-800-AHA-USA1.