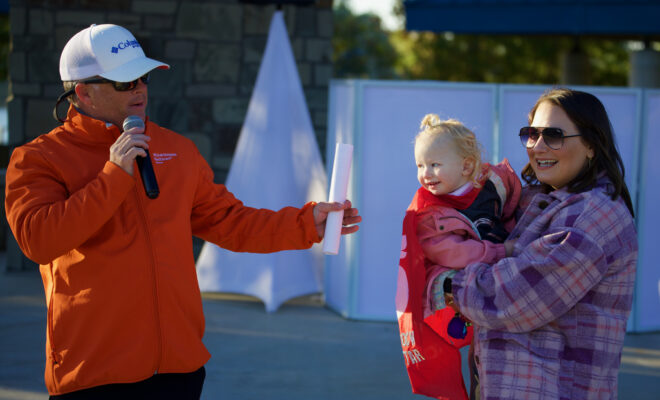 Events
Montgomery County Heart Walk takes place in The Woodlands
By |
The American Heart Association held the Montgomery County Heart Walk on Saturday, November 6, 2021 at Northshore Park in The Woodlands and united the community in celebrating health and honoring survivors.
Anthony Yanez, KPRC2's Emmy-winning Meterorogolist, was the emcee for the 2021 Montgomery County Heart Walk. Matt Davis, CEO of HCA Houston Healthcare Conroe, was the Chair for the Montgomery County Heart Walk and charged with stewarding the fundraising campaign to support the lifesaving work of the American Heart Association. Davis was joined by county executives working to increase physical and mental health, combat burnout and promote community engagement.
The funds raised through the Heart Walk campaign further the mission of the American Heart Association to be a relentless force for a world of longer, healthier lives. Locally, the funds support community impact work to address nutrition security, hypertension and women's health. These have been identified as key priorities in North Houston and propel the work to accomplish the Association's 2024 Health Equity Impact Goal, reducing barriers to health care access and quality.
View photos and videos from the event on the Hello Woodlands Facebook and Instagram pages:
This year's Montgomery County Heart Walk was sponsored by HCA Houston Healthcare Conroe, Kiewit / TIC, St. Luke's Health The Woodlands Hospital, Waste Connections, 5 Point Credit Union, Memorial Herman The Woodlands Medical Center, and The Howard Hughes Corporation.
Learn more about the event by visiting MontgomeryCountyHeartWalk.org and follow on social media: Facebook/Instagram/Twitter: @AmericanHeartTX and Hashtag: #MontgomeryCountyHeartWalk.
About the American Heart Association
The American Heart Association is a relentless force for a world of longer, healthier lives. We are dedicated to ensuring equitable health in all communities. Through collaboration with numerous organizations, and powered by millions of volunteers, we fund innovative research, advocate for the public's health and share lifesaving resources. The Dallas-based organization has been a leading source of health information for nearly a century. Connect with us on heart.org, Facebook, Twitter or by calling 1-800-AHA-USA1. heart.org