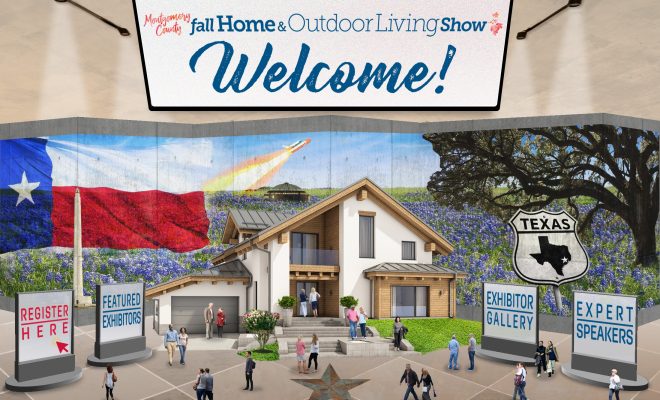 Events
Montgomery County Home & Outdoor Living Show Premiering as Virtual Show
By |
MONTGOMERY COUNTY, TX – COVID-19 has changed the way all of us do business. The Montgomery County Home and Outdoor Living Show is premiering a Virtual Show offering event attendees an opportunity to see all the exhibitors, products, and services you come to expect from Texwood Home Shows for over 20 years at home without fear of safety and health concerns. The Texwood Virtual Home Improvement Show will premiere September 11-13 from the "Comfort of Your Home."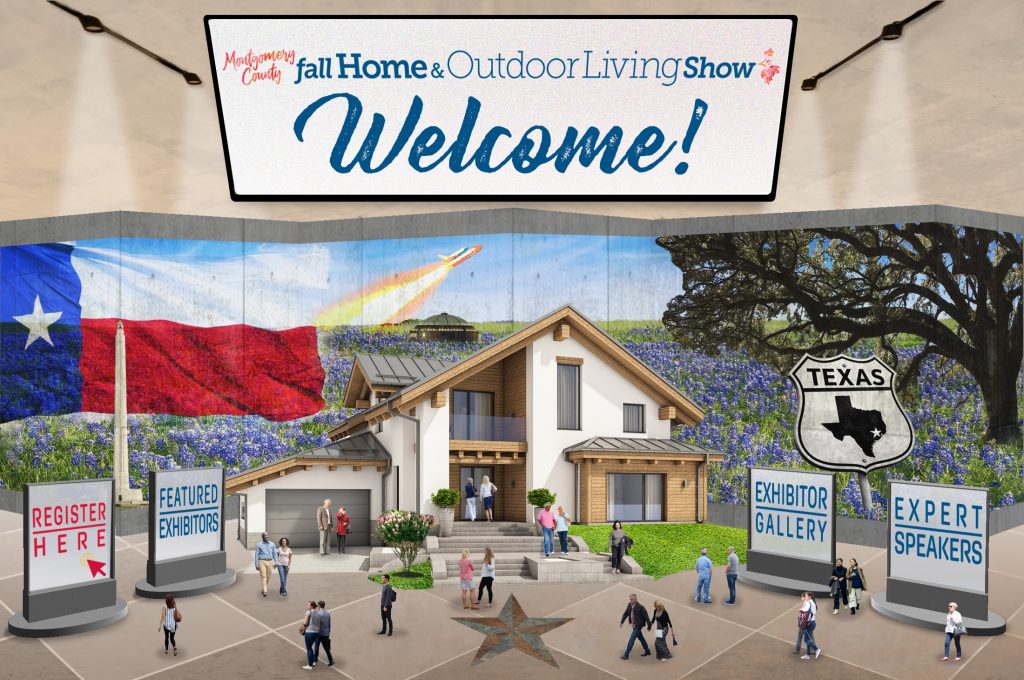 At the Virtual Show attendees can expect to see over 100 top names in home improvement in many categories: flooring, windows, outdoor landscaping, kitchen, bath, spas, landscaping, patios, trees, outdoor kitchens, game rooms, flooring, windows, doors, mosquito systems, home-painting, patio furniture, pools, roofing, remodeling contractors, builders, generators, storage solutions, mattresses, blinds and shutters, water systems, air conditioning and heating, garage organization, and concrete resurfacing – all viewable via easy to click on portals at www.TexwoodVirtual.com.
Once on the website, viewers will register first and then will be navigated back to the homepage to select from Featured Exhibitors, Exhibitor Gallery, or Speaker/Experts. Featured Exhibitors will be set up like a virtual home. Clicking on the light fixtures will navigate to lighting exhibitors, clicking on the roof will connect with roof exhibitors, with logo images of all the exhibitors featured all around the "playhouse." By clicking on the Exhibitor Gallery, all the exhibitors by category will be listed with easy navigation to a specialty home improvement. Each exhibitor will offer a special buy or coupon available to attendees of the show.
LIVE presentations by expert speakers will occur at designated times both Saturday, Sept. 12, and Sunday, Sept 13 in the Virtual Auditorium via Zoom online:
Dr. Lori's Appraisal Comedy Show – get your heirlooms appraised via Zoom!
Randy Lemmon, host of Houston's GardenLine on KTRH 740, "Fall Gardening Q & A," 11:00 a.m. – noon both Sat/Sun
Tom Tynan, host of HomeShow Radio on Sports Radio 610, "Houston's Home Improvement Expert"
Dany Millikin, HomeShow Garden Pro, Sports Radio 610
Wimberley Glassworks – View Glassblowing demonstrations
Kim Miller, Kim's Organizing Solutions and Professional Organizer, "Creating a Productive Workspace from Home"
Diane Cowen, Houston Chronicle Architecture/Design Writer, "Color, Comfort, and Common Sense – how the Cornonavirus has changed home design"
On Demand viewing will be available after the LIVE showing through October 4, 2020.
The DIY workshops had a favorable response in the Spring, and they were added to the Virtual Home and Outdoor Living Show. Have fun learning how easy it is to make your own floral arrangement with Ashley Wallace of The Tallest Tulip once each day via Zoom. All you need is floral clippers, a solid container for the flowers, "wet" floral foam, and a bouquet of flowers with 15-20 stems mixed with greenery.
AR Workshop of Cypress will work with viewers to build a unique wood home décor project in a fun atmosphere. Create your own project with all the items you need by getting the supplies in advance. Information will be available on the website prior to the workshop. Get supplies in advance (allow 7 days to ship) at https://bit.ly/virtualdiycf2020.
Dr. Lori's Antique Appraisal Comedy Shows will be LIVE in sessions both days. The Star Appraiser on the Discovery Channels Auction Kings will appraise items on the spot. Attendees are encouraged to show Dr. Lori an antique or heirloom for Dr. Lori to determine the value during the show. There will be lots of surprises with a great opportunity to learn about the value of heirlooms, resale shop finds, and items around your home. The LIVE Zoom show sessions will be offered Saturday, 9/12 at noon and 2:00 p.m., and Sunday, 9/13 at 1:00 p.m. www.DrLoriV.com.
Watch LIVE Glassblowing demonstrations from Wimberley Glassworks of San Marcos. Incredible fiery glass lighting comes to life! Wimberley Glassworks creates artwork, lighting fixtures, platters, barware, glassware, and outdoor decor pieces hand blown in their studio. Be a part of the artistic vison by making your choice of 25 glass patterns and colors while choosing the shape of your design. www.WGW.com.
Visit the luxury kitchen and bath designs from ABM Cabinets featuring custom cabinets in granite and quartz with amazing fixtures to complement the remodel. See the newest Hunter Douglas window treatments of shades, blinds, shutters, and the newest technology of Powerview Motorization that includes safety features with app control by Simple Elegance.
Other featured exhibitors:
Mary Scalli, President, CEO, of Simple Elegance and Accredited Staging Professional Master sharing information on Hunter Douglas Window Treatments and Home Staging
Sherwin Williams Color Snap Visualizer will demonstrate how to choose the correct palette for your home
Outdoor Perfection with the newest ways to remodel your outdoor living space
Eldridge Roofing and Restoration is family owned since 1998 offering professional roofing, maintenance, and reconstruction
Shelf Genie of Greater Houston with innovative storage for closets, kitchen, bathroom, or garage
Although there is no fee to "attend" the shows, please consider a donation to one of the partnering nonprofit organizations by clicking on the home page. Community Assistance Center (CAC), Habitat for Humanity of Montgomery County, and Inspiration Ranch are the nonprofit organizations spotlighted during the Montgomery County Home and Outdoor Living Visual Show.
CAC is a source of hope for Montgomery County residents experiencing financial crisis in basic needs of housing, utilities, food, and clothing with a goal of delivering lifelong solutions. www.CAC-MCTX.org.
Habitat MCTX ReStore sells home improvement supplies for a fraction of the retail price with everything you need for your next home project. All proceeds benefit the mission of Habitat MCTX for affordable housing. www.HabitatMCTX.org.
Inspiration Ranch provides equine therapy programs to special need individuals with expertise certified through the Professional Association of Therapeutic Horsemanship International. www.InspirationRanch.org.
Show hours are noon to 5:00 p.m. on Friday, Sept. 11, 9:00 a.m. to 5:00 p.m. both Saturday, Sept 12 and Sunday, Sept 13. Visit www.TexwoodShows.com to learn more about the show.