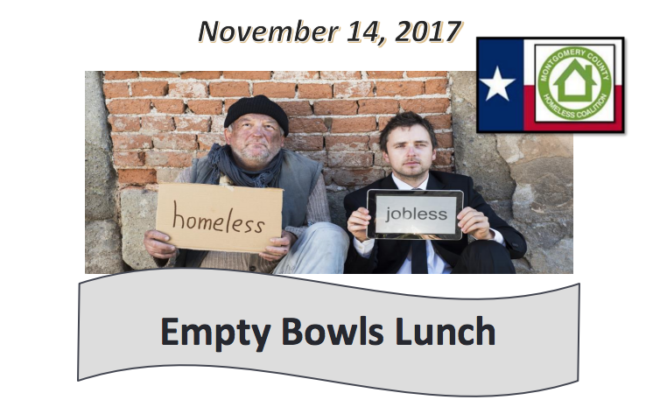 Events
Montgomery County Homeless Coalition to host Empty Bowls Lunch and E3 Center Tour
By |
For this year's Awareness Event, the Montgomery County Homeless Coalition (MCHC) is partnering with the Salvation Army in Conroe to feed those suffering from homelessness and poverty. Starting at 11:30am, Coalition Members and others will serve food at the Salvation Army in Conroe (301 Avenue E, Conroe, Texas, 77301). All members of the general public are welcome to attend to enjoy lunch together.
Also, for a donation of your choice (cash or check), lunch guests can purchase one of the many beautiful handcrafted bowls donated by the Lone Star College-Montgomery Ceramics Club, artist Robby Wood, and participating high school students.
A number of elected officials and department heads will help in serving this meal including Representative Will Metcalf, Commissioner James Noack, District Attorney Brett Ligon, Judge Phil Grant, Conroe Police Chief Philip Dupuis, Sheriff Rand Henderson, Conroe City Council Members and others.
Starting at 12 noon, lunch guests can walk across the street for a tour of the MCHC's E3 Center (Equip-Educate-Empower) that will open in early 2018. This empowerment center will be at the old Food Bank building as it currently in the remodel/construction phase.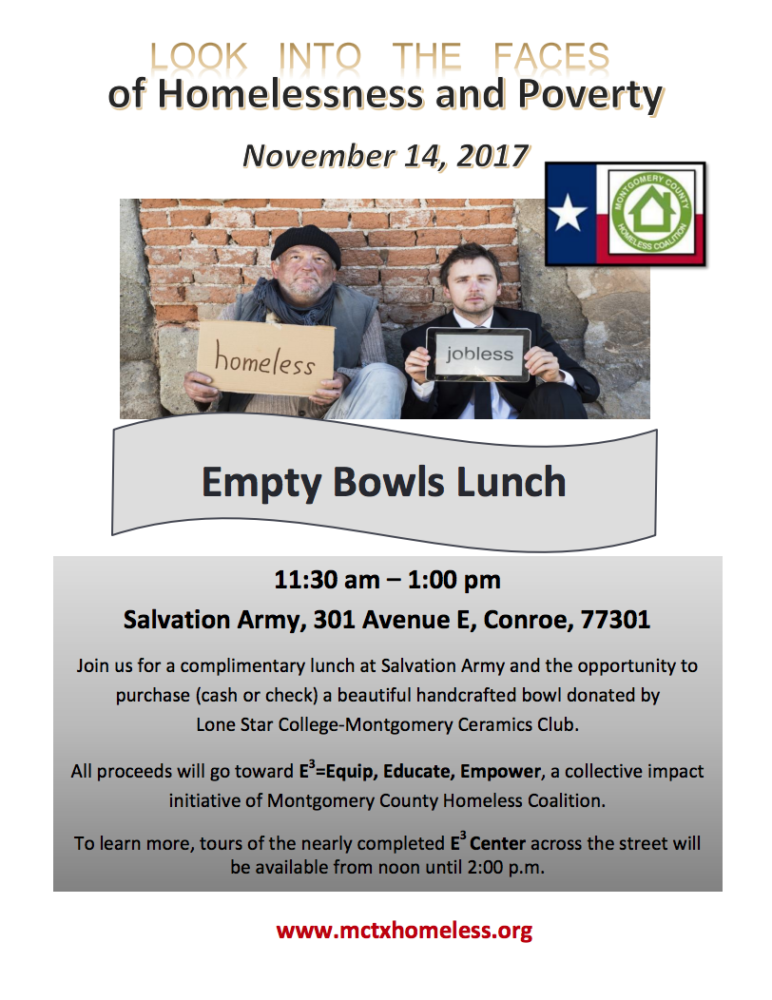 What is E3 and why Montgomery County Homeless Coalition?
E 3 is a collective impact initiative of the Montgomery County Homeless Coalition (MCHC), a 501(c)(3) organization established in 1999. MCHC is a true coalition whose main services are to provide research, education and coordinated activities among its member organizations and to connect with city and county governments in identifying issues of people experiencing the challenges of poverty and homelessness. One of the goals is to advocate for solutions for these challenges.
E 3 's purpose is to bring the community together to "move the needle" in improving stability and self-sufficiency. The mission is to Equip, Educate, and Empower Montgomery County families and individuals to greater levels of stability and self-sufficiency.
E 3 targets no/low income families and individuals who have the desire, motivation, and potential to improve their stability and self-sufficiency.
E 3 will act as the umbrella bringing together multiple programs, services, and strategies; uniting nonprofits, government, faith-based organizations, and the community to walk alongside participants providing a coordinated, intentional, and holistic continuum of care.
Programs and services are the nuts and bolts of the initiative. E3 keeps focus on the big picture goal and more comprehensive measures of collective impact over the region long-term.
The hub for the E 3 initiative will be a centralized location in downtown Conroe across from the Salvation Army. The E3 Center will house a variety of organizations, programs and services who support and are aligned with E 3 's mission and will offer case management, job readiness, financial literacy training, mental health services, etc.
Current Anchor Partners/Programs:
Crisis Assistance Center/Hand up Program
Easter Seals/Bank On and Home of Your Own
Educational Outcomes/Adult education
Lone Star College/Career Navigation/Advisement and Pilot for Food Chef/Prep Chef Program
Montgomery County Homeless Coalition/Backbone Support
Volunteers of America (VOA)/FOC-Financial Coaching, Employment Coaching, Occupational Training
For local statistics on food insecurity, visit the Montgomery County Food Bank at www.mcfoodbank.org as well as Map the Meal Gap at www.feedingamerica.org.
To help close the meal gap in our community, consider donating to the Montgomery County Food Bank and local food pantries. Visit us at www.mctxhomeless.org for member agencies you can support.