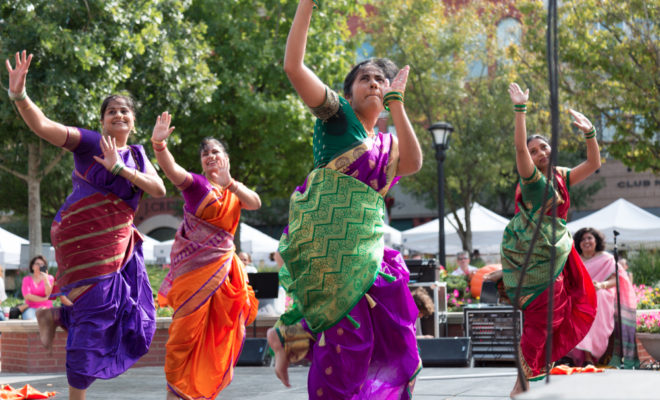 Art & Culture
The Woodlands Cultural and Heritage Festival Celebrates over 100 Countries with Inaugural Event
By |
THE WOODLANDS, TX – It was a beautiful Sunday in Market Street's Central Park to enjoy the inaugural presentation of The Woodlands Cultural and Heritage Festival. Several hundred families from the area gathered to celebrate the diversity of cultural heritages in the community through the arts.
The festival featured food trucks and more than 18 cultural exhibitors and international entertainers. Festival attendees contributed in making an on-site artwork called the AncesTree, a sculpture developed by students from The Woodlands High School with leaves made by students from Irons Junior High School.
Each leaf is unique, as it holds sayings or drawings from people's own family history, culture or tradition. The Ances Tree will be housed at The Woodlands Children's Museum until a permanent location is decided. The phrases written by all participants will be used by Marlo Saucedo, a local artist, to create a 36" diameter original artwork. This three-dimensional work will ultimately culminate in a permanent installation as a painted mural in Market Street in 2018. Marlo Saucedo's painting will ultimately be on view at The Woodlands Arts Council "Spotlight Gallery" within the Woodlands Mall.
"We commend you all on putting together something new and different. It was wonderful to see so many cultures being represented in our community," said Jane Minarovic, Director of The Inspire Film Festival. "I can't tell you how many people recognized our Cholita photo and told us stories about their mothers and grandmothers that still dressed in the traditional costume."
Mike Bass, Executive Director of The Woodlands Arts Council, presented checks to the organization's charity partners from the 12th Annual Woodlands Waterway Arts Festival and Because Art Matters. The donation totaled $22,550 and was presented to the Conroe Art League, Pavilion Partners, Woodlands Art League, The Anne Marie Hopkins Art Alliance and The Woodlands Children's Museum.
Over 100 countries were represented in different booths throughout the festival and through dance, music and food. "I really lack words in Chinese or English to adequately describe how much my family enjoyed the festival!" said Kim Lee, festival attendee.
For more information about The Woodlands Cultural and Heritage Festival, visit www.thewoodlandsartscouncil.org.