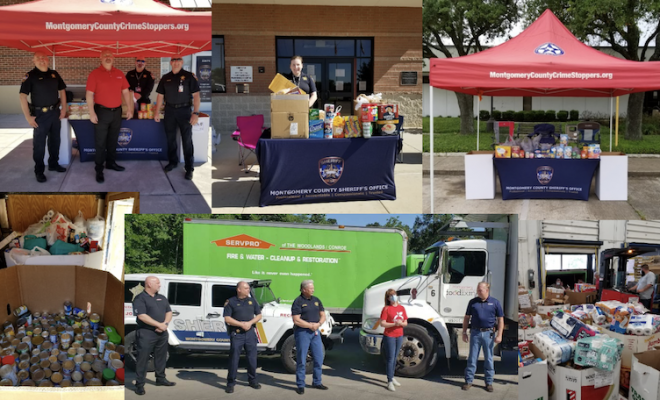 Photo Credit: Montgomery County Sheriff's Office
People
Montgomery County Sheriff and Community answers call for Food Donations
By |
Many hard working citizens throughout Montgomery County were impacted by the COVID-19 pandemic and unable to work causing many to go without. On Thursday April 23, the Montgomery County Sheriff's Office put out a call for help as part of their Community First initiative and the community answered.
In just two days, thanks to the overwhelming generosity of our community, 17,747 pounds of food were donated. In addition to the food donations, SERVPRO of The Woodlands/Conroe donated the use of a large truck for three days to help move the food to the Montgomery County Food Bank.
The food donations were delivered by Montgomery County Sheriff's Office and SERVPO to Montgomery County Food Bank on Friday, May 1. Watch our video below of the donation and interview of Sheriff Rand Henderson, Allison Hulett, President and CEO of Montgomery County Food Bank, and SERVPRO's Frank Reed.
Videography by Rod Prado, Edited by Jennifer Bruse
Sheriff Rand Henderson stated, "During the Covid-19 global pandemic, the Montgomery County Sheriff's Office has been blessed with community support. This is just another example of why Montgomery County is such an incredible place to live and work. Where else can we come together as a community and raise 8.9 tons of food to help our neighbors in a time of need."
Learn more about how you can help by donating online, start a virtual food drive, and/or find a food pantry at https://mcfoodbank.org/
Source: Montgomery County Sheriff's Office