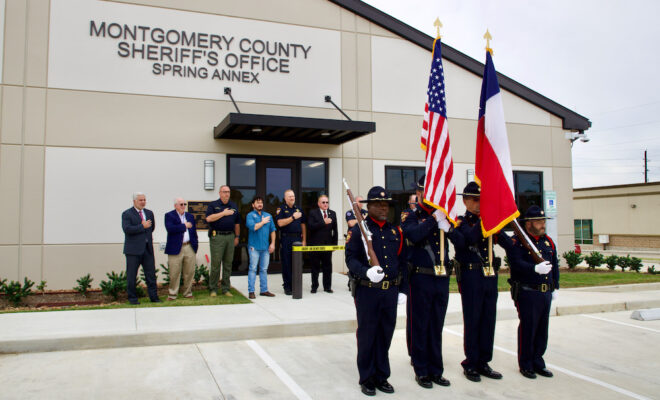 Photo Credit: Rod Prado, Hello Woodlands
News
Montgomery County Sheriff announces opening of New District 2 Building
By |
The Montgomery County Sheriff's Office announced the grand opening of their new state-of-the-art District 2 facility located at 25046 Abbey Blvd in Spring, Texas. The new facility is a collaborative effort between the Sheriff's Office and the Montgomery County Commissioners Court.
Hello Woodlands had the opportunity to take a tour of the new office on Tuesday, October 4, 2022 and hear from numerous officials. Sheriff Rand Henderson, Commissioner James Noack, Montgomery County Judge Mark Keough, Constable Ryan Gable, and other elected officials were in attendance.
View photos of the new District 2 facility on the Hello Woodlands Facebook page and on Instagram:
The Montgomery County Sheriff's Office shared that, "We have been eagerly awaiting this opening as it will provide an innovative and expanded workspace for our Patrol Deputies and be home to our District 2 Command Staff and Detectives. This 7,000-square-foot facility is also accompanied by a new on-site satellite fleet maintenance facility that will provide employees with a more convenient location for vehicle services and repairs.
"Part of the foresight of the Sheriff's Office campus master plan was to have this new building and satellite fleet maintenance facility to more efficiently serve the East Side Patrol and in return the community."
The Montgomery County Sheriff's Office reported that the project was secured and completed without any additional expense to the taxpayers. The project was also completed under budget, as the Montgomery County Sheriff's Office stated was "partly attributable to Sheriff Henderson's fiscally conservative, zero-budget philosophy."
Source: Thomas Hudson, Specialist, Montgomery County Sheriff's Office
Administrative Services