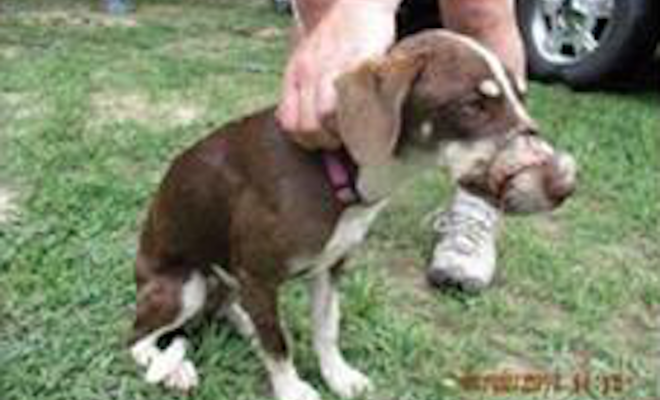 Photos by Montgomery County Sheriff's Office
News
MSCO and Animal Shelter seeking justice for "Justice"
By |
*WARNING photos listed below are graphic in nature*
On June 9th, 2017, an adult female dog, possibly a mix-breed hound, was taken to the Montgomery County Animal Shelter in poor condition. According to the individual that found the dog in the area of Old Texaco Camp Road in East Montgomery County, she was recovered with several layers of electrical tape wrapped around her nose and upper jaw. It was evident that the tape had been on the dog's snout for a very long time and, once it was removed, it was clear that the tape had caused severe injuries.
Thankfully, the dog who had been named "Justice" by Animal Control, is being cared for by the good folks at the S.A.F.E. (Saving Animals From Euthanasia) House Rescue in Willis. Justice will have a long recovery ahead of her and we are thankful that there are volunteer experts available to provide proper medical treatment and pain management.
It is the Montgomery County Sheriff's Office's contention that someone has seen Justice in the area previously and possibly knows who is responsible for this inhumane act. They are urging the public to contact the Montgomery County Sheriff's Office at (936) 760-5800, or Crime Stoppers at (800) 392-STOP (7867) to provide information that can lead to resolution in the case of Animal Cruelty.