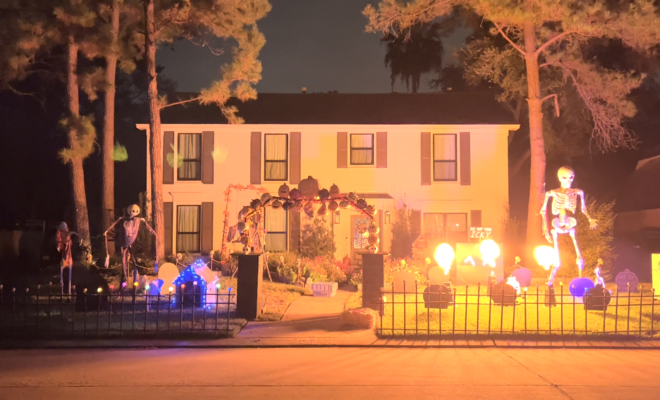 Photo by Tiffany Marascio, Hello Woodlands
entertainment
Must See Local Halloween Decorations; Map & Videos Included
By |
Put on some Halloween music and head out to see these local Halloween decorations. There are several new houses on the list this year! The list is updated regularly so be sure to check back for additions as Halloween gets closer.
Halloween in The Woodlands area 2022 Map
Click on any of the ghosts to find an image of a home decorated for Halloween and its location. Click the small, right facing arrow on the top left of the map for a complete list of houses on the map. There are some extra houses on the map for a little extra fun!
Amber Sky Place (Nightmare on Amber Sky)
Watch "Icky" the pumpkin and his pumpkin friends sing Halloween songs to a synchronized light and music show. New this year is a pyrotechnic element! Check the homeowner's Facebook page for weather updates at Nightmare On Amber Sky. Map
Antique Cedar Lane
There are two displays on this street! One is a yard full of animatronic scary characters with a spooky pathway up to the house. Also be sure to check out the nearby house with skeletons in an amusing scene. Map
Driftoak Circle
Enter if you dare! The homeowners invite guests to get out of the car to explore this spooky front yard complete with a fortune teller, games, candy, interactive characters, and more! Map
Grand Bayou Place
This yard is full of creepy characters with a lot to say! Look in the windows to see ghostly images that appear to be from inside the house! Map
Cascade Springs Place
There are two must see displays on this street. Catch the Ghostbusters in action fighting the Stay Puft Marshmallow Man, then head to the other side of the street to see giant skeletons doing cheer moves, riding a bike, and towering over the street.
Green Bend Court
Head to Lake Windcrest in Magnolia for this light show coordinated to Halloween music set to an FM station so you can listen from your car as you enjoy the show. This display is located at the corner of Green Bend Court and Scenic Green Drive. Map
Moonseed Place
Enter a graveyard in the front yard and check out the skeletons climbing the roof. This installation also includes a movie screen displaying spooky scenes. Map
Mystic Lake Circle
The Haunted Garden is back and bigger than ever! Visitors can tour a lighted pathway filled with interactive monsters and witches, selfie stations, and places to get candy along the way! You can find the homeowner outside visiting with her guests to make sure everyone is having a great time. Map
Shenandoah Drive
This front yard is covered with skeletons, lights, pumpkins, and all things Halloween! Map
Webb Creek
This house features a giant creepy jack-o'-lantern clown, clowns sitting on chairs and swings, and plenty more frightful characters! Map
West Greywing Circle (The Doll House)
The Doll House features over 100 dolls that have been hand painted to create the perfect eerie details on each one. The chilling mood is complete with scary music and lighting. Map
West Stony End Place
Be sure to check out this house on Halloween too – bigger items are added on Halloween day! Map
Watermint Place
Every inch of this yard is covered in creepy decorations!
Fairwind Trail Drive
Be sure to look into the front window of this house – there's a lot of spooky things going on with skeletons dancing and more!
Find more local Halloween decorations on Hello Woodlands' Facebook page: www.facebook.com/HelloWoodlands. Don't forget to check back for the 2022 Local Christmas Lights displays!
UPDATED: October 22, 2022 at 2:09 p.m.