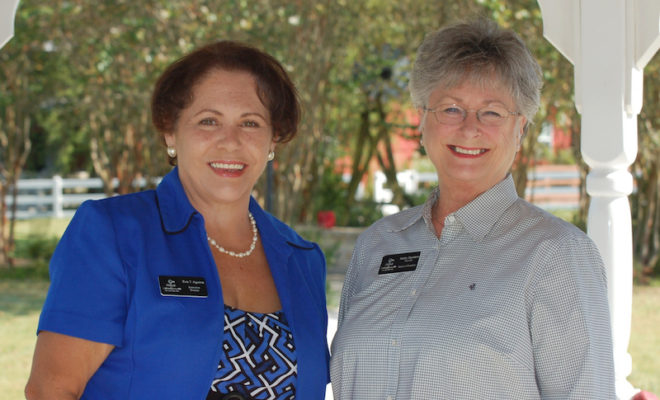 News
New Danville's Founder Kathy Sanders Announces Retirement
By |
More than 15 years ago, Kathy Sanders began to ask herself the same question that every parent of a special needs child ponders, "What will happen to my child when I pass away?"
Her son, Jimmy, was a young adult needing support to fulfill his dream of living independently but required some assistance. So, she began envisioning a place. A place where adults with mental disabilities could not just live independently as possible but thrive with enriched and purposeful lives. From her vision came a plan, and with much blood, sweat and tears, fast forward to today and the dreamed concept is a reality … New Danville is that place. Sanders founded a self-sustaining, master-planned integrated community serving adults with intellectual and developmental disabilities, such as the Autism Spectrum, brain injuries, and many of the over 100 disabilities.
New Danville, located on 42 pastoral acres in Willis, Texas, at 10951 Shepard Hill Road, is the only community concept of its kind that offers an affordable, holistic approach to services by offering adult educational, skills training and vocational services, low-cost rental housing, and job opportunities. Offering residential accommodations and day programs, it is a community where they can live, learn, work and grow emotionally, socially and spiritually in a safe, caring environment.
"Before New Danville, there were very limited options for safe, affordable housing that allowed independent living, diverse, quality and age-appropriate day program activities, and meaningful job training and employment opportunities to adults with disabilities," explained Sanders, founder and former President and CEO of New Danville. "New Danville gave adults with disabilities a quality of life that we all want – to be able to choose where and with whom they live, to become as independent as possible, opportunities to make friends, and to live enriched and purposeful lives. Moreover, to provide peace of mind to their parents that their disabled adult children were safe, healthy and happy. New Danville's development and implementation of a holistic approach to programs and services helps prevent institutionalization, promotes self-reliance and independence, and provides the quality of life they deserve, in spite of their disabilities."
Since 2005, Sanders' milestone accomplishments have included:  founding New Danville as a Texas non-profit corporation; obtaining a 501(c)(3) IRS tax exemption; acquiring the historic 42-acre site for the development of New Danville; project managing the construction of its day program and residential buildings, utilities, driveways and parking lots; securing awards of over $3 million in federal grants for the development and construction of residential and day program buildings and utilities (public water well, waste water treatment plant, three-phase electrical service for commercial buildings, and underground sewer, water and communication lines); securing awards of federal grants for the acquisition of four wheelchair-lift buses which increased New Danville's fleet to 12 vehicles; achieving the status as the first in the state to receive approval from the Texas Department of Aging & Disability Services that allows adults receiving Medicaid-waiver benefits to live independently in a community of their choice, which established a residential model for the rest of the United States; developing products and establishing New Danville's manufacturing and production plant operations; establishing New Danville as licensed food manufacturer and developing gourmet food products; and establishing and implementing and online store and holiday retail space.
On June 30, 2017, Sanders officially retired and Eva T. Aguirre was named as the new Executive Director of New Danville. On July 14, a retirement celebration was held at New Danville during which Sanders handed over the reins to Aguirre … literally. Sanders handed the reigns of three of the original miniature horses obtained for therapy – Punkin, Skipper, and Gandalf – to Aguirre as a reflective and light-hearted gesture during the ceremony.
"It is hard to believe that the time has come for me to retire," said Sanders. "I am so thankful for all the caring people who stepped up to help me achieve my vision of creating this self-sustaining community where our wonderful and deserving adults can live, learn, work and grow. I am excited to have Eva serving as the Executive Director, as she has over 30 years of experience with the special-needs population. New Danville will remain forever in my heart."
Aguirre added, "It is an extreme pleasure to join the New Danville community. I have truly enjoyed meeting our clients and families. My goal is to continue the legacy started by Kathy Sanders and to further the mission of making New Danville a model for the future in providing services to adults with disabilities in a responsible and ethical manner and works to ensure its long-term sustainability. There are a lot of exciting plans for the future!"
Eva Aguirre brings over thirty years of experience in serving persons with intellectual and developmental disabilities, and believes all persons should be afforded respect and dignity and have opportunities to learn, grow, and live as independently as possible. Most recently, Aguirre served as Chief Executive Officer for The Center non-profit in Houston. She received a Bachelor of Arts degree in Psychology from the University of Central Florida. She is certified as an Assisted Living Administrator by The Center for Health Services Education and Research and earned a Certificate of Achievement in Senior Human Resources Development by the Susanne M. Glasscock School of Continuing Studies at Rice University, and is an Honored Member of the Biltmore's Who's Who Registry of Executives and Professionals.
She is a past member of the Planning Advisory Council for the Mental Health and Mental Retardation Authority of Harris County, a previous Board Member At-Large for the American Association on Intellectual and Developmental Disabilities (AAIDD) and has served on the MHMRA Quality Assurance team for Harris County and on the Criminal and Juvenile Justice Committee of the Council as well as on the Board of the Private Providers Association of Texas (PPAT). Aguirre supports AAIDD, Best Buddies International, Special Olympics, and the National Association of Professional Women.
New Danville is a not-for-profit 501(c)(3) charity and educational organization. For more information about New Danville, visit www.NewDanville.org or call (936) 344-6200 or email info@newdanville.org.