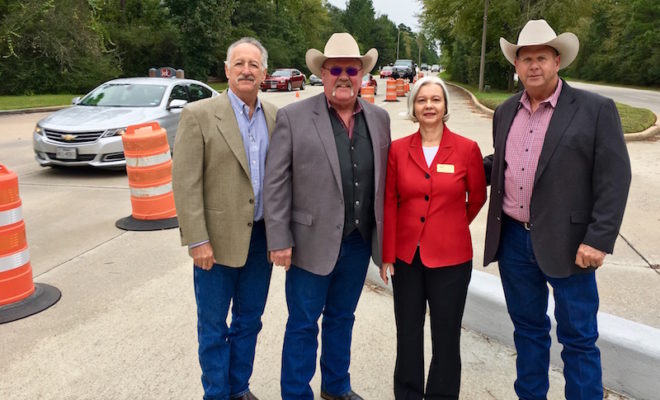 News
New Traffic Safety Project Completed in Alden Bridge
By |
The Alden Bridge Village Association (ABVA) and the Montgomery County Precinct #2 Commissioner's Office announced the installation of concrete curb defined left-turn lanes in The Woodlands Village of Alden Bridge. These curbs are located on Research Forest Drive at the Alden Bridge Village Center curb cut directly across from Alden Bend Drive.
Pictured above (l-r) at the construction site are Chief of Staff Bruce Berger, Commissioner Charlie Riley, ABVA President Maryann Braid, and Operations Manager Don Dean.
Increasing traffic over the years has made this intersection particularly hazardous due to the combined effects of vehicles turning left off of Research Forest, and crossing Research Forest as they turn left out of the Village Center and Alden Bend Drive – often with four vehicles at the same time. These concrete curb defined turn lanes will eliminate the left turns out of the Village Center and Alden Bend which are now right turn only. This approach was successful in reducing accidents on the Kuykendahl entrance/exit at the Indian Springs Village Center.
"During the Public Comment period of our regular monthly meetings at The Woodlands Township building we get input on various issues of direct concern to our residents. School zone signs, traffic signals, flooding concerns in various neighborhoods, and recently the increasing danger level at the central Research Forest Drive entrance/exit of our Village Center are all a part of what we have heard," states President Braid. "ABVA's responsibility is to then share those concerns with the proper authority responsible for any given issue. We visited directly with Commissioner Riley's office about the increasing danger at our Village Center and we are very pleased by the completion of this project. Thank you Commissioner Riley," adds Ms. Braid.
"Public input is critical to our entire operation and meaningful communication with ABVA on this public safety issue is what led to this project," says Commissioner Riley. "We have thoroughly enjoyed this collaboration and we look forward to a continuing outstanding working relationship with ABVA," he concludes.
ABVA is one of eight public service village associations affiliated with The Woodlands Township. Montgomery County Precinct #2 covers much of western Montgomery County including The Woodlands Village of Alden Bridge.