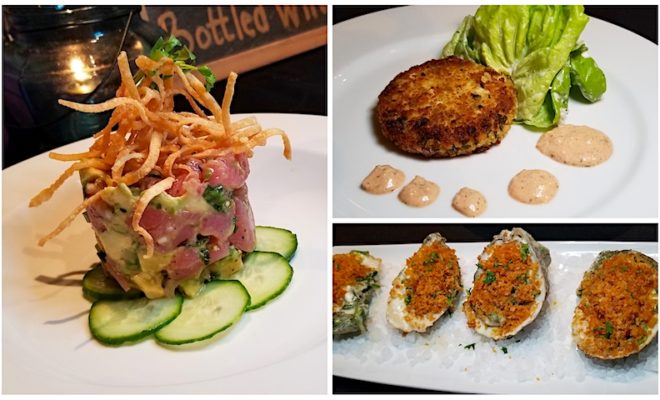 Photo by Nick Rama
Food & Drink
Nick's Fish Dive & Oyster Bar in The Woodlands
By |
Nick's Fish Dive & Oyster Bar offers locally sourced, contemporary coastal cuisine where consistency in execution and highlighting the seafood itself is priority. The restaurant overlooks the Woodlands Waterway, and upon walking in one will find a marble top raw bar, exposed brick, and nautical decor throughout.
Owner Claudia Leonardo changes the menu at Nick's by inviting industry leaders into their kitchen to collaborate and create innovative seasonal menus. The new menu was rolled out in January part of their  "Guest Chef Series", this year's first chef is award-winning former chef of CRÚ Food & Wine Bar in The Woodlands, Chef Jesse Cavazos.  Before arriving in The Woodlands, Cavazos, was a graduate of The Art Institute of Dallas.
Nick's Fish Dive and Oyster Bar has been a local favorite and the go to destination for oysters in the area. Some of their best-selling, signature starters are Lobster Poutine and of course freshly shucked and succulent Gulf Coast oysters. Chargrilled Gulf Oysters are not to be missed with lemon herb butter, parsley, green onion, tarragon, gruyère. Guest favorites include southern comforts like Shrimp & Grits and New England inspired Lobster Rolls to craft beer battered Cod in their Fish and Chips. The new menu will expand on this concept to bring a fresh taste of unique and exotic dishes inspired by traditional American seafood cuisine with an innovative globally inspired twist, crafted by Chef Jesse.
In addition to all thing's seafood, their menu includes local farm-fresh beef, poultry, fresh fruits and vegetables. Nick's has secured strong relationships with their seafood purveyors, farmers and ranchers and is how  Nick's Fish Dive and Oyster Bar has the highest quality of ingredients for their guest chefs to work with. The new menu items are now available and will change in the spring and summer as new fruits and vegetables come into harvest.
New seasonal menu highlights include:
Appetizers: Mussels, Hamachi and Tuna Poke Tower
Soups/Greens: New England Clam Chowder and Tuna Nicoise
Entrees: Australian Barramundi, Grilled Texas Redfish and Lobster Mac and Cheese
Dessert: Crème Brulee and Velvety rich custard
Cocktail: Caramel Apple-tini
Read Hello Woodlands interview with Owner Claudia Leonardo and Chef Jesse Cavazos.
THE INTERVIEW
Why did you decide to bring in Guest Chef to change out Nick's Fish Dive and Oyster Bar's menu with each season?
Claudia: "Our Intent was, and still, is to bring different flavors to The Woodlands.  I enjoy working with chefs who aren't afraid to showcase their roots, whether it be Peruvian, French, Italian, Cajun… etc.  It's exciting for me to offer new and refreshing selections to the community."
What was your inspiration for the new menu?
Jesse: "Being creative and having fun with it, just keeping simple. I tried to make something for everyone, we are a melting pot of global flavors."
The word "Dive" usually means run down and hole on the wall. What made you decide to have the word Dive in your restaurants name?
Claudia: "We offer a come as you are, laid back atmosphere with hopes that people aren't stressed about how they are dressed.  We want our guests to feel relaxed and comfortable while they enjoy everything we have to offer."
What dishes are you most proud of on the new menu?
Jesse: "I'm very proud of the menu. I have worked at some places, not saying names, but some of the food was not exciting to try. Here at Nick's, I am proud of the dishes I created, but if I had to choose one,  it's the Hamachi."
You have an extensive craft cocktail menu, tell us more about that.
Claudia: "To enhance the dining experience, of course.  We have fun researching and creating new cocktails. Pairing a craft cocktail with a meal takes your palate on a journey. We love to incorporate the use of seasonal herbs, fruits and fresh squeezed juices in our bar program."
What part of your culinary journey was important in creating the current menu for Nick's?
Jesse: "I developed a passion for working with seafood while I was at Tom Colicchio's CRAFT Restaurant in Dallas. Often, I would have 8 to 12 different types of fish including oysters ranging from appetizers to entrees on the menu at all times."
What have you learned over the years about your local guests?
Claudia: "Over the years, I've learned that people get bored with the same corporate/chain restaurants and look forward to tasting new flavors; I believe people crave diversity."
One of Nick's Fish Dive and Oyster Bar mission is "highlighting the seafood itself", was that challenging for you?
Jesse: "The challenge is not the seafood but the customer. As chefs we want to make everyone happy. Seafood is delicate, you don't want to over-power the fish, you want to complement it. I wanted to create something different, but not completely unrecognizable."
What sets your oysters apart from other seafood restaurants?
Claudia: "Nick's is a locally owned Chef driven concept with a beautiful location! Our dishes are created from scratch, farm to table, dock to door and no one offers a variety of east coast oysters like we do."
Speaking of Oysters, what makes Nick's Rockefeller different from traditional Oysters Rockefeller?
Jesse: "Why change a classic dish? We respect the Oysters Rockefeller, it is a very classic dish; and we didn't go too far from the original content, we just put a slight twist on it."
5 words to describe Nick's Fish Dive and Oyster Bar?
Claudia: "Fresh, beautiful, casual, trendy, inexpensive."
Learn more about Nick's Fish Dive and Oyster Bar located at 20 Waterway Ave #105 in The Woodlands, Texas by visiting their website at www.nicksfishdive.com and following the restaurant on Facebook and Instagram.
Nick Rama is a food writer, contributor of Hello Woodlands, and shares his restaurant experiences on Nick's Local Eats at NicksLocalEats.com and the Q Up The Burgers Facebook page. Nick enjoys helping the small business owner, supporting his community with fundraising for food banks, and plans tasting events with locally owned mom and pop restaurants.