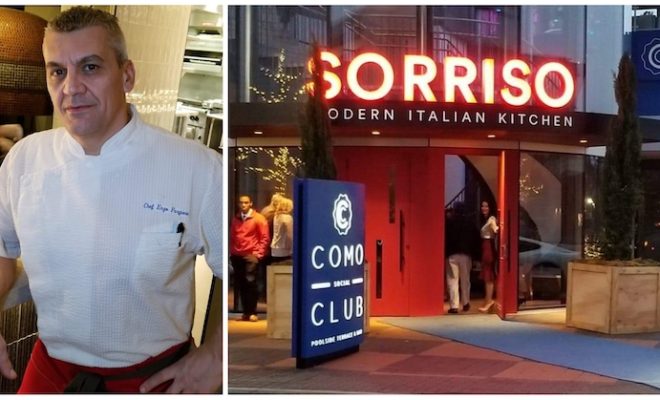 Food & Drink
Meet Chef Enzo Fargione of Sorriso Modern Italian Kitchen
By |
Sorriso Modern Italian Kitchen, a new regional Italian restaurant, opened in early January 2019 and is led by highly accomplished Executive Chef Enzo Fargione. With spectacular views of The Woodlands Waterway and Waterway Square, Sorriso Modern Italian Kitchen will have diners enjoying Fargione's modern spin on authentic regional Italian cuisine found in neighborhood trattorias in Italy.
The two story spot is connected to The Woodlands Westin Hotel; upstairs is The Como Social Club, with a full bar, piano, shuffleboard, and even a moped on display. The patio area connects to the pool area where you can relax in one of the cozy cabanas with a handcrafted cocktail like the Lavender Martini or housemade Limoncello Mule, perfect with some lite bites. Como Social Club even has a nine panel movie screen with lounge seating, during their grand opening party they were showing old Italian movies starring Sophia Loren.
Sorriso and The Como Social Club are owned by The Howard Hughes Corporation® who owns, manages and develops commercial, residential and mixed-use real estate throughout the U.S. According to their team the space was "carefully designed and curated by EDG Design, the restaurant décor combines neutral tones and rich materials of leather and wood, complemented by industrial touches of metal and steel, bringing timeless Italian craftsmanship together with a contemporary flare."
Downstairs Sorriso's stunning two-story glass entrance invites guests into an open setting with a fully stocked bar area. Guest wil experience an open-hearth display kitchen, where they can watch chefs in action at the Charcuterie Bar, and tossing fresh-made pizza dough for their Neapolitan-style pizzas into a beautiful tiled brick oven.
Chef Enzo sources ingredients locally, including Texas-raised beef, and finds the best from across the country and from Italy. Sorriso's menu highlights are their house-made fresh pasta such as Tagliatelle Pomodoro and Pappardelle Short Rib Ragu; entreés such as the Grilled Branzino and Braised Veal Ossobuco, and brick oven Neapolitan-Style Pizza with a wide variety of toppings. Guests can enjoy "shareable" offerings from Bruschetta to Buffalo Burrata; artisanal bread baskets accompanied by savory spreads; and table snacks such as Tuscan Chicken Liver Paté and Potato Sweet Onion Egg Frittata. The Charcuterie Bar offers cured meats such as Prosciutto Crudo Parma and Finocchiona served with house-made condiments, and Italian cheeses including Taleggio, Fontina Aosta and Smoked Mozzarella to name a few. All of this can be paired with one of their 300 wines from various regions of Italy.
THE INTERVIEW with Chef Enzo Fargione
Give us a history of your culinary journey from your early days in Italy to opening Sarisso.
"Born and raised in Turin, the capital of the Piedmont region in northern Italy, I developed a love of cooking from my mother at an early age. I attended The Culinary Institute of Turin at the age of 14, where I finished at the top of my class. Following school, I worked in famous local restaurants before alighting to become Chef de Cuisine for Chef Roberto Donna's flagship restaurant Galileo in Washington D.C. in 1986.

Five years later I began earning local and national recognition as Chef/operating partner of various Italian restaurants in the Nation's Capital including Barolo, Teatro Goldoni, and ELISIR and Osteria Elisir Restaurants.

Throughout my career I was honored as 'One of four Chefs to watch in the USA in 2008' by Esquire Magazine, was the recipient of several local and national awards, and earned multiple star ratings from local and national publications."
What made you decide to open your new concept in The Woodlands?
"After taking a deep dive into restaurant scene in the Greater Houston area, it was The Howard Hughes Corporation® who made plans to open a modern style Italian concept here in The Woodlands. I loved the project and was excited for the opportunity to come alongside a great team of people who believe in quality and consistency."
How much crossover is there between Sorriso and the Como Social Club?
"There is very little crossover between Sorriso Modern Italian Kitchen and Como Social Club Poolside Terrace + Bar as they are two completely different concepts. The two dining venues just happen to share the same space but delight diners with a variety of different culinary offerings."
What region of Italy does most of the menu come from?
"Sorriso Modern Italian Kitchen's menu items come from regions all over Italy the majority; however, is my own personal interpretation of modern Italian cooking. I created the menu using a love of cooking that I learned from my mother at an early age and over the course of my culinary career."
What do you consider your signature dishes?
"At Sorriso Modern Italian Kitchen, I love the concept of the Panna Cotta Sunny Side Up, made with vanilla citrus panna cotta and virtual bacon. I also enjoy the Tagliolini with Porchetta for lunch, complete with Roasted suckling pig, extra virgin olive oil, smoked mozzarella, and a helping of arugula."
Why is it important to use Housemade fresh pasta in your dishes?
"Housemade fresh pasta is important to use in my dishes because it represents the basics of quality, love, and passion that is rooted in Italian traditions."
Many people eat with their eyes, I know presentation is important to you, tell us how that crosses over to your cookbook "Visual Eats"
"Well, the book title says it all…. when you cook for fine dining and Michelin starred restaurants, your presentation must be clean, colorful, spot on, balanced, and very inventive. The dish must be created with the correct temperatures, textures and ingredients. While presentation plays a major role in the culinary experience, once you take the first bite presentation disappears and taste takes its place at center stage."
What can someone expect at the Charcuterie bar?
"At Sorriso's charcuterie bar, diners can expect to be indulged by the wonderful and unique taste of all our great cold cuts and attentively selected cheese. We are proud to offer this kind of quality that was very much unknown in The Woodlands area before we opened Sorriso Modern Italian Kitchen."
Did you also create the drink menu and select the wine list that the restaurant serves?
"Sorriso Modern Italian Kitchen's newly appointed Wine Director and General Manager Giorgio Ferrero compiled the restaurant's 26-page wine list. After 20 years, I'm delighted to be working with Giorgio again!"
What was the inspiration for your "sharables" and "savory spreads" menu?
"It is a matter of concept – at Sorriso, I really wanted to offer more than what you can eat. I want for our guests to walk into our house and feel as if they belong to an Italian table. Between the food and the wonderful wine list that our Wine Director and General manager Giorgio Ferrero put together, I think we do just that. I encourage our diners to share a few things, try a few more, and then do it all over again next week… sample as many different wines you can…..REPEAT!"
5 words to describe Sorriso Modern Italian Kitchen?
"Unique. Colorful. Indulging. Unordinary. Addictive"
Learn more about Sorriso Modern Italian Kitchen by visiting their website at www.sorrisoitaliankitchen.com or following on social media on Facebook or Instagram.
Nick Rama is a food writer, contributor of Hello Woodlands, and shares his restaurant experiences on Nick's Local Eats at NicksLocalEats.com and the Q Up The Burgers Facebook page. Nick enjoys helping the small business owner, supporting his community with fundraising for food banks, and plans tasting events with locally owned mom and pop restaurants.