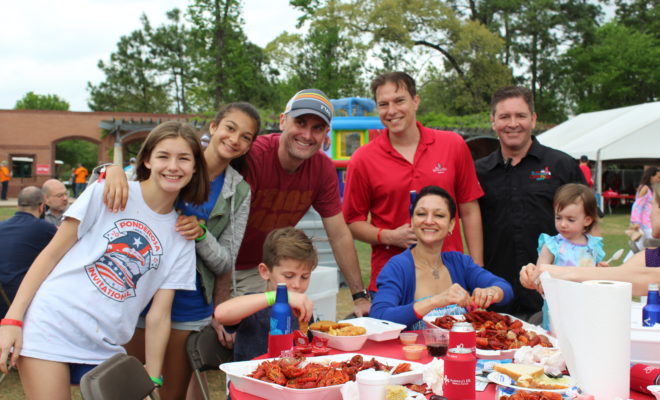 entertainment
The BB&T Woodlands CrawPHish Festival Returns This March
By |
THE WOODLANDS, TX — The Woodlands' premier celebration of Cajun-spiced seafood returns for its ninth consecutive year this March when the annual BB&T Woodlands CrawPHish Festival takes over Town Green Park on Saturday, March 23.
This year, the festival organizers will partner with Spectrum, a seasoned, nationwide concession and catering company based in The Woodlands, to make the event bigger and better than ever before. On hand will be thousands of pounds of boiled Louisiana crawfish and plenty of cold beer, as well as kid friendly fare such as Texas barbecue, and a variety of other refreshments. The Platinum Players Zydeco Band and Zach Coffey will warm up the crowd for musical headliners Bayou Roux alongside emcee Dick Schissler of Lone Star Community Radio.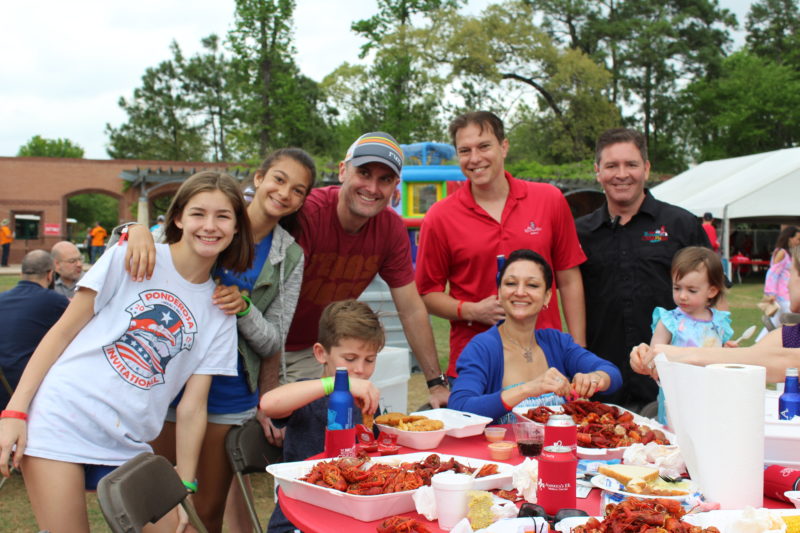 Beyond the food, young children will find plenty to get excited about in the Kids Zone, which will feature a variety of activities including a bouncing moonwalk, rock-climbing wall, inflatable slide, coloring, face painting, cotton candy, and more.
"BB&T is excited to serve as the presenting sponsor of this event for the fourth year. Giving back to our community is a core tenet of the bank's mission and we are thrilled to continue our partnership with Pulmonary Hypertension Research, Inc. and this festival," said Market President for BB&T, Steve Smith.
"Spectrum is a great, community-oriented group of event professionals, and with their help, we're taking this festival to the next level in 2019," said BB&T Woodlands CrawPHish Festival co-founder Jack Stibbs. "This has been The Woodlands' best family festival for nine years running, and we had to pull out all the stops to keep our wonderful crowds coming back to benefit a great cause."
Early in their daughter's life, Jack and Marcia Stibbs learned that their young daughter was suffering from an incurable disease known as pulmonary hypertension (PH). There was little to no pediatric research for PH at the time. Doing nothing was not an option for them. With the help of their family, friends, and generous community, the Stibbs family made it their mission to raise funds and awareness for PH. Over nine years of fundraising has passed, a lot of research has been done, and treatments have come a long way—but the PH community still needs your support as there is still no cure.
All of the festival's proceeds will be used to fund research to help find a cure for pulmonary hypertension. Since its inception, the BB&T Woodlands CrawPHish Festival has raised more than $2 million to fight PH.
For the past nine years, the BB&T Woodlands CrawPHish Festival has been Montgomery County's biggest and best Cajun party. Held annually at Town Green Park, the festival provides a fun atmosphere for the whole family, featuring Louisiana crawfish, ice-cold beverages, kids' activities, live entertainment, and more. All proceeds from the festival are donated each year to Pulmonary Hypertension Research, Inc., a non-profit organization leading the charge to find a cure for PH. To purchase tickets and learn more about the festival, please visit www.WoodlandsCrawfish.com.
Pulmonary hypertension is an often-fatal disease that causes high blood pressure in the lungs, which can lead to heart failure. Patients with PH often experience shortness of breath with minimal exertion, chronic fatigue, chest pains, and fainting. It is a rare and currently incurable—though increasingly treatable— condition that affects people of all ages, genders, and ethnic backgrounds. New treatments are extending and enhancing the lives of PH patients and further advancement is on the horizon.
The Woodlands CrawPHish Festival is sponsored by BB&T, Stibbs & Co., Oceaneering, Global EDGE, Studio Brand Collective, First American Title, Atlantic Methanol, Wright Business Technologies, Newcor Commercial Real Estate, Aqua Auto Wash, CRU, Corporate Medical Systems, Tough Law Firm, Foldetta Commercial, Scan Systems, Cypressbook Company, Naskila Gaming, 5 Point Credit Union, Flaherty's Flooring America, Pinnacle Woodlands, LLC, and Harper's Retreat.