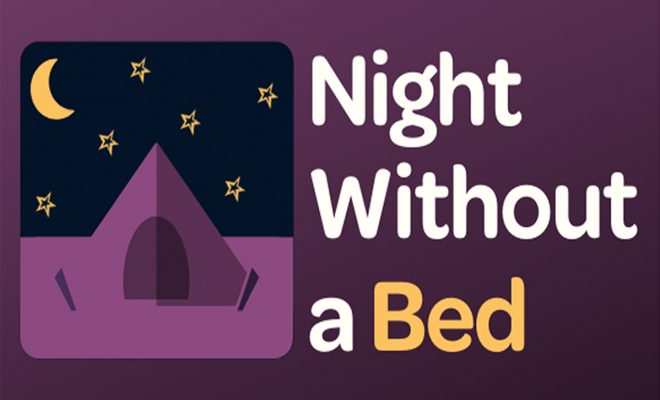 Lifestyle
"Night Without a Bed" Sleep Out with Family Promise of Montgomery County
By |
CONROE, TX – Family Promise of Montgomery County will hold their Inaugural National #NightWithoutABed on Saturday, June 20, throughout Montgomery County. Show your support for children and families battling homelessness and raise awareness of this crisis by setting up a tent in your back yard, making a fort in your living room, wrapping up in blankets on the sofa or in a sleeping bag on the floor. Give up your comfortable bed for one night and share the experience with friends and family.

Post photos of your Night Without A Bed on social media using #NightWithoutABed, tag Family Promise of Montgomery County, and ask sponsors to support your efforts to help families battling homelessness.
Here is a true story about Abby, a homeless child:
Eight-year-old Abby never expected she would be doing her homework in a motel room every night. But when her dad lost his job, her family had to give up their home. They moved into a motel, and Abby went from having her own bedroom to sharing one room with her entire family. It was hard for her to focus on school or imagine a happy future.
Abby's not alone. One in 16 children in the U.S. experiences homelessness by the first grade. They and their families can be found sleeping in motel rooms, with friends, or even in their cars. And kids who face homelessness suffer in other ways, as well. They are more likely to drop out of school, repeat a grade, suffer from depression, and attempt suicide.
Since 2001 Family Promise of Montgomery County has been helping families in need find stable housing, develop the skills and tools to succeed independently by empowering families for success – families just like Abby's. Thanks to Family Promise, Abby's parents found employment, the family moved into housing, and Abby's life began returning to normal.
Family Promise, a 501c(3) nonprofit, serves 4 homeless families at a time in rotating faith communities in a collaborative mission to increase their job readiness, and stability to enable them to be self-sustainable. Approved families with children are entered into Family Promises 90-day personal plan to reach attainable goals with a case manager. Topics include positive parenting skills, stress management, family safety, and budgeting. Families are provided meals, hygiene items, clothing, childcare, transportation, and shelter through partnering churches in the community.
Family Promise families graduated from the 90-day program in 2019 with a 100% success rate securing employment in fields as a pharmacy technician, an administrative assistant, and a prison guard to name a few. Graduated families stay connected to the program through private group forums and staff engagement. It is important for families to know that the organization is still interested in supporting the families that graduate.
Church partners set up bedding accommodations on Sunday afternoon for a weeklong stay through the following Sunday morning. Volunteers with the church provide a morning breakfast for the guests and evening meals. Each family must leave each day to seek work, get children to school or daycare, or work on their goals at the Family Promise Day Center located near downtown Conroe. Church involvement is critical to the success of Family Promise. The Day Center is where the families conduct job searches, receive case management, cook mid-day meals, do laundry, and store most of their belongings.
All donations directly assist families with needs of obtaining their driver's license, meeting medical needs, paying rental deposits, providing families with gas cards, and covering childcare amongst many other essential services. Additional costs for the organization include maintaining the Day Center and supplying household supplies to support approximately 20 families a year.

Find out more about Family Promise of Montgomery County by visiting www.familypromiseofmc.org. Visit their Facebook page at www.facebook.com/FPMCT, or call (936) 441-8778 7:00 a.m. – 5:00 p.m. Monday – Friday.