Photography by Rod Prado, Hello Woodlands
People
Nonprofit of the Month: Henry's Home Horse & Human Sanctuary
By |
Randy Lovelace of Paragon Independent Insurance Agencies introduces the Hello Woodlands Nonprofit of the Month, Henry's Home Horse & Human Sanctuary.
Watch our video interview below!
Advertisement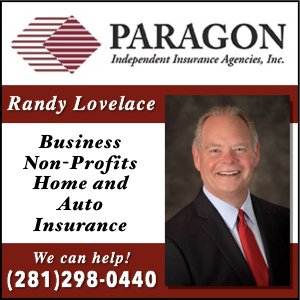 About Henry's Home Horse & Human Sanctuary
Henry's Home Horse & Human Sanctuary is a 501c3 non-profit horse sanctuary that is run completely by volunteers and donations. Henry's Home takes in rescued and donated horses (along with other farm animals) and give them a forever home and meaningful work in their Horses & Heroes Equine Program which offers therapy to local veterans and first responders and their families, always at no cost to them.
In 1994, the genesis of this sanctuary was revealed to Donna Stedman, the now Executive Director of Henry's Home. She walked away from what she believed was a 'conversation with God' that showed her a future retreat center on a large piece of land with big barns filled with all sorts of animals, beautiful gardens and flowers everywhere. This new purpose started to take shape as a sanctuary for donated and rescued horses in February of 2012 with the adoption of her first two rescued horses, Henry and Lexi. During the process, it became apparent to her, and those who rode with her, that spending time with these horses and out in nature healed people.
In the fall of 2014, the sanctuary for horses and a sanctuary for healing, for people, was incorporated into a 501c3 non-profit and named Henry's Home Horse and Human Sanctuary after Donna's beloved horse Henry who loved all who met him and rescued from the brink of death for an obviously very important purpose.
In July 2015, Johnson Development asked if she would like to move the sanctuary to the soon-to-be-called Grand Central Park and in October 2016 the horses were moved onto their new land in the middle of 1,200 acres of very peaceful woods. In the video interview above, you will see what the sanctuary evolved to be on December 18, 2019.
In 2019, a donation of 21 acre horse farm, just about 5 minutes from the Grand Park Central location in South Conroe, was made to the nonprofit and on January 4, 2020 Henry's Home relocated their 22 horses and sanctuary to their new home.
Henry's Home shared publicly on their Facebook page that, "This is our last move, we believe, with enough land to finally build out the retreat center for our local community that we have been preparing for. Also, this donation will allow us to continue to grow our ability to offer our veterans, first responders, and their families, as much time with our rescued and surrendered horses as they want, including care, training, and riding lessons, as well as trail riding, always at no cost to them. Anyone over the age of 18 can come volunteer to help us at this sanctuary . . . it's a healing thing for us all. And boy could we use more farm and ranch equipment if you have any you no longer need. WooHoo!"
Henry's Story
At the end of the terrible drought in Texas back in 2011-2012, Mr. Henry the horse was dying from starvation. Not being able to feed their horses, many farmers and ranchers either sent them off to auction, which meant almost certain transport to Mexico to the slaughterhouses, or just stopped feeding them.
Henry was rescued by the Houston SPCA who had to utilized slings in order to help him stand up until he gained enough weight to finally be able to accomplish this on his own. Shortly after that, Donna adopted him to continue his recovery and teach him to trust again. Almost every time they rode Henry for the first year he would buck or rear when he was frightened or worried. Six years later, after a lot of care and time under saddle, he is the horse they now put herdmates (volunteers) on who have never ridden and proves to take special care of them.
Henry's Home's Programs
Horse Sanctuary Program: Henry's Home provides a permanent home for horses and other farm animals who have been through neglect or starvation, or are surrendered to prevent going to auction/slaughter.
Herdmate [Volunteer] Program: Henry's Home is a simple, loving and nurturing family who pitches in to care for the sanctuary grounds and four-footed members, as well as the nonprofit.
Horses & Heroes Equine Everything Program: Henry's Home provides a variety of horse opportunities for veterans and first responders, and their immediate family members, always at no cost to them. Come and learn the basics of horse care, communication, training, and eventually riding. Henry's Home would love help with caring for and exercising the horses, all who are dealing with their own form of PTSD.
Horses & Heroes Equine Therapy Program: Henry's Home provides confidential equine assisted psychotherapy for veterans and first responders, and their immediate family members, always at no cost to them.
Volunteer
Volunteers must be over the age of 18 and are required to take Henry's Home's Training and Safety Orientation. Some volunteers come with years of horse experience, and some have spent their lives afraid of horses and are now ready to get over that fear. If you are interested in more information, or want to come out for a safety and training orientation, please contact Henry's Home Executive Director, Donna Stedman, at 281-292-1110 or donna@henryshomehorsesanctuary.org.
Learn more at Henry's Home Horse & Human Sanctuary and how to volunteer, get involved, and make a donation at https://henryshomehorsesanctuary.org/
About Randy Lovelace
To learn more about Randy Lovelace, his "Referral for a Cause" program to help local nonprofit organizations, and of Paragon Independent Insurance Agencies, please call (281) 298-0440, email rlovelace@paragoninsagencies.com or visit www.paragoninsagencies.com/woodlands.