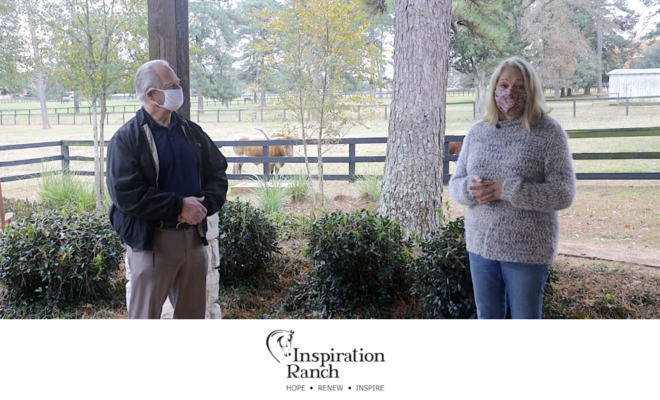 People
Nonprofit of the Month: Inspiration Ranch
By |
Randy Lovelace of Paragon Independent Insurance Agencies introduces the Hello Woodlands Nonprofit of the Month, Inspiration Ranch, and interviews President and CEO MG Tindall and Mental Health Program Coordinator Debbie Blackmon.
Watch our video interview below!
About Inspiration Ranch
Inspiration Ranch is a Premiere Accredited Center through the Professional Association of Therapeutic Horsemanship International. Inspiration Ranch is located on a peaceful 40-acres in Magnolia, Texas and pursues a mission to provide hope and improve the lives of those with physical, mental, and emotional challenges through equine-assisted activities and therapies in a loving Christian environment.
Programs
Inspiration Ranch exists to strengthen children, youth, and adults striving to overcome their physical, emotional, and social disabilities with Therapeutic Riding and equine-assisted therapy and activities. Each week nearly 70 special needs children and youth ride in their Therapeutic Riding Program to physically and emotionally strengthen their core muscles, improve their walking, and elevate their ability to communicate. Through their Mental Health Program, they reach people that have suffered severe emotional trauma. It's here, on their 40-acre ranch, that Inspiration Ranch helps them learn new boundaries, skills and overcome obstacles.
Learn more about Inspiration Ranch's programs at https://www.inspirationranch.org/programs
Volunteer
Volunteers are a vital part of making Inspiration Ranch's programs available to the community; from administrative support, side walking, committee members, to ranch chores, every volunteer plays a valuable part in the mission of Inspiration Ranch. They are always looking for passionate volunteers that are committed to changing the lives of clients and supporting the operations. Volunteering at Inspiration Ranch makes a difference in the lives of the riders and their families; it also makes a difference in the lives of the volunteers and impacts our community.
Learn how to volunteer and get involved at https://www.inspirationranch.org/volunteer
Learn more about Inspiration Ranch and make a donation online at https://www.inspirationranch.org/
About Randy Lovelace
To learn more about Randy Lovelace, his "Referral for a Cause" program to help local nonprofit organizations, and of Paragon Independent Insurance Agencies, please call (281) 298-0440, email rlovelace@paragoninsagencies.com or visit www.paragoninsagencies.com/woodlands.
Advertisement